02 April 2016 - Ushuaia

Today my shore excursion requires meeting on the dock at 0720, so I'd better get up early and get some breakfast. I had breakfast on the 11th deck in the buffet area. People are so pushy and rude. While I went to get another cup of coffee, a non English speaking couple had sat at my table, in spite of my paperwork and belongings. I invited them to stay, but they didn't want to mingle with the likes of me.

After breakfast, I went back to the room and got my winter shell, backpack, rain suit, and etc. Then forward to deck 3 for going ashore to my excursion. This harbor was a docking, as opposed to tendering, harbor. I thought yesterday was the highlight of the cruise, but today was even better!



First of all, there were only 5 people on this trip, counting me. And 1 "escort" who was Tim, from South Africa, who works at the excursions desk, and he had been the guy who straightened out my tickets the evening before. So, no huge bus with lots of people, which I had dreaded. Instead, we were in a Land Rover that (barely) fit all 8 of us, including our driver Eduardo and our guide Valentin. Valentin and Eduardo work for Canal Fun, and I can not say enough good things about this trip, and these guys. Take a look at their web site at http://canalfun.com/en. They were completely terrific! You can see a map of our trip with them on their web page at http://canalfun.com/mapa.php?idioma=en&id=16. Valentin was the best guide we could have had. He explained that we were not conventional tourists, but by the end of the day we would be real Patagonia sailors. And we were!

We drove about 14 miles west, out of Ushuaia, and into the national park. There we hooked up to a canoe trailer and drove another minute or two to our put in point in Lago Roca - a large lake that spans the Chilean border. We were within a mile of Chile when we put in.



At the dock in the morning.



Prior to putting in


While donning our canoe gear provided by Valentin, boots, waterproof overprints and lifejackets, I heard one of the other cruisers say he and his wife were from Arizona, so I asked from where. He said Chandler. I replied that I was from Chandler, also. I told them where I live, and he said they live near Chandler Heights and Lindsay, which is about 7 miles from me. Then we got busy and didn't talk more about it until later.




Near the put in point



Valentin took photos of us as well



And made us pose. This is on the shore of Lago Roca before putting in.



Here we have put in. Our wonderful guide, Valentin, took this photo with my camera.


Valentin was extremely accommodating and very entertaining. He pointed out that we were the only unconventional tourists and that we would be traveling to the southernmost end of the Pan American Highway that leads all the way to Alaska. But we would be getting there in an unconventional way by paddling our canoes, unlike the conventional tourists riding the huge buses.


The other ship and crew


Valentin, the captain of our vessel


Right after starting down river, I saw what looked like the top of a tiny beaver lodge. Valentin told me it was a Grebe nest. We then did pass a beaver lodge. He said Canadian beavers had been introduced in the 1800s, but because Ushuaia does not get the cold weather that Canada does, the beavers adapted and evolved, and their coat became much thinner, and useless commercially.


A view down river



Please notice that I am not bald in this photo.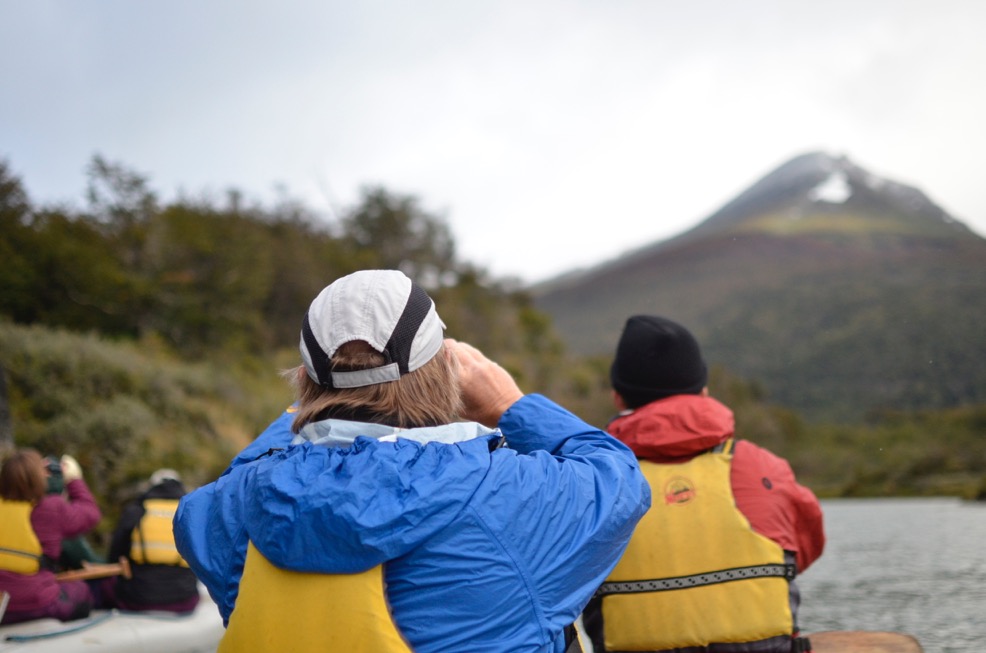 Nor in this photo. I will also point out that Valentin captured my best side in this shot!



A small island covered with cormorants. This means we are close to the ocean.


Along the way Valentin pointed out 2 circling birds that he said were baby falcons. The landscape and flora reminded me a great deal of being in the Adirondacks. There was also a portage around a small bridge. Cages had been placed beneath the bridge to prevent Chinook Salmon from swimming farther upstream to spawn.





Near the end of the canoe trip


In order to reach our destination, we had to paddle through and across a bay of the Beagle Channel. Valentin said doing so made us true, brave, Patagonian sailors. We saw a Magellanic penguin within 20 feet of us - it kept looking at us, then submerging. Valentin had never seen a penguin in these waters before. He said they were beginning to migrate north for the winter.



We were playing and singing the Patagonian Sailor's Hymn


At the end of the canoe trip, we got out and carried our boats to the Land Rover, where Eduardo awaited us. We doffed our water gear and had a small snack provided by Valentin.

The fellow from Chandler asked me how long I had lived there. I said I had just moved out from Syracuse 15 months ago. He then said he also moved here from Syracuse in 1998, and he had worked for GE and LM. This blew me away. I asked "what's your name?" He replied "Jim Burns." I asked him if he knew a guy named Greg Farnham, and he said he did. I stuck out my hand and said "well I am Greg Farnham." Jim and I had worked together on the BSY-2 program from 1990-1995.

What are the chances that 20 years later, we would meet in a cruise excursion at the southern tip of South America - a trip that only 5 people out of 2000 on the ship took, and find out that we lived 7 miles from one another?



End of the world, end of the canoe trip, end of the Pam American Highway and Argentina Ruta Nacionale No 3. The sign reads
"Tierra del Fuego National Park
Lapataia Bay
Here ends National Route No. 3 (The Pan American Highway)
Buenos Aires 1,913 miles
Alaska 11,090 miles"


Eduardo and Valentin stowed the canoes on the trailer, and then we began our hike through the national park. Part way up the hill we climbed into the woods, Valentin explained that the leaves on the ground are from last year. He said they do not decompose very fast here because there really is no hot summer season. We stopped at a small platform for photos.


Looking out over Lapataia Bay into the Beagle Channel

Our hike ended near the bridge where we had portaged our canoes. Eduardo had set up a small table (using coolers) with cheese and sausage, sandwiches, apples, and 2 bottles of Malbec. We enjoyed the changeable weather including a rainbow, and then boarded our Land Rover for return to the Sun.



Snow on the mountain at the beginning of autumn means the snow is on the mountain all year long.


I tried to stay in the back, near the bottles of Malbec, to make sure they were promptly imbibed.



SUV ride in black, canoe trip in blue, hike in green. From Lago Roca in the north, down through Lapataia Bay and into Beagle Channel. Then a hike NNE back to the road through the National Park and our picnic.




These two maps are from Google Earth. You can see the thin yellow line representing the Chile - Argentina border. And you can see that we were within about a half mile of being in Chile. You can also see where we were in relation to Cape Horn, where we had been aboard ship yesterday.


Back on board, waiting for casting off, it is snowing in my balcony! The engines have started at 13:40 but we have not yet cast off.



Leaving Ushuaia behind


One of the glaciers we observed heading west in the Beagle Channel



Another glacier


We watched the amazing scenery from our aft balcony until full dark. Then we enjoyed a really nice dinner in Cagney's courtesy of Les's work in the casino. We awoke the next morning in Punta Arenas.



Can you taste the salt air? Feel the damp sink into your bones? Hear the mournful call of the albatross?