Our cabin. My bunk is the fold out sofa on the right, adjacent to the balcony door. Maybe I can sling a hammock outside the door!





I did a lot of planning and research before this trip.

Here is a little overview of the cruise:





Here is a movie I made with Google Earth. Imagine I had a GoPro camera that could see the future. This is what will happen in March:
The video is very grainy. It is so large I decided not to improve the quality. You can tell where we'll be.


The cruise begins in Buenos Aires, Argentina on Saturday, March 26, departing the dock at 7:30 pm, Argentina Standard Time, which is 4 hours ahead of Phoenix, or GMT-3 hours. We start out at about 34°35'2" S. (degrees minutes seconds)

Les and I are meeting a few days earlier and staying at the Unique Madero Hotel, very near the pier from which we embark the ship. This will give us time to explore Buenos Aires and recover from jet lag.



Garmin map using downloaded GPS base maps


Cruise Day 0 we embark the Norwegian Sun and leave port at 7:30 pm.

We sail overnight and arrive in Montevideo, Uruguay on cruise day 1 at 8:00 am, and can go ashore until the ship leaves that evening at 4:30 pm. This port is only a little farther south at 34°54'12" S.


We then spend all of cruise day 2, Monday the 28th, at sea and arrive in Puerto Madryn, Argentina at 9:00 am on Tuesday, cruise day 3. We can be ashore from 9:00 am until 6:00 pm. Here at Puerto Madryn we are at 42°44'8"S - really getting somewhere now, in terms of southing.


Cruise day 4 we spend at sea sailing southeasterly and arrive at Stanley, Falkland Islands on cruise day 5, where we can go ashore from 9:00 am until 4:00 pm. 51°41'30"S. We are now below the 50th parallel, and have begun our traditional transit, which consists of cruising around the horn from above 50° on one side and returning above 50° on the other side.


:-( no maps for the Falklands :-(


Cruise day 6 we spend at sea sailing southwesterly and arrive at Ushuaia, Argentina on cruise day 7, where we can go ashore from 7:00 am until 2:00 pm. We are now at about 54°48'37"S. Then we go glacier cruising in the Beagle Channel ( 54°53'24"S), and arrive in Punta Arenas, Chile ( 53°10'13"S) on cruise day 8, where we can go ashore from 8:30 am to 8:30 pm. I think this is when we will actually cruise south of Cape Horn (55°57'55"S), as Punta Arenas and the Strait of Magellan are north of Beagle Channel. We'll see. If we round the horn and go by it, it may look like this: https://www.youtube.com/watch?v=lEW89H6O2ug&app=desktop.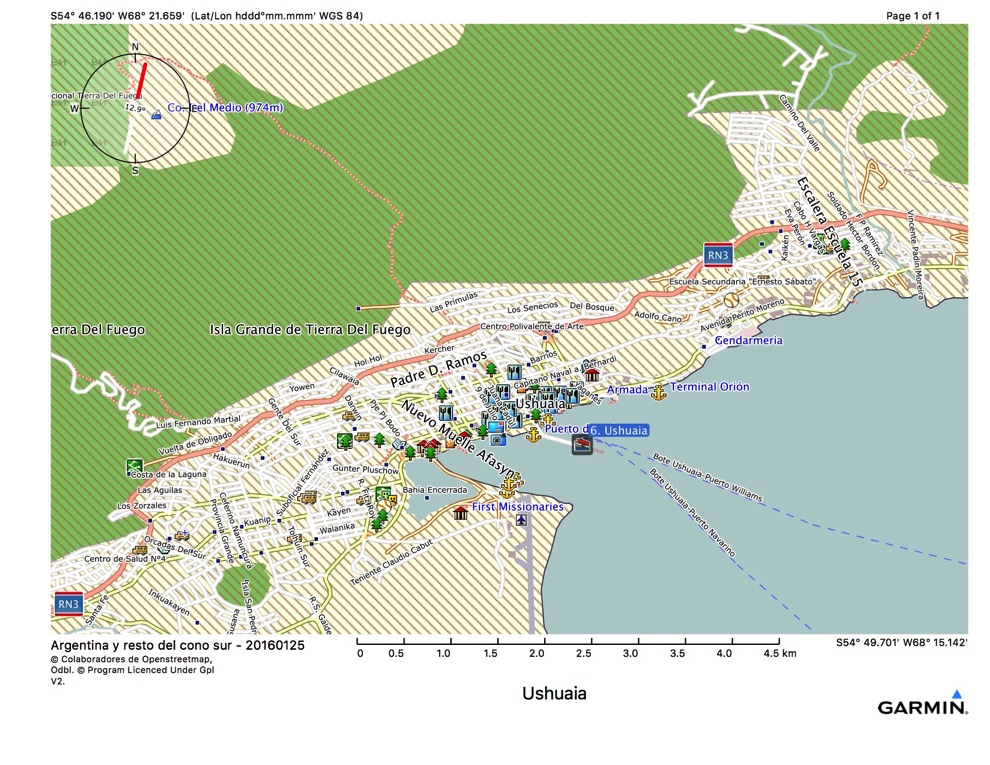 Once back at Punta Arenas and north to the 50th parallel, our traditional transit of the horn is complete.

On cruise day 9 we cruise the Strait of Magellan, (54°33'35"S) and at sea cruise day 10.



On cruise day 11 we arrive in Puerto Chacabuco, Chile ( 45°52'8"S) and have shore time from 7:00 a, until 2:00 pm.


We spend day 12 from 8:00 am to 6:00 pm in Puerto Montt, Chile ( 41°29'17"S - positively temperate! [actually, the entire trip takes place within the temperate zone]) Then we are at sea all of cruise day 13, and finally arrive day 14 at Valparaiso, Chile ( 33° 2'12"S.)


After we disembark, we will take a bus or some other transport 115 kilometers to the Santiago, Chile Comodoro Arturo Merino Benítez International Airport. From there, we each fly back home late in the evening, arriving the next day.