Hiking the Salome Wilderness Hell's Hole Trail #284


Day 1

I picked Stephen and Camille up at their house Saturday morning and we left about 6. We arrived at the trailhead about 8:30 and started gearing up. There was one other car there. We started hiking about 9. In the first mile we had a gentle climb, rising about 300' from our starting elevation of 5100' up to about 5400' Then we descended. We saw a cabin and some other buildings on the left, and dropped our packs to go explore. It was a pretty interesting camp, with a home made swimming pool fed by an artesian well.

After cresting the climb up, we saw Workman Creek below us. The trail then descended about 500' to about 4900' where we crossed the creek. A family had a huge tent set up just before the crossing. We met them later, and they had come in the night before in the middle of the huge monsoon (AKA thunderstorm) and decided to camp near the creek.

There was a nice waterhole there and Camille and I decided to swim a bit. We lingered, and Stephen got his hair wet. After cooling off, we got our packs up and started the long climb out of the creek bed to the ridge. This climb took us back up to about 5400', through a nice pine forest. After climbing the 500' and being at about 4 miles, it was time for lunch. We snacked on sardines, crackers, nuts, seeds, dates, dried apricots, pineapple and mango. Camille needed to take a nap here, and we all got a nice rest. Stephen had some hot spots that we covered with moleskin. As we were packing up to leave, a fellow came through and we chatted quite a while. He was a soil scientist and worked in Globe. He gave us good tips on where to eat in Globe on our way back.

After our repose, we got packs up again and hiked across a local summit, where we lost all the pines. This was about 5500'. All we had here were scrub manzanilla and some cactus. We discussed the option of leaving our overnight gear up here, going down to the "hole" and coming back up tonight to sleep. But since there wasn't a single good tree to hang from, we decided to pack on.

On the switchbacks leading down 1100' over the next 3 miles of trail, we met a single guy returning from a day hike. He told us the family with the big tent was down there. We also met them, a couple and 3 little kids, climbing back up. Down we went.




At the bottom, we found a fairly good sized hole with lots of fish. The water was a little skanky, but, I filtered 4 gallons of water to replenish our supplies. Stephen and I both got in the water, while Camille slept on a huge boulder above us. She was completely depleted, and fell asleep soundly right on the rock.

After filtering the water, it started to threaten rain, so we grabbed our hammocks and tarps and walked down canyon a few hundred yards where Stephen had found a terrific place to hang. We hung the hammocks from a central tree, with 3 surrounding trees, like spokes of a wheel. See the photo of all three below. For the first time in my life, I wasn't exaggerating to say that I was really hung.



Looks like she could fall right to sleep. Again. 😊



Stephen was a little tired, too. All for good reason.



The most amazing triple hang.




After hanging our hammocks and tarps and arranging things so nothing could get wet, we returned to Camille's big boulder bed to make our supper, to keep the food smells away from where we were sleeping. We saw LOTS of bear sign all the way down, and more here at the bottom. We had also seen a horny toad, lots of lizards, and a skink. We boiled water and rehydrated our meals, which we all agreed were luscious.

A couple of big thunderstorms boomed through. The thunder echoed throughout the canyon like cannon, and the flashes were pretty cool. The closest strike was about a mile. We donned our pack covers and ponchos, except Stephen's rain coat turned out to be a non waterproof wind jacket and he got thoroughly soaked. Leaving the cooking gear on the boulder, we walked back to our hang. It was full dark now, but we all had powerful headlamps. Stephen and I hung a bear bag while Camille guarded the hang site.

We sat on a nice log and talked for quite a while. A rumor circulated that cognac was to be found, but it was true. The cognac disappeared, the pontificating on the Theory of Constraints and the Process of Ongoing Improvement came out, and we bored ourselves silly. I think Camille asked me to start talking so she could drink most of the cognac, which she did. But that made up for her eating most of the sardines and crackers earlier and for her taking most of the naps on the way down.

It was time to go to hammock and sleep, which we all did. The temperature dropped to 65 during the night, according to my recording thermograph, and it was a little nippy for hammock hanging. I got cold and donned my rain jacket, now dried out. Stephen froze his butt and some other parts off during the night and didn't sleep well. Camille curled up in a fetal position inside her Go-Lite cover and went back to sleep, too intelligent to let a little cold keep her awake. I listened for bears for a long time, but every time I thought I heard one roaring, it was a snore coming from one of the other two hammocks. You guess which one.

Day 2

I woke about 0530. Everyone else was sleeping soundly, so I took a little walk towards the west following the canyon. There was a lot of bear sign. After a while I went back to the campsite and trying to be quiet, got back in the hammock and slept a little longer. But then, it was no use. I was awake. Quietly I emerged and took my clothes into the woods to change and think about the day.

I retrieved the cooking gear, thinking there was no longer a need to keep food smells away from our hang, as we were leaving later today. And I retrieved our bear bag, all items completely unmolested. I slowly began to arrange things for breakfast while boiling my water for coffee. Before I was done, Camille was up and at 'em. We shared some coffee as we slowly awakened to the bright, sunny day - quite a difference from the evening before. Stephen emerged, and I discovered the green tea I thought I had brought was actually Rooibos, which has no caffeine. So he was out of luck.

Some time while preparing for breakfast, Camille went exploring to the west. She found the real Hell's Hole and climbed above it. Later she would lead us up there where we hadn't dared go (at least, I hadn't by myself.) We decided that rather than ask Camille to fry 6 eggs, we'd mix a can of salmon in with the eggs and have a scramble/quiche/fritta/omelet sort of thing. I made us each an oatmeal, then Camille took charge and made us a scrumptious omelet. We made another cup of coffee and enjoyed a relaxing breakfast, boiling a little water in the egg pan to clean it up.

I was looking at the clock, and mentioned that we had left their house about 6 yesterday, and got here about 5:30 in the evening - 11.5 hours. So if we left at noon, we'd get home about 11:30, without stopping to eat in Globe, which we all wanted to do. In spite of this, we rationalized, that we wouldn't explore the private property on the way out, and that we'd hike faster, in spite of the steep climb we faced.

Stephen and I headed west to check out the "Hole" Camille told us about, and eventually Camille joined us. She showed us how she climbed up to the top of the Hole, and then we went exploring even farther along. Here are some photos of that end of our hike:




Looking up from the Hole



Looking down into the Hole from above



From way above



Across the canyon looking at the Cathedral as Camille likes to call it



I never saw this gorgeous glaring gargoyle guarding Hell's Hole, but Camille asked me not to squash it. So I shot it. With my camera.


After climbing up, we clambered up some more.



Camille and Stephen



Looking up



Looking down




Same kind of snake I saw at Aravaipa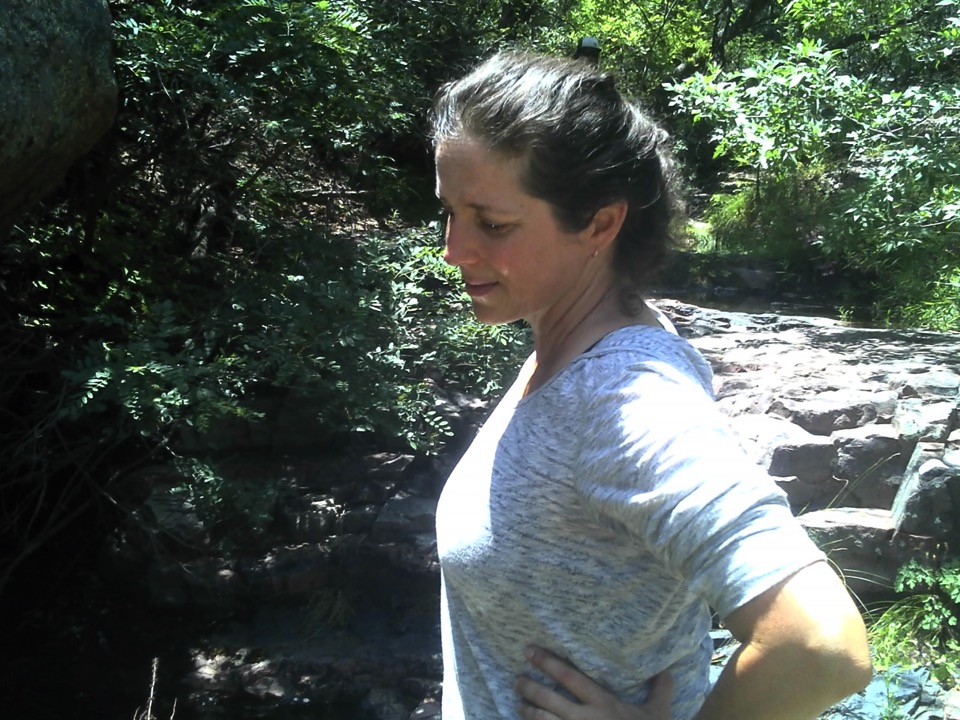 This photo is from the spot where we stopped following the cairns west. Obviously, the marked trail goes ever on, as Bilbo Baggins would say. But we just didn't have time to explore further.


So we headed back to break camp. Stephen helped pack up the hammocks while Camille did the dishes and packed the garbage and the remaining food. Then we all loaded up our packs, and applied our sunblock, and, well, etc.

It was just past noon when we headed up past the first water hole and started the climb. It was 3 miles, back and forth along the cliff's edge, climbing at every turn, rising 1100' amongst many breath breaks. We were in the bright sun most of the way, and I was completely drenched, with water pouring down my torso, off my shorts, wetter than when I swam the night before.

The 3 mile climb of 1161' took us 2 hours and 20 minutes. I was pretty happy to be walking over the gentle crest at the local summit, once again in the scrub manzanilla. We passed the spot in the woods where we had lunched the day before, but no one wanted to stop. And then down through the cool pine forest.

Like horses heading back to the barn, we were eager. Before we thought we would be, we were back at the Workman Creek crossing where the big family tent had been erected. It was gone, and we stopped for lunch. Camille made us salmon and cracker sandwiches, fed us dried mango and pineapple, and we relaxed. Today it was Stephen's turn to get horizontal on the rock, too exhausted to sit up and take nourishment. Stephen and Camille went to the water hole and wet their hair. What is up with that?

On we went. It was really a struggle to get going again after that pause. My quads didn't want to quad, nor my hip flexors flex. I felt like that old '68 Cutlass I once owned - the carburetor wouldn't carburete, the generator wouldn't generate, and the pistons didn't work either. ;-) But on we went without any other choice. Once we reached the final downhill, I was done. I put my head down and followed my own ultra marathoning advice. At that point there was only one thing left to do - finish.

I got back to the car a little ahead of Stephen and Camille who were talking up a storm. It was about 4:45. So we hiked the 6 miles out in about 4:40. Then it was off with the pack, off with the wet clothes, on with some dry, on Donner, on Blitzen, on Comet and Griffin. I know that ain't right, and it's too bad.

We wasted no time lingering, except, within a mile of the trailhead, we saw a family of elk that we interrupted as they were trying to cross the road for their dinner. We watched them for a while, and several cars stopped to enquire if we needed help, which was nice, and then on we went, slowly. The scenery driving back down was even more glorious than it had been driving North the day before.

Once back in cell phone range, about an hour later, I called my folks who were quite worried. We went in search of the primo dinner spot our fellow hiker had recommended, but it was closed. So we took another of his recommendations, Los Robertos, where Stephen bought us the most agreeable dinner. We sat, ate, glad to be consuming non-re-hydrated anything.

I dropped them off about 1030, and headed home, satiated to repletion.

Summary

It wasn't 5.3 miles, it was 6.0, with 1800' ascent and 1000' descent coming out. This was a tough hike. When I do it next time, I will spend several nights. Our hang site was pretty good. A second day could be spent exploring farther west to see where it goes. There is no trail on the map, but there clearly is a cairn-marked trail on the ground. Another possibility would be climbing back up to the pine forest for a night, an duse the next day to walk southwest on the Boyer trail to its trail head and back.

---

Plan for Hiking the Salome Wilderness Hell's Hole Trail #284




Google Maps says it takes 2:12 to drive to Reynold's Creek Campground. The GPS track, shown below with the elevation profile, for the hike is 5.3 miles, one way.

As you can see, there is a large descent hiking and, and up hiking out.

Our plan is to drive up early Saturday morning and hike in as far as we can. Since it's net 800' downhill, we should be able to hike it in less than 3 hours. Then we'll have to find trees to set up hammocks for camp, and cook supper. This should allow ample time for swimming. There is another place called the Jug which is farther in, and I don't know if we can get there in a 2 day hike or not.

Sunday, we'll make breakfast, break camp, hike back up to the car, and drive home. As long as everything goes according to plan (!).



I found this report on hikearizona.com and reprint it here for convenience.

"steep trail to Workman creek by te-wa

While many of the more popular areas such as the Superstitions and the Mogollon Rim see hoards of people escaping the valley's drama, the Hells Hole area of the Salome Wilderness offers solitude and silence. It starts as a nice stroll up an old jeep road through pine forest. After 100 feet in you will come to a sign for the Hells Hole Trail-6 miles, Boyer trail-2 miles. Based on my calculations the Boyer trail is 2.5 miles from the T.H. and the Hells Hole trail is 5.

Then the trail steadily climbs to the top of a shoulder. It then begins moderately descending through forest including emory oak, manzanita and ponderosa with some juniper thrown in for fun. About 1 mile from the T.H. you come to Armer Ranch, please respect this private property. At the ranch, the trail turns right (north) following the drainage of Reynolds creek for a short distance before dropping into it. It's a nicely shaded area with pools of water and larger, riparian tree life. After crossing the seasonal creek, you will begin a steady and moderate climb past a Salome Wilderness sign to the top of an exposed scrubby hill. Here you will find more dry-climate plant life, and in October I spotted several lizards and toads enjoying the rocky trail shaded with large manzanita.

Shortly after the top, you will see the left branching Boyer trail. Keep right and continue north where the trail starts its rocky, steady descent towards a tributary of Workman creek. Just past this point, the trail starts to turn east through some overgrown areas where I had to fight some pretty gnarly thornbushes. While the going is somewhat easy, there is sun exposure and even at the elevation here (5700 ft) it would be hot in summer. Continuing on, the trail starts its steep descent into Workman Creek, taking in several great views of the canyon walls. This point of the hike is well shaded, and is well appreciated due to the strenuous climb back up the switchbacks. After more than 1/2 mile of descent, the trail stops at Workman Creek and exploration downstream comes to 2 small campsites. You could go further down the stream to the tiered waterfalls, dry at this time, but none the less impressive as they carve the "bowls" and notches into the granite walls.

I discovered a way up and around the falls to a spot where the creek cuts its way through pink granite. The going would be slow after this point. It is completely overgrown on one side and a sheer 40' drop-off on the other. You could also attempt a cross country bushwhack the mile or so to Salome Creek or farther to the "JUG"."


---


Here is a link to an interesting article on "The Jug."

Here is a map showing the Jug in the lower left corner and its position relative to the Hell's Hole hike.