First Try of the Barnhardt Trail Sandy Saddle Loop


And the map to the trailhead:




A couple of good descriptions for the hike are http://www.toddshikingguide.com/Hikes/Arizona/Tonto/Mazatzal6.htm and http://hikearizona.com/decoder.php?ZTN=913. I got a good GPS track at the latter link.

I can leave after training. Drive a couple hours to the trailhead and head out. I have to be back for work on Friday, but I could spend one night.


---


Well, I did all that. I left about 10 and got gas on the way. Driving up 87, there is what appears to be a landfill on the left, where the Rio Salado is on the right. A huge military helicopter, with two horizontal rotors, was flying slowly over the landfill. Then as I continued, AZ-87 has a 65 mph limit most of the way. You can see the Four Peaks, and other landmarks as you go. On the way home, I saw Weaver's Needle, a long way off to the west. But as I was headed North, just as I crested a saddle where you leave Maricopa County and enter Gila County, a C-130 flew over, very low. It was following the canyon north. Pretty cool to see it that close.

I had weighed my pack - just over 30 pounds with hammock and tarp and tent and fly and sleeping pad, including 4L of water. When I got to the parking lot, a good 5 miles up a gravel road, I decided to leave the tent and fly in the car. I headed out just after noon. I had it in my head that the high would be 88. It was already higher than that when I started. As the trail report mentioned above says, it starts out climbing "moderately." While he says that goes on for several miles, I felt it wen ton briefly. Before I knew it my HR was hovering in the 130s and 140s. And it was HOT.


Here I was less than 3 miles out on a hopefully 17 mile trip, and already doing math. How long could I wait before turning back to the car and making it back in daylight? I had trashed my quads in the morning workout, but this was really unexpected. I was struggling with every step up. Maybe I have lost a lot of my conditioning - more than I thought after running the CandleLight 12.

As I was climbing, I liked across the canyon to see this: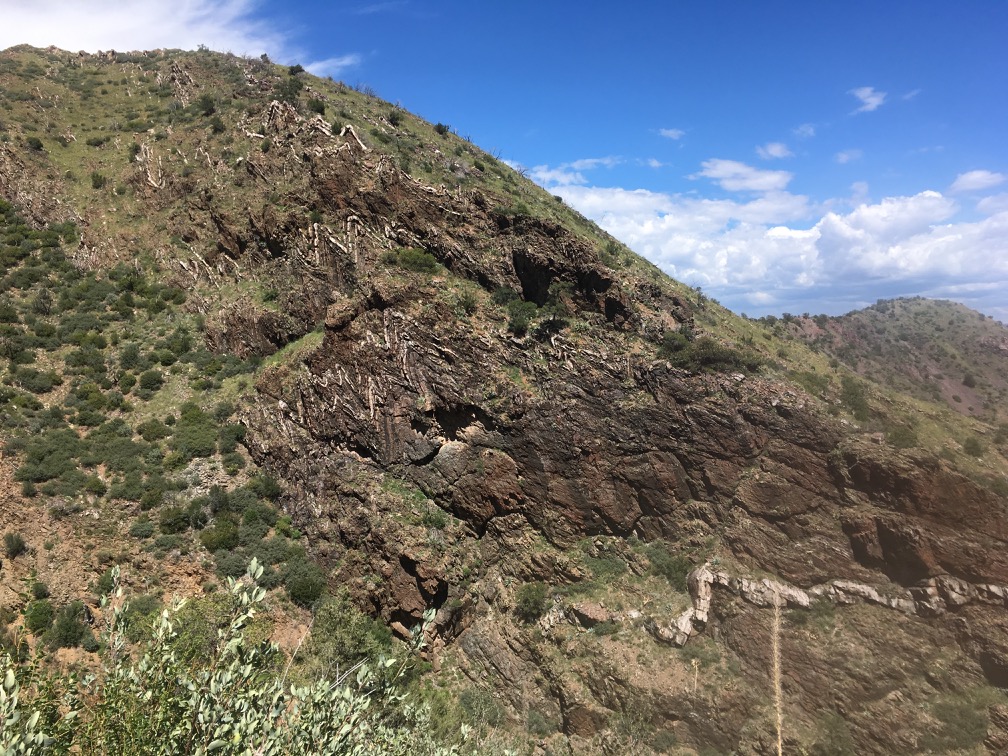 I call this "Rock that looks like Bark." I wonder how to say that in Apache. Maybe it's "Barnhardt"


I stopped someplace where there was a rock I could sit on, catch my breath, and have a think. I had no idea this would be this steep a hike, so shame on me. I really wasn't prepared, at least mentally, for this kind of effort. I had taken a fairly nonchalant approach - in fact I only decided to think about this hike yesterday. No big deal. Head out whenever, stop where I can hang a hammock, and do not stress. I was lucky to find a couple of trip reports, and a good GPS track. That was about all the prep I did. I didn't even load my pack until this morning. Waiting until mid-day to start was another big mistake. So, I sat there for about 5 minutes, and my watch started beeping that it was going to go into energy saver mode. I decided I would do the same thing. Stood up and headed back to the car. Probably the smart thing to do. I had climbed over 1000', but had another 1500' or more before I could stop for the night. That was not happening this time.

I had seen a pickup parked about halfway up the road to the trail. There was another car in the lot when I started out. I met one fellow hiking up as I was hiking back. When I got to the lot the car was gone, and the truck was also gone. I don't know where the guy I met came from, as there were no vehicles left. There was a big thunderstorm across the valley as I was hiking down. It had a neat rainbow on the edge of it, and I could hear thunder every now and then.

On my way home, I ate at the Blue Adobe in Mesa. It is one of my favorites.


Next time I try this hike. I need to plan better. Here are the trails in this wilderness area:
According to this, the Barnhardt Trail (43) is 5.9 miles. The GPS track I have for it is 6.3. Here is its elevation profile: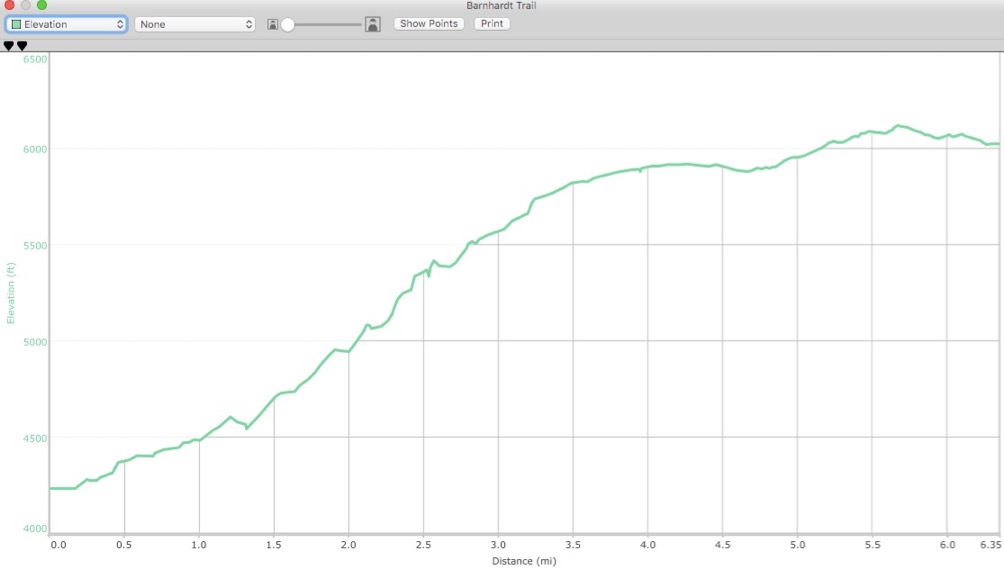 Just to go out on this trail requires 2000' of ascent, to where it ends at the Mazatzal Divide Trail (23).


Heading west on Barnhardt (23), 4.1 miles brings you to the intersection with the Sandy Saddle (231) trail. This part of Barnhardt has 2867' ascent, 1181' descent.

Now I have 2 options. I can continue on Barnhardt to the Divide Trail, hiking the loop clockwise, or I can turn onto Sandy Saddle and go CCW.

Clockwise, the remainder of Barnhardt is another 719' feet ascent, 568' of descent, and 2.2 miles. Possible to camp here. Or continue on Divide Trail north to its intersection with Sandy Saddle. That would be another 2.9 miles, 490' ascent and 572' descent.