My Last Marathon

January 17, 2016

After a restless night, I got up about 5 and made some coffee and breakfast. I rolled and stretched some muscles, and about 5:45 headed out to pick up Camille. I got to her house at 6:15 and we drove downtown and parked a couple blocks north of the start. At 7 the coffee shop opened and we got some coffee and walked down to the start.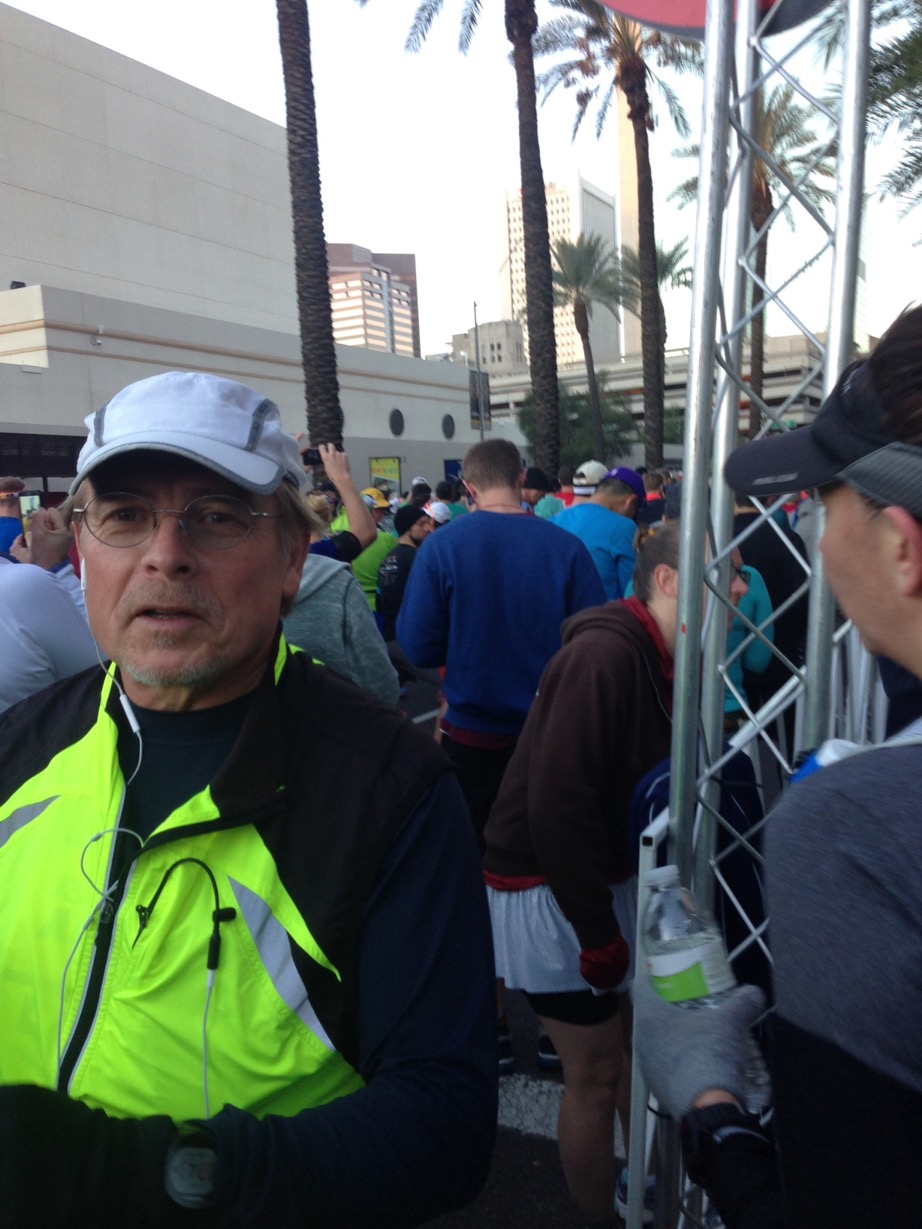 Getting into the corral with the other bovines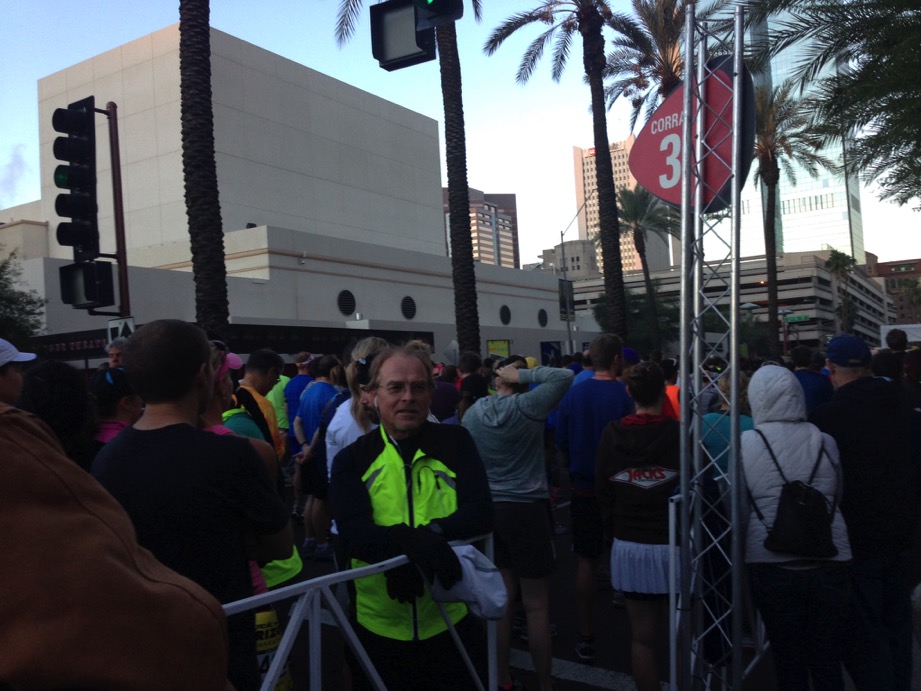 National Anthem



And they're off!


I was in the 3rd corral and started about 3 minutes after the official start. For all the hoopla there didn't seem to be that many people running. The web site had said there would be 20,000 participants. This didn't look like 20,000 to me. There was no waiting and we were running right away. My first mile was just under 10:00 which surprised me a little.

I kept running along easy without looking at my watch. It vibrates and shows each split time, and they were all in the low tens so I was OK with that. I stopped at a portacan in the 7th mile and that was the first mile over 11:00.

At 8 miles we were running east on Missouri and I remember thinking that it would be another 8 miles before we turned around in Scottsdale to head back west on this out and back portion. That seemed like a long way - I guess I was already tired. Thoughts of dropping began flirting. There were a few spectators. I saw one guy watching the race on a corner with a go-pro camera, filming the whole thing. Maybe he had a runner he was trying to catch in the race. Seemed kinda weird to me. Why would you want to watch replays of people running 10 minute + miles? If you were on the track infield and Usain Bolt was breaking the 100 meter world record, well, I'd understand that.

I guess I ran the 13th mile a little faster, being interested in getting to the halfway mark. Or maybe that's when I started listening to music. I started feeling hamstring cramps in the 15th mile. I took some extra electrolytes then. I had some NSAIDs and salt caps in a little baggie, and when I took them, instead of putting the baggie back in the key pocket inside the shorts, I just put them in the regular pocket where I had some life savers.

Running through Scottsdale, which is supposedly the big scenic attraction of the race, with Camelback Mountain just north, the course was routed through an abandoned parking lot using traffic cones. Really? Is this the best scenic course the big rock and roll marathon corporation can design? Pretty good evidence of the motivation of this enterprise: make some money for the owners. Nothing to do with racing.




Really? Even if I was training, I would just run around the block, and pass the front of the stores, instead of the back. Although, they did have both orange and yellow traffic cones, a shout out to the artistry of the region? And perhaps the gravel pile was really a scale replica of, I don't know, Red Mountain?


Well after winding through the parking lot, we were back on Goldwater Blvd. There were some enthusiastic junior high school cheerleaders groups along the way. The girls in Scottsdale were probably the loudest. The bands along the way were either not playing when I went by, or kind of mediocre.

I had run a good-for-me half marathon (2:16) but I also knew I was slowing. I figured if I could average 12:00 pace to the end I might be able to break 5 hours, which was my goal. I started checking my running mile versus my walking 0.2 run 0.8 mile split times. It wasn't looking good. When the cramps were worse, I decided it was just going to be a day to finish and stopped feeling so much pressure to beat a particular time.

In the 18th mile my legs were cramping worse so I intended to take some more salt caps. When I stopped running at 19.2 for a walk break to get the caps, I found that apparently I had dropped my baggie of meds and I couldn't find them. Instead of walking from 19.2 (7 miles to go) for 0.2 mile, I walked all the way to the 20 mile marker. And just there, we turned south, and there was a medical tent. I walked over to the tent and they were very helpful. They had to check me in, but they didn't make me sit down (because my legs would cramp if I did) and they gave me lots of salt and gatorade. I asked for tequila but they wouldn't share. I had to chase my salt with gatorade instead. My heart rate was down to 59, since I'd been walking for .8 mile.

After that I felt better. It was nice to have the out and back part behind me and to be running somewhat towards the finish (south). But I also knew it would be impossible to finish under 5:00 - I would probably finish in something like 5:05 or less, but not under 5. At this point, I texted Camille that I would not break 5:00 but would finish soon after that. Just so she could start planning about when to come to the finish area to pick me up.

I kept going along from mile to mile, water stop to water stop, walking a little bit at each landmark. I was running up one section and there was a tall girl ahead of me I was trying to catch. What the heck, she was walking, right? Walking right away from me. She was walking faster than I was running.

But I kept looking at my watch. When I got to 24 miles, I knew if I ran the rest of the way, I would be very close to 5:00. I was guessing a little, because I started my watch when I crossed the start mat, but I didn't know if my watch would match the "net" official time or not. I decided to run the rest of the way, which was kind of horrifying. It would be easy to just walk in. Making myself run as hard as I could after 4:40 hours of running, was not easy. It was the kind of thing you just wouldn't make yourself do. Good thing I had some music. I could just turn the volume all the way up, drown out my thoughts, and pass the people who were walking. Give them credit, they had beat me to this point.



The course is the red line. Starting near the white arrow in the green teardrop, ending near the white square in the red teardrop.


Well my last 3 miles, the pace went from 13:26 to 11:17 to 10:31 and 9:07 for the last 0.2 miles. I guess I needed all that "speed" to finish at 4:59:25 officially. 21 years and 2 days ago I had run the Houston marathon, with about the same amount of elevation gain (406' feet today) in 3:20.




At the finish line they took a picture of everyone with their medal.


Then you walked quite a way through the chute and got water, gatorade, bananas, pretzels, a finisher's jacket. And finally, after all that walking, you got a free, 10 ounce Michelob Ultra light beer. A second can of that cost $5.

I enjoyed the grandstand band at the end - they were either very good or the light beer had gone straight to my head. It took me 2.5 minutes to sit on the ground in front of the stage. Once down, with 2 beers in me, things got pleasant and I watched people dancing in front of the stage and enjoyed the sunshine. Of course the big screen next to the stage showed the Seahawks getting beaten by the Panthers.

Camille had trouble finding parking, but eventually found me and we watched the end of the music show. Then we walked back up and across the Salt River to where the car was parked. It was pretty nice to have chauffeur service! Come to think of it, I don't think I've ever had chauffeur service to and from a big race before. Maybe I'll continue this after all.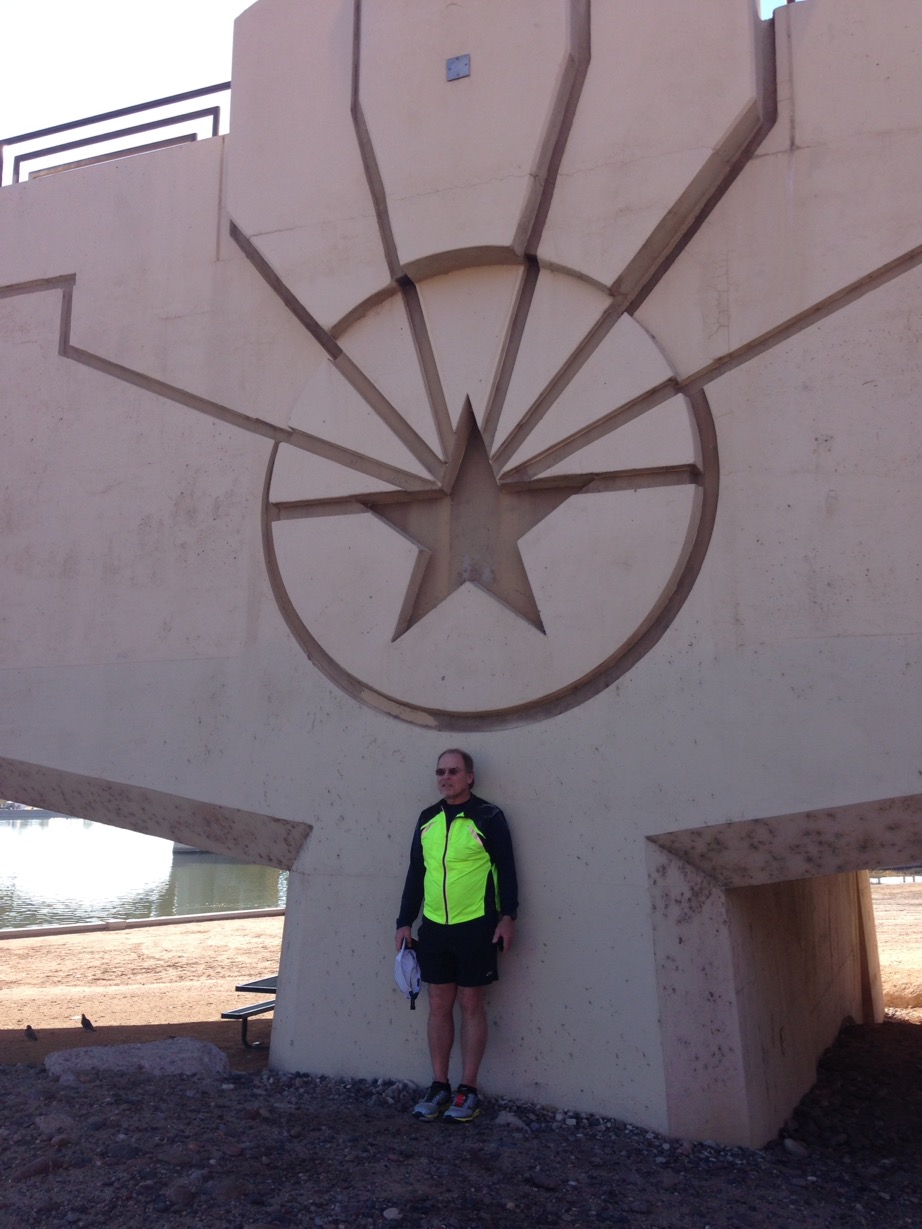 The Arizona Star - after the race, north shore of the Salt River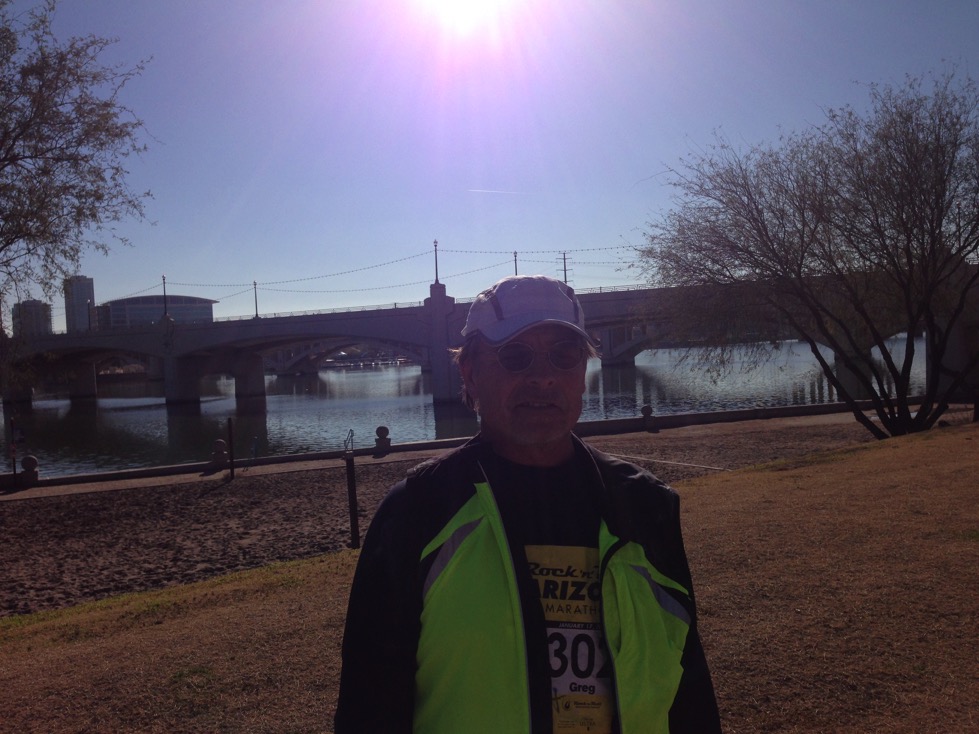 We ran over that bridge in the last mile.


Here are some data.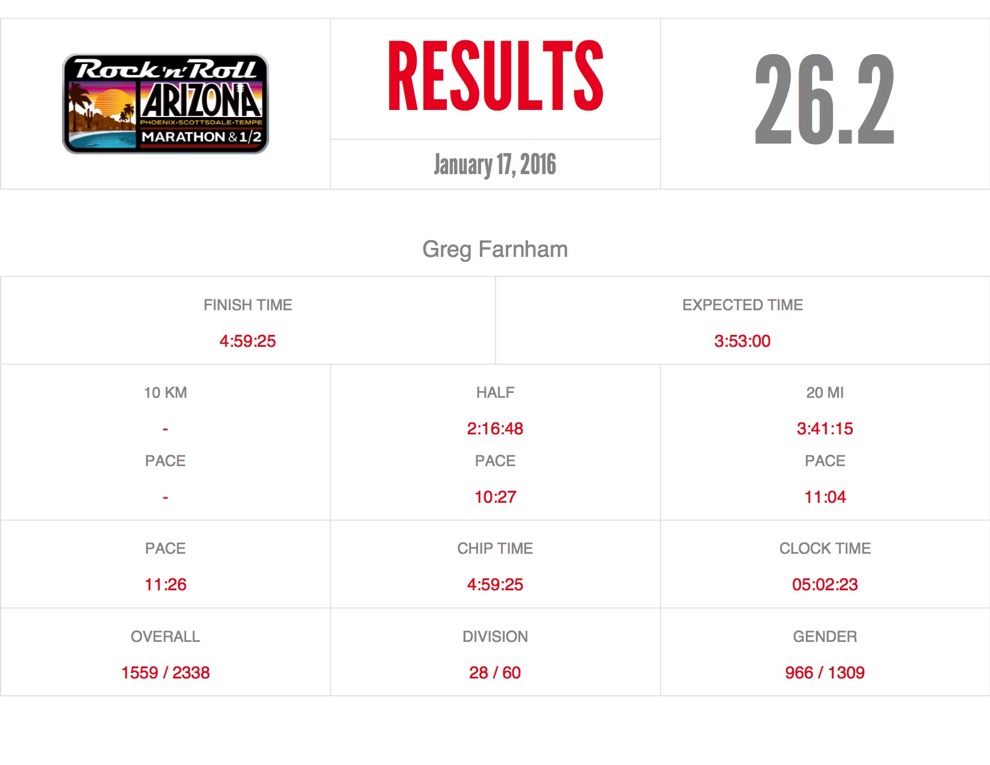 November 8

Today I ran a 14 mile "long" run. The training pace is supposed to be 11:09 miles. I only averaged 11:16 as I didn't feel like "pushing" it on my first "long" run. Average HR 125, Max 146. I learned a few things though. If I run east on Ocotillo (the road my apartment faces) about 3 miles, I can turn north onto the Paseo Trail. This trail is on either side of the Paseo Irrigation Canal. On the west side it is mostly dirt, for equestrians and runners, and on the other side it is concrete, for bikers and runners. I can stay mostly on dirt as far as I like.

I didn't take any water with me as it was in the 50s when I left and the high not expected until late afternoon, and then only 80. I did learn that 4.8 miles from my house there is a drinking fountain. Next time I will take a hand held, fill it there on the way out, fill it again after turning around at 7.5 miles. I will be at 7.5 + 7.5 - 4.8 = 10.2, so the second bottle will have to last 10.2 - 4.8 = 5.4 miles. Not bad.

Other than that, I took only life savers and sucked on a few. This is marathon training, not ultra marathon training. I will need some sugar to last 4.5 hours, but, not anything substantial like a Clif bar. Maybe I should buy some gel packs.