Half Moon Trail, #288, 9/22

The plan below was mostly a bust, because my Prius couldn't get to the trailhead, at least the way I tried to get there. There may be another route to the trailhead and I may try it some time. But for this hike, after trying to reach the trailhead, since I was already north of Phoenix, I decided to go to the Barnhardt trailhead and hike the Half Moon Trail.

Driving north in the dark this time I didn't see any C-130s or helicopters. I did see a portable sign in the mountains regarding a working fire on Mt. Ord and asking people not to report it. But I never saw a fire or smoke.

I tried going in via a forest road and made it through 3 washes, but the 4th was too deep so I turned around. I took a few photos of the nice views.



I threw a few rocks out of the way, but the bottom of the car started scraping before I got halfway into this wash.


So I drove to the Barnhardt Trailhead and started hiking north on the Half Moon Trail.



Walking along, this trail was much easier than the other trails in the area. Some places I kind of lost the footpath, but found it again with relatively little effort. I was walking along daydreaming, and saw what looked to me like a 6" wide chunk of firehose with a triangular pattern on it, stretched right across the trail. I was thinking how odd it looked, when I got about 5 feet from it, and it coiled up, hissed, and rattled. Made me think of U2, only Rattle and Hiss, instead of Rattle and Hum. Knowing the snake language, I knew this creature was saying to me "Stop! You are terrifying me and if you come any closer I will be unable to refrain from striking out and injecting you with my deadly poison" Since I wasn't interested in envenomation this morning, I stood still and whipped out my iPhone.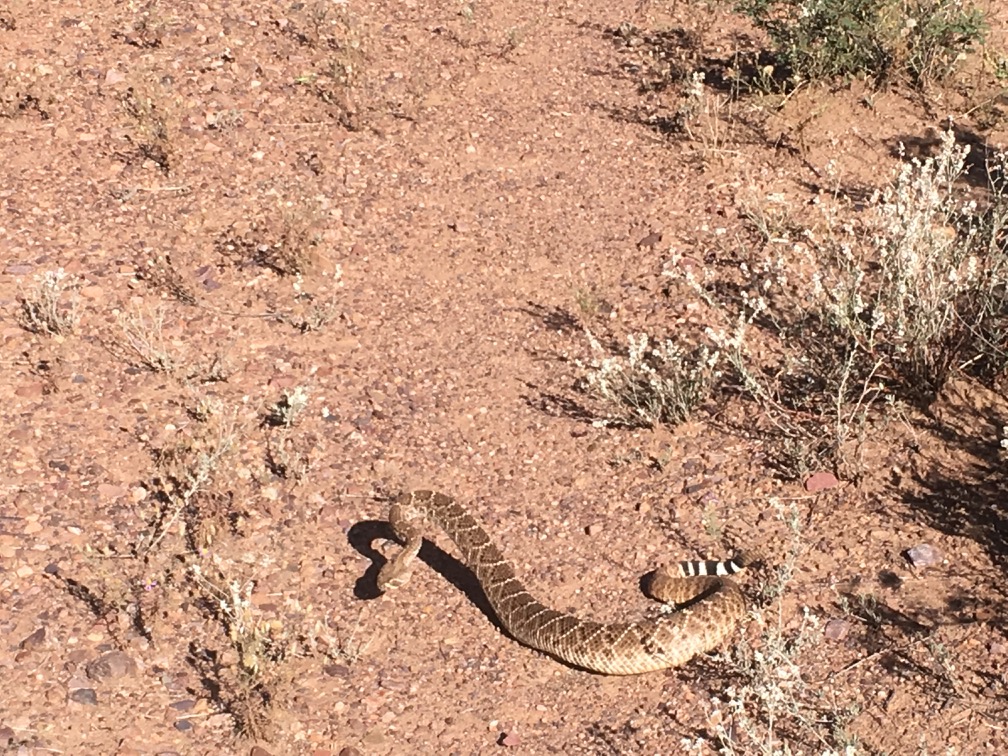 Head up + Tail up = Not Good. QED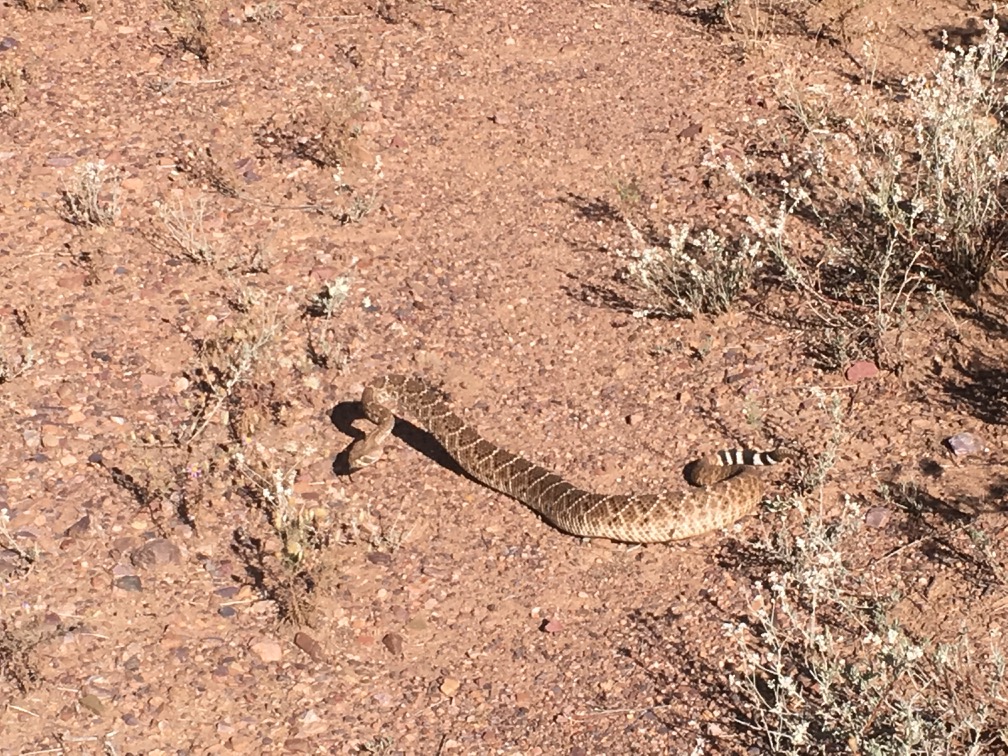 As I stood motionless, it eventually relaxed a bit, and slowly slithered sideways off the trail. As if, although I had disturbed it from sunning itself, it knew what I wanted to do, and was glad to get out of my way.


That woke me up a bit and I paid better attention to where I was going. It was a nice hike, and the trail crossed a fence right where there was a gate!


Near the end, the trail crosses the top of a ridge with the creek on the right. There was a really good breeze coming from the west, and it felt great. There were some droppings that I think may have been bighorn, but I am not a scatologist.

At the end of the trail, and the junction with the Rock Creek trail, I looked for any kinds of signs or markers. This is all I found:


This post perhaps previously pointed out the way to somewhere. But now, it is only another post with nothing much to say.

There was also a pile of trash, which might have signified some sort of "destination." I sat down, ate a bit of lunch, and hiked back to my car. On the way, the clouds blowing in from the south began dropping out of the mountains. I got sprinkled on a bit, and it was very pleasant.



Plan Below
---
There are a couple more longish loop opportunities in the Mazatzal. But perhaps it would be prudent to first check out parts of these loops in an out and back fashion. So that I know a priori what I might get myself into.
With that in mind, I plan to hike the #42 Rock Creek Trail out and back from its trailhead. The drive to the trailhead looks to be about 2 hours. It requires a left off the Beeline just past All Bike Sales and before Rim Country Tractor, both on the right, onto H Bar Ranch Rd. Follow this north as it turns into FS 537, then sharp left onto FS 414, then left again onto FS 424. There is allegedly a parking area at the end, where The Rock Creek Trail starts and ends.
Looking closely at Preston's description and map, the new parking place requires a 0.8 walk to the beginning of what I have planned as part of this bigger, overall loop. My estimates below are based on that loop. So, that means an extra 0.8 miles before, and after, whatever I choose to do. His nicely annotated topo map is below.
Rock Creek 42 is 5.8 miles one way to a junction with the Divide Trail. Going E2W, there is 3,526' ascent and 828' descent. This should take 3-4 hours.
I could turn around here and hike right back to the car. That would make 11.6 miles, 4,354' ascent and descent.
Or, I could add another small out and back section of the Divide Trail, hiking it 1.3 miles south to the junction of the alleged former Sandy Saddle Trail. This out and back would add a total of 2.6 miles and 649' feet ascent and descent. This would make the grand total 14.2 miles, 5,003' ascent and descent. That is probably enough for a day.
Figuring 2 mph and 1L per hour, it would take 7 hours, and 7L = 15.4# of water. If I drink up and leave the car with a full belly, and have plenty to drink when I get back, I can trim 4.4 pounds by not drinking the first or last hours. And of course I may find water along the way. There are 4 potential water sources marked on the map. Along with a couple of potential parking places.
Thinking more about this plan, I should hike with long-sleeved clothes to avoid sunburn, need for sun screen, and the scratching I suffered last week. In addition, I have 2 each of 3L and 2L bladders. I can take them all with me. I'll find a suitable spot on the way out Rock Creek, perhaps about 4 miles or 2 hours, to cache one of the bladders. This will lighten my load for the rest of the hike without sacrificing water. I'll need this water for the hike back to the car, but I don't need to carry it all the way to the turnaround and back.
Getting to the TH for the first time may take a little scouting. From the web report:
"To hike: From Phoenix, take AZ Highway 87 north to Rye (10 miles south of Payson, where 87 becomes a divided highway). Turn left (west) onto Forest Road 414 (Cypress Thicket Road). 414 immediately turns right (north) and parallels the highway. There should be a road marker in the first mile. Follow 414 about 4.75 miles until you reach Forest Road 442. 442 takes off to the left (south) between 2 crossings of Rye Creek. Take road 442 about 3 miles to an intersection with a faint old road on your left (this is one tenth mile past the 3rd creek crossing on road 442). This is the new trailhead. There is a parking spot here, could hold 2 vehicles. There is more parking at the third creek crossing."
The information I am using to plan this comes from the
hikearizona.com web page
and a report posted there from Preston Sands, written in February of 2006. It is since the Willow Fire, but over 10 years old. It is also the best I can find, and an excellent report with many photos.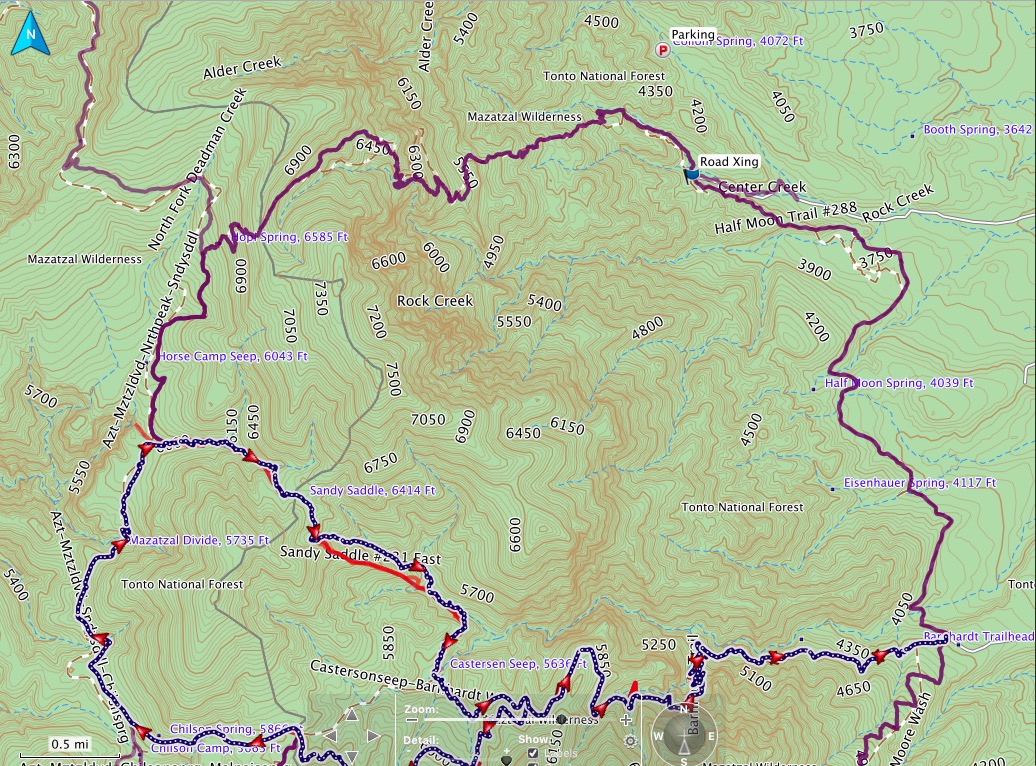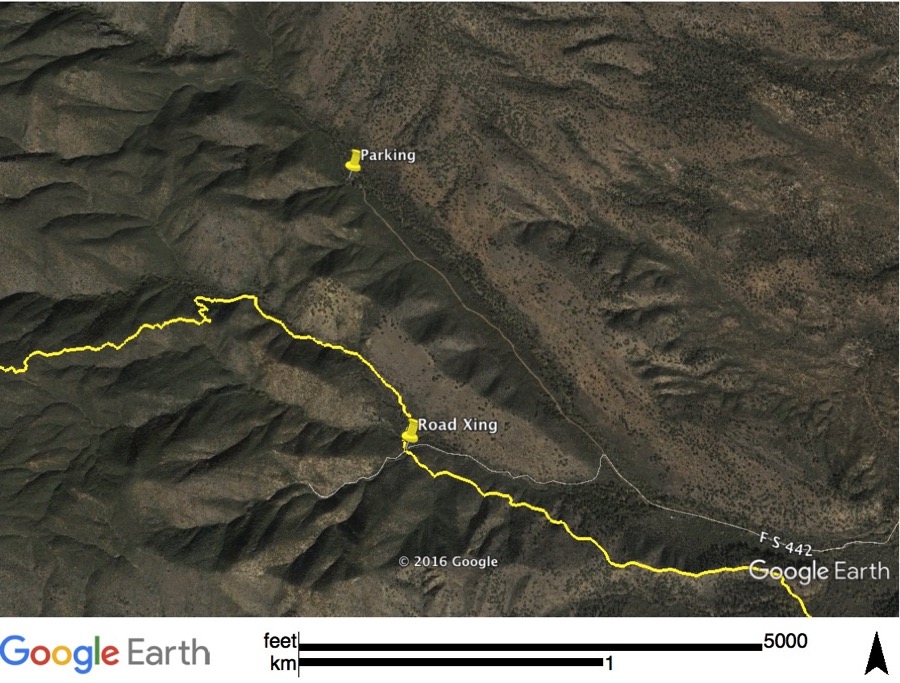 Roads leading near this trail. Perhaps the parking spot is on the wrong side of ridge?



Finally, if that doesn't do me in, I could hike south on the Half Moon Trail. This trail heads south from the trail heads to the Barnhardt trailhead. It's 4 relatively flat miles to the Barnhardt Trailhead, but, I could turn around any time I felt like it.




Annotated topo map posted by Preston Sands.