Boulder Canyon (103) from Cavalry to Dutchman's

This part was 2.1 miles, 279' ascent, 49' descent, 2:21 elapsed time.



Back and forth across the creek bed, at least a dozen times, nearly due South, and such a gradual ascent I never realized I was climbing.


Hiking along this morning, I was completely without a plan. Feet and back still sore, I was sometimes looking for a place to bathe, sometimes for a place to eat lunch, to pump water, or to spend the night. But this was mostly rocky creek bed. There were water holes, but none deep enough to swim in. An old biplane flew over. I wondered if it was going to rendezvous with the F-35s.

There were a few high scrambles over huge boulders. I wondered what it would be like to be here when a flash flood came careening down the canyon. Would I be able to get high enough?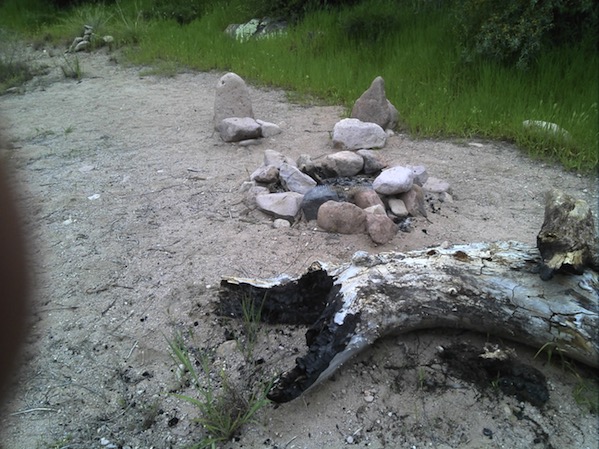 Someone had built a cozy campsite here, with, well, not Adirondack chairs, but chairs…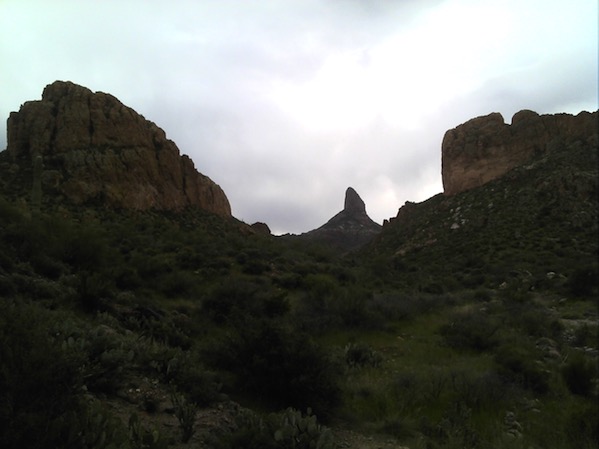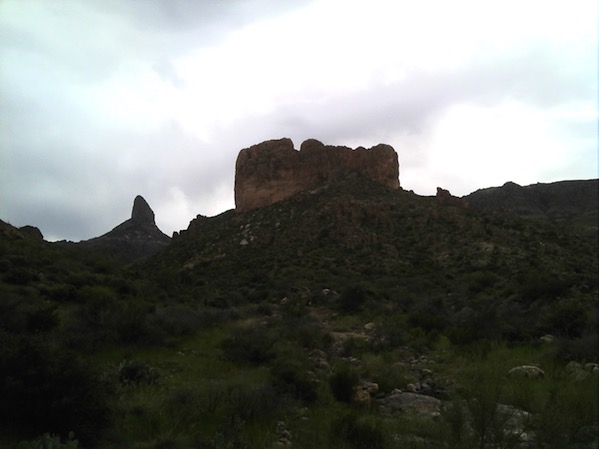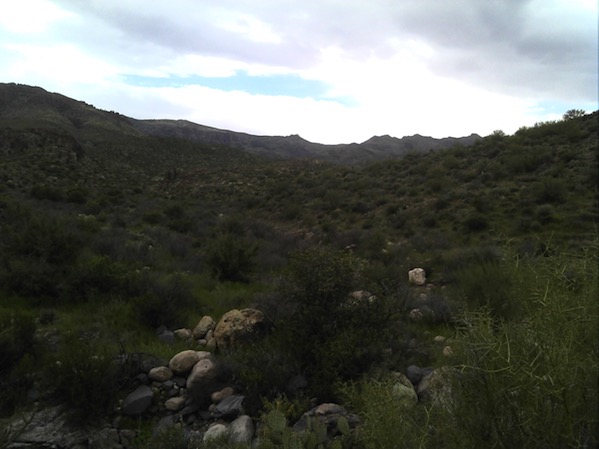 When I took these, I didn't know I would be seeing these stark structures again, I just thought they were interesting.


At the end of the Boulder Canyon trail, intersecting Dutchman's yet again, I stopped to hang my shirt on the trail sign to dry, and to take a short break. I had already hiked more than I had originally planned for the day. The notion of finishing today and sleeping in my hammock tonight was flirting with me, but I still felt very tired, and sore. I was looking at options with my map out, when a nice fellow came along walking his dog. I think he was on a day hike from Second Water, but he was interested in giving me options to consider, so he got his map out. I had the big Forest Service map, and he had a smaller map. I had bought that map at REI, but I hadn't brought it with me. Both maps have virtues; next time I'll bring both. While we talked, I more or less decided to take a different route back to the car. I didn't like the look of the big climb on the Peralta trail. Taken individually, the climbs on Dutchman's, Terrapin, and Bluff Spring looked smaller. I didn't think to add them together in my head, or to realize that the scale of the elevation profiles on the Forest Service map were all different…

After the man with the dog walked on, I found a rock to sit on and ate my cold lunch. There are no lunch logs here. I was already very low on water. I would skip the Peralta Trail. Although it was a single trail, and 6.2 miles to the car, with a couple of potential campsites along the way, there was a long, gradual 1800' climb followed by a long, gradual 1950' descent. There were no likely campsites or water sources. It looked huge on the map, and I didn't feel like climbing. In retrospect, it was probably much easier than what I chose to do instead…

I decided to head down the alternate route until I found water, and then I could decide what to do. So at this point, I abandoned my planned route.

Had I executed the rest of Plan 0, from this point, I would have hiked 6.2 miles, climbed 1883' and descended 1951' all on the Peralta Trail.

But, I didn't. Instead, I chose to take a shorter (apparently) and less hilly (apparently) route. I ended up walking 6.6 miles (farther!) and climbing 1668' (less) and descending 1737' (also less). It would have been even less, but I took a costly wrong turn and had to backtrack. But I also suspect (now) that the Peralta Trail descent was much more gradual than what I chose to do, instead, and it turned out, in the dark.

So, my decision was OK. But during the hike, I had remorse, thinking it would have been easier to just hike along Peralta, and not make the mistakes I did with wrong turns, etc.




But first I took this photo, of an old carcass, mouldering on its grave.