July 6, Camille and I headed to reprise our tough hike on the Cave Trail, planning to hike trackwise this time. Having picked a day when the weather might cooperate, I picked Camille up at 5 so we could escape some of the heat and sun. The forecast called for scattered thunderstorms, and there was an impressive lightning storm out west of South Mountain to watch while I drove to her house in the dark.

A family of 7 people in a van passed us on the Peralta Road to the trailhead, and were leaving for Fremont Saddle when we arrived. Camille and I geared up and said hello to them as we loaded our extra 3L bladders in our day packs. I thought I was applying sunblock liberally, but later I would find that maybe I dreamed that? I got really sunburned on my neck and hands.



Today would be a millipede counting day. We counted 16(?) of these fellow earthlings. Camille even moved one who had become stranded on the trail, so it was out of the blazing afternoon sun.


We signed in and headed for the Bluff Springs Trail, climbing from the start. This trail goes up fairly steeply and levels off to a gradual climb for a bit. After we turned onto the unofficial Cave Trail, the climbing began again. We followed our previous track, as well as the GPS track from the internet, and, the tracks that appear in the Arizona Topo download. Surprisingly (well, not to the resident formerly licensed outdoor guide!) we had climbed down from Geronimo Cave nearly on the "correct" path, although we didn't know it at the time (see our previous hike here.) In fact, there are only 2 evident places on the trail that we veered off course last time. The blue track below is from June 23, the gold colored track is from July 6.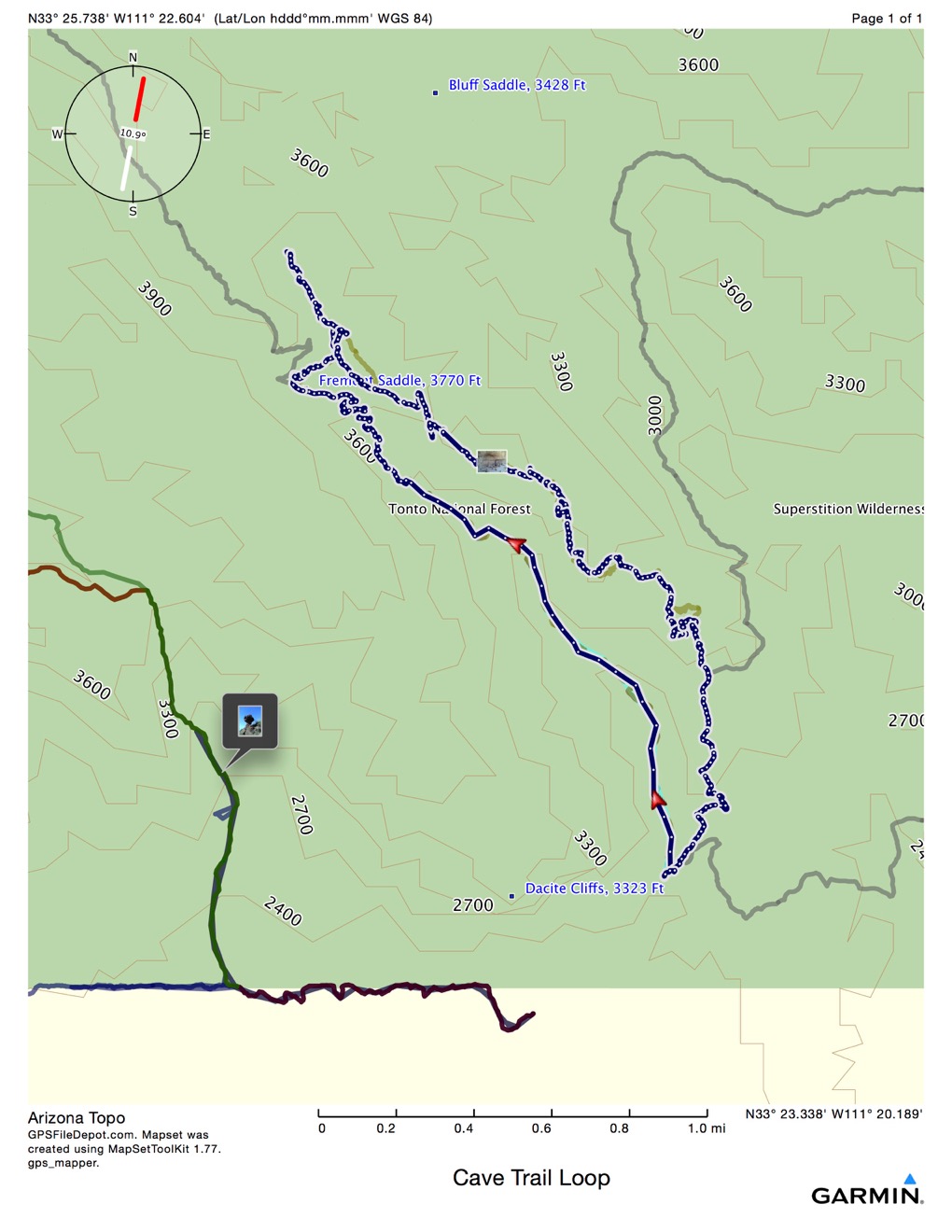 Looking up at what we have to surmount. Last time, we descended through the crevice to the left of the huge bar boulder in the right center of the photo. This time, we scrambled across from left to right tat the base of the big, bare rock, then bouldered straight up the right edge - IMHO, the steepest part of it. Where the 3 boulders rest on top, there is a level spot, from which one may look down, trembling in fear.


We climbed up, looking up to discern where we had come down 2 weeks before. Part way up, we found ourselves at the bottom of the most difficult descent. Last time, we had climbed down through a crevice that had scrub brush in it. At one point in there, I had to jump down about 4 feet. I am not sure how I would have jumped up 4 feet if we went up that way. At this point, we could either try to go back up through the crevice, or, since we were standing at the base of a huge boulder, go straight up. We crossed about a 20 foot stretch across a bare boulder that made Camille very anxious due to the angle of the footing. Now we were at the bottom of the ascent that we had look at from above 2 weeks earlier and both agreed No [deleted] Way! Camille thought we could make it, and let me choose to go first. I wasn't so sure, but, she's a pretty good hiker, so I went along. I started up, what she called "bouldering," something I've never done before. About half way up, I had to stop and catch my breath. Looking down at her, waiting patiently below, I observed that she still had a choice of how to go up. Since I was where I was, I couldn't come back down and could only go up. After another steep climb, I made it to be able to sit down. I couldn't edge back out far enough to see Camille below. Here she is "bouldering:"


Last time we scooted down this drain on our butts. Today we were able to "walk" up it. This is just above the scramble up shown above. Once up here, we could relax a bit, enjoy the adrenalin of our accomplishment and admire the view. Climbing up some more, we reached the summit of today's hike. The view just goes on forever...


Before descending to the Cave, we climbed a little higher out on a long ledge and found a nice spot to sit and eat a snack, catch a view, and let the nice breeze dry us off. We had cheated Mother Nature - it was still fairly cool, we were in the shade, and had already finished the hard climbing. All downhill from here. Except for the uphill and level parts ;-)


We were really disappointed when we reached Geronimo Cave. Since we were here 13 days ago, vandals had toppled all the stone sculptures. We couldn't figure why anyone would do something like this. It couldn't have been wind, or animals. We spent some time rebuilding some of the larger cairns, but, left some work for our next loop also.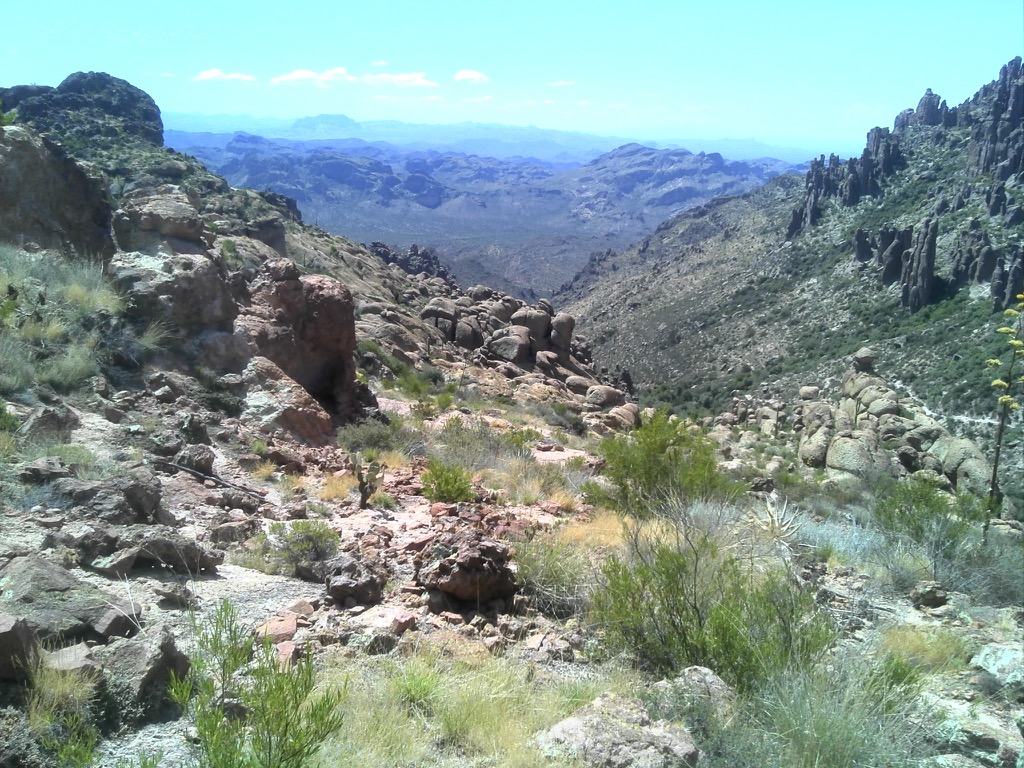 Weaver's Needle from Weaver's Overlook.