Tuesday, December 12, I had a much needed day off from work and planned to hike from Peralta Trailhead in the Superstition Wilderness. My plan was to start hiking east on the Dutchman's Trail, which I have hiked before, and then east on the Coffee Flat trail, which I had not hiked before. I had no specific destination or goal in mind, except to get out into the wilderness.

I've been learning to use a new iPhone app called
RouteScout.
It is fascinating! It has lots of surprises that pop up as you hike along - I won't spoil them here. I first used it on some hikes up north earlier this season. On December 6, I used it the entire way. It showed me a few new secrets and made my hike really enjoyable. Even if you don't have a track to download and "follow" it is helpful and interesting. Below is a screen shot of the track my phone recorded, shown in the Route Manager edit screen, with the track elevation profile displayed. The map shown is provided with the app and is an enhanced version of the Forest Service topographic map.


My plan was to be ready to hike at the trailhead at first light, which was about 6:30. I was there in plenty of time and took my time packing and getting my "boots" on. I started at about 6:50 with my headlamp to assist the dawning sun in showing the way. After signing in, you drop through a wash and turn right onto the Dutchman's trail. It was 45 degrees when I left the car and there was a slight breeze.

When you park at the Peralta Trailhead, you are at the very base of a geological formation named Dacite Cliffs. After a short while on the trail, you can look back at the cliffs, just as the sun begins to light them up, before the sun is quite above the eastern horizon.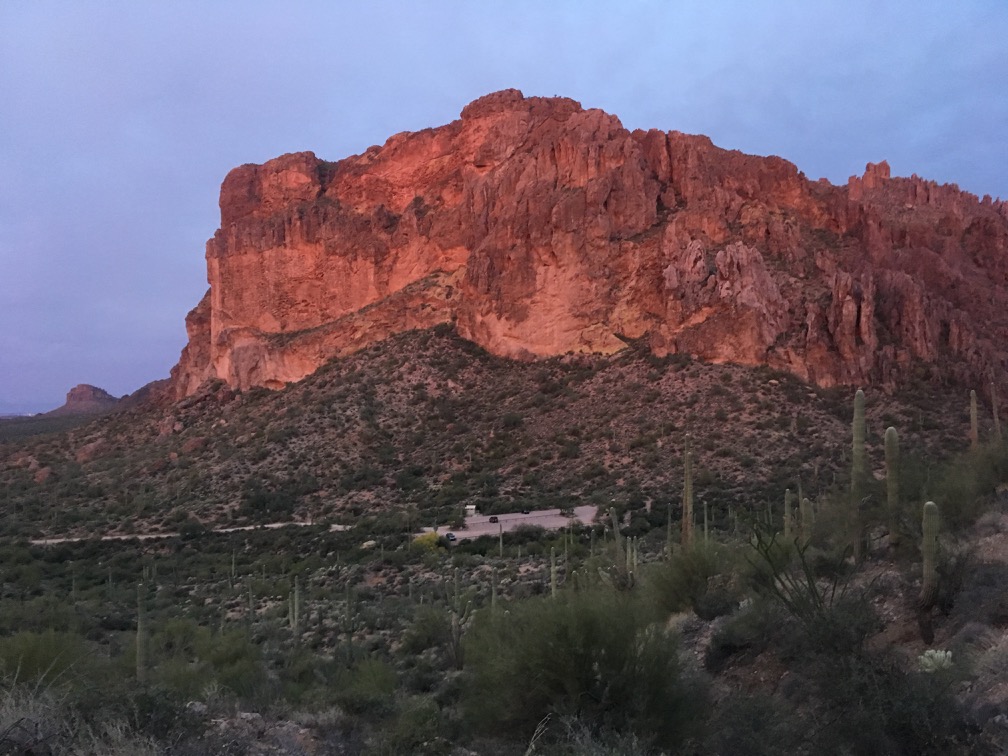 At the base of the Cliffs in this photo you can see the parking lot, the white-roofed outhouse, and my little black car just to the right of the toilets. On the left, facing the eastern horizon, you can see the sky as it is nearly "can see." At R.I.T. I had an old air force retiree as professor who grew up in the midwest on a farm. He said they worked from "can see to can't see." This is can see.




I believe that is Pinal Peak on the horizon. I've never been there.


Now the hike was on. I walked along enjoying the quite, cool air. Even the song birds weren't up yet. Miner's Needle was the landmark ahead on my left that I reached for. I had hiked this section of the Dutchman Trail on my very first backpack in the Superstitions. I am still amazed that this trail was named after me. Just east of Miner's Needle, which is somewhat dwarfed by Weaver's Needle to the northwest, is another rock structure that sticks up out of the desert. I call that one Miner's Thumb. There are multiple cataracts that look like a thumb from the perspective of the trail east of the Thumb. Nobody else calls it that. It's my name. I thought it up. That doesn't mean it's wrong.

I was trying to be in every moment on this hike. I was trying not to reflect on the year, or on all the things that happened during the year. And of course they all came flooding at me. Like the meditation trick of "don't think about the pink rabbit." But I was able to bring my thoughts back to enjoying the current step whenever my watcher realized I was not being present in the current moment. That was kinda good.

My watch read 2.8 miles when I got to the junction of the Coffee Flat Trail. I shifted things around in my pack a bit, removed my jacket and lined vest, and walked on. About 2 miles down the Coffee Flat trail there was an informal junction marked with some rocks on the ground. The spur to the right took me toward Deerhorn Spring and toward Coffee Flat Canyon. In a tenth of a mile I was in a small campsite with fire rings. Next to it was Whitlow Corral. There were a couple of salt licks in the corral, and some cattle droppings, but nothing too fresh. I went thru the gate, closing it behind me, and down the creek bed toward the spring. I walked past the spring marker on the GPS map but never saw any water other than a few pockets caught in the bedrock. After a half mile of looking for a spring, I gave up and went back to the trail. Near the junction of the spur and the Coffee Flat trail, I cached my pack behind a low creosote bush and took only my liter water bottle to head east. My idea was to walk a way, do whatever I felt like, enjoy playing in the wilderness, and then come back to this junction and make some lunch. I had soup, coffee and hot cereal. It would be a nice place to sit and enjoy the surrounding scenery. It would be like sitting in a bowl with cliffs and mountains all around me. The day was very pleasant, with a thin cloud layer and a nice little breeze.

After about 6.7 miles I arrived at an informal campsite with a tank and a windmill in poor repair. Tanks in the desert are not always spheres raised above the ground. Sometimes they are like this tank, and sometimes they are just a dammed up wash.


It's obviously been dry here, although if this spring depends on the windmill to bring the water up, that explains the empty tank. After looking around a bit, I was having trouble figuring out which way the trail left the little campsite. Then I looked down where I was standing...


I thought "why not try it?"

I forged on, taking my time. I reached a fence line with a gate and checked my paper map. It looked like I could go less than 2 miles and be at the junction with the Red Tanks trail. If I did that, then I would leave the east end of the Coffee Flat trail to hike another day, making a loop with Red Tank and some other trails. That would start at the next trailhead to the east. This became my plan. I hiked along the dry creek bed of the canyon. You actually hike through another gate, out of the wilderness area, then back into it, walking along Randolph Canyon. In places the trail was hard to see, but followed the creek bed. Eventually I reached Fraser Canyon and the Red Tank trail. There was a herd of black Angus cattle grazing here. They thought I was quite curious. I get that a lot.

At about 3 miles I had felt my knee stiffening, but I decided to hike on and see if it got worse. It didn't really, but being poorly trained for this terrain and distance, other things got very sore. No blisters, but both my feet were sore and tired and I was regretting my decision to hike so far. But as always, the only thing to do at this point was to continue and get back to my car. And, because I was so slow, and it was farther than I thought, I might run out of daylight if I dawdled.


Here I was, at the turnaround point. I was not thrilled about having hiked myself out of time to sit around and cook some lunch and lollygag. I didn't bring overnight gear, so even though I had an emergency bivy in my safety kit, planning to spend a night out here was not prudent. I knew I had to hike back, I knew I had plenty of time, and didn't have to rush. And that was good, because I don't think I could rush.

I kept trying to be present. I also kept trying to figure out several things. I knew my friend Les had left NYC for Singapore on the 8th and was in Singapore, and I think boarding his vessel for a cruise. I thought about him and sent him intentions to have a great cruise.

I thought about my good friend Maureen who is dying of cancer. She sent me an email telling me good bye, and was in a home to spend her "last few weeks." I wondered if today would be the day that she transitioned. I found out later that she had passed in December.

I kept trying to figure something out that a good friend and trusted advisor recently told me. She said (I think) that when people seem unwilling to accept my help, or love, that they are not making this choice. They are simply reflecting my own thoughts and feelings. What does that mean? I can't figure it out.

Does that mean that I wouldn't accept the help or love that I am offering from me? That I wouldn't accept it from them?

It also sounds like it's all my problem. I am creating it. Once I understand what she means then I will have the ability to change it. Something like, "quit complaining, you are your own worst enemy. You're bringing this on yourself." Or, "you're making a mountain out of a molehill."

Only I don't think she would say anything like that. That is me saying that - she did not say those words. But is that what it means? From my perspective?

When I feel like helping or giving, I don't ever think about receiving, or if I would receive any similar kind of offer, or not. So what is it these people are "reflecting" that I am giving them to reflect? I don't get it…

I didn't get it then and I don't now.

Revelation - after asking her to explain. Not surprisingly, once again, I misunderstood what was said. I thought she meant people saw me doing something. What she meant was, by saying that they see in their reflection, that I am a mirror. When you look into a mirror, you don't actually see the mirror (well, I do, but most people don't) - you see your reflection in the mirror. Ego forces you to think about how you look. Not how the mirror looks. I thought she meant they were seeing something I was doing, and reflecting that back to me. No. They are seeing their own reflection in the mirror. I am just the mirror. Completely uninvolved in whatever is going on. Hard to understand this when you are the mirror, but perfectly logical. It isn't about the mirror. It is all about the person looking into the mirror.

Now, given that I am simply an inanimate object, not an actor in my interactions with others, what does that mean? How can that be? How does it come to pass and what does it "say" about the situation, or me? Absolutely nothing.

And so I hiked along, my feet and legs killing me. I met 4 horses with riders and stepped aside, as per protocol, to let them pass. They were pleasant and did speak to me. I wondered if the word "equestrian" refers to the horse, or the rider? And waited to get home to look it up. It means the rider.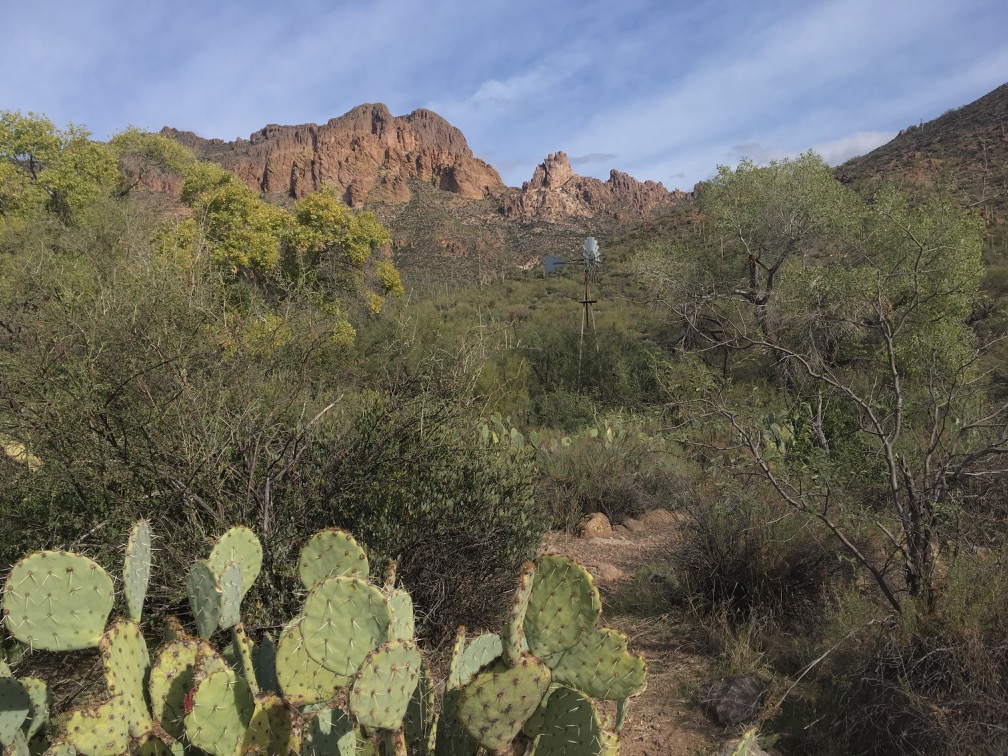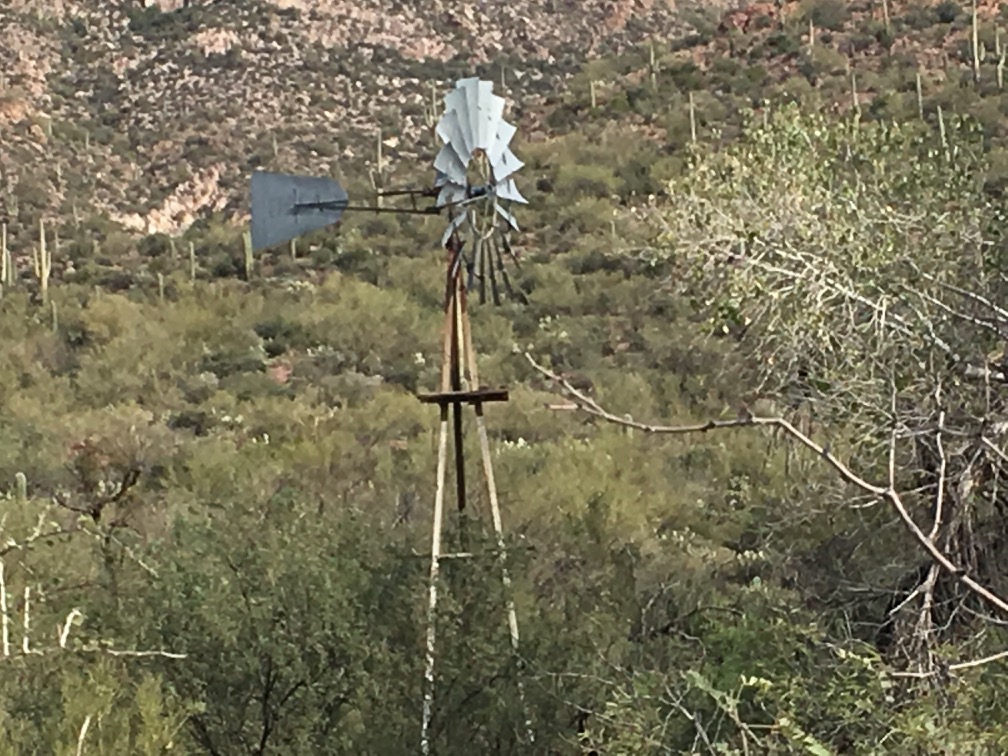 I am pretty sure this is Reed's Tank shown on one of the maps. This windmill was really cranking in the breeze, and I heard it before I saw it. Of course when I got my camera out, it stopped turning. Then when I started walking again and had put the camera back in my pocket, it started cranking again. I think thiss is a particular type of Dutch windmill. They use them in Holland to water the tulips, or something. I think this is a Dutch Introvert Mill. Very few people have heard of them, or noticed them.


See why they call it a needle?


I don't know if that little hole is the reason this is called a Needle. I don't remember seeing such a hole on Weaver's Needle. I assumed in that case it is due to the spire-like nature of Weaver's Needle.