September 12, 2015 Wet Beaver Creek to the Crack

Camille, Stephen and I drove to their parents house in Pine Friday night. Two of their nephews were also supposed to go, but, they both canceled at the last minute. We didn't get to Pine until after 8 pm, but their parents had made a huge pot of gluten free beef stew, a big pan of Carolina corn bread, and had waited supper for us. We had a wonderful supper, after which we talked into the night, going to beed after 11 pm.

Saturday, Camille and Stephen wanted to be hiking by 7 am, so we got up at 5. We decided to heat up stew for breakfast rather than spend a lot of time cooking, and it was a hearty breakfast. We were in the car and headed to the trail head in no time for the ~90 minute drive across AZ 260, to I-17, 12 miles north, and 3 miles east to the trail head. We started hiking about 7:45, so not too bad.





We hiked out the Bell Trail to a kiosk at the junction with the Weir trail. I had loaded the Bell trail track into my GPS, but, I had not done a thorough job of planning. We remembered there was a loop, and the Weir trail seemed to go down to the creek, but we chose the Bell Trail. It paralleled the creek, but above the Weir trail, and started climbing up the canyon wall. A little past the 3 mile point we crossed the creek, and then the climbing began in earnest.


The red sandstone canyon walls were breathtaking, and we hiked past spots next to vertical walls that rose 100s of feet above us, straight up. At turns along the cliff we could also see pools of water below in the creek bed. The total climb of about 1800' was unrelenting and occurred within a mile of horizontal distance. We stopped several times to breath and gaze. Camille could point out the city of Jerome to the northwest when it was visible up the canyon, and also showed us where Sedona was, to the northeast.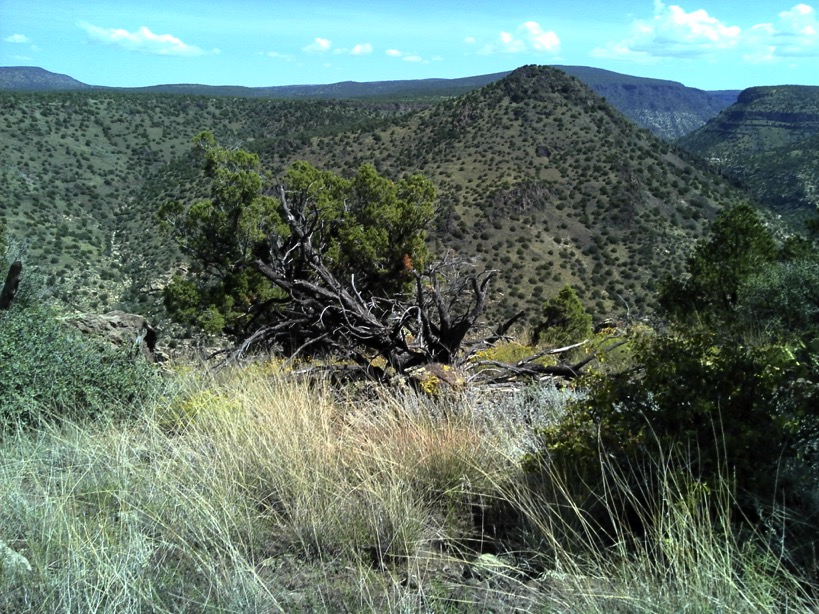 I thought this was a cool view along the way

We climbed to the Rim, and could look east by northeast and see the huge mesa spread out before us. At about the 5 mile mark, after passing a trail post marked '13' (we didn't know 13 what?) we decided it was time for lunch. I was very hungry. We found some logs beneath a spreading juniper tree and sat down in the shade. We had sardines, crackers, dried fruit, and nuts.

Then we headed back down the way we had come. We could hear lots of people having a ball below us, and soon we arrived at the Crack.



Descending, looking to the west



On the way back down...



See the huge anvil head? No, not me, silly, up in the sky!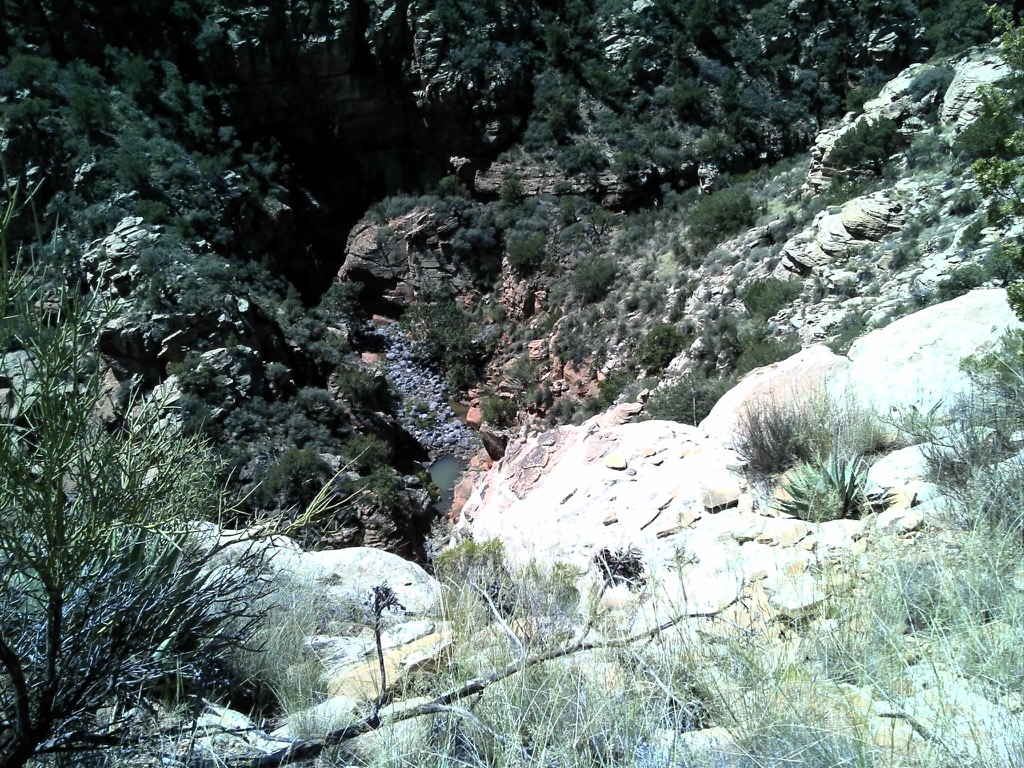 Way down there, a pool in the creek bed


When we arrived at the Crack, there were 30-40 people there having a real party. Most of them were college age, with a few middle-aged couples sprinkled around. We found a place to park our gear while Stephen began jumping off the rocks.

I dove into the water, and got a big surprise - it was very chilly. I gasped when I hit, and swallowed a big mouthful of water. Then, we helped some guys playing frisbee by retrieving their disc and tossing it. Tossing a frisbee while treading water is tricky, and I got another big mouthful of water. After that, I realized I probably was going to get giardiasis if I weren't more careful. We swam for quite a while, and then climbed out on a flat rock near the water but in the sun. It was nap time. After about 20 minutes I had to get up for some sunscreen sur la stomach. Then I dozed off again, maybe, or became a crocodile-sized grey and white salamander guarding the littoral waters, helping frustrated frisbee flippers.


Back at the Crack, Stephen jumps off the high board first.


Awakening from our respective naps, Stephen and Camille began discussing their jumps. Camille hadn't jumped yet. When they got ready to go, they asked me if I was coming. If they hadn't asked, I would have been happy to stay where I was. Very happy. But, they asked. So I went.

We each jumped off the low side (15'?) twice each, after which we swam back up through the Crack to our perch at the upstream border of the upper pool. I was drying off nicely, and really exhausted from having worked up the courage it took for me to do that, and maybe the adrenalin, when Camille offered to take my picture if I wanted to jump again. And I had just told her that I couldn't believe I had done that. Twice. I may have used an expletive.

So, up we climbed back to the ledge, and waited while a young man took a long time to convince himself to jump from the high side. Camille was ready with her camera, and so I asked the guys on the lower platform if I could go, and they acceded.

I wasn't really jumping. I was taking one step and leaning. Once I leaned, there was nothing to do but to fall. If I had planned, or thought, about what I was doing, it would not have happened. Lucky for me, Camille worked the camera masterfully, and got these really cool shots: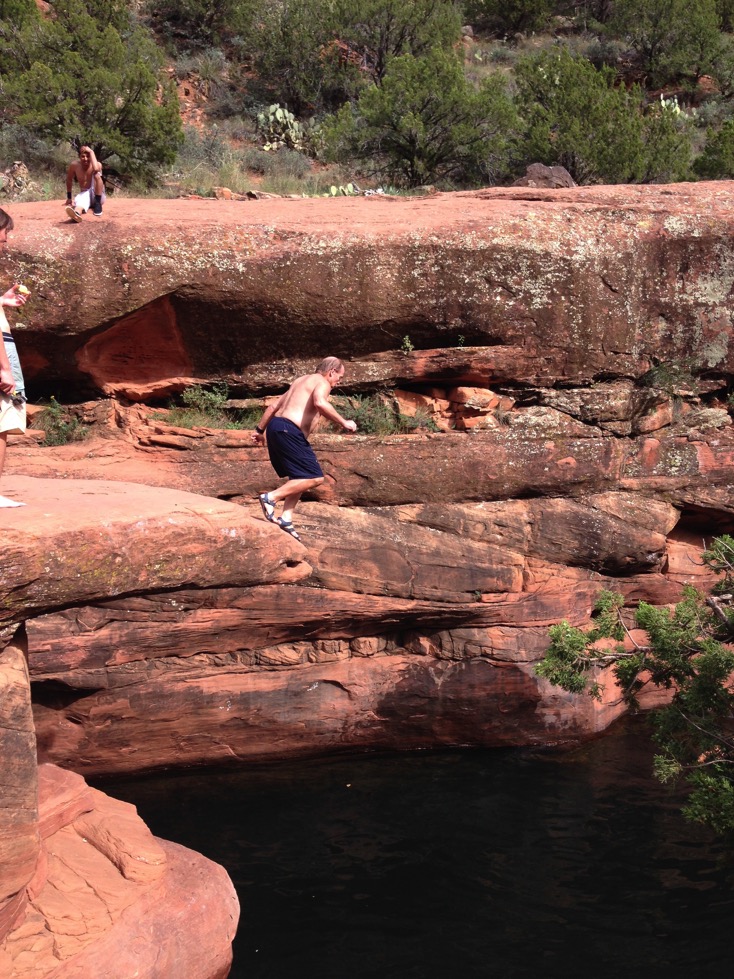 Too late now. At this point, degree of difficulty dropped to 0.



I was very happy here at this point, in mid fall. So, I decided to hover here for a while. Probably 7 seconds or so. All my life I had wanted to levitate, but I had never attained that goal. But since I was here, I simply remained motionless, hovering, visualizing that I had levitated to this point and now I was just hanging out. But, the guys were waiting above me for their turn, so, after about 7 seconds, I decided to complete the fall.




Third (and final!) splashdown. The water here was 10-12 feet deep. So I am either still falling, or, I've grown much taller.


And now, the feature presentation, the act you've all been waiting for, the high dive from the top of the beaver's tongue: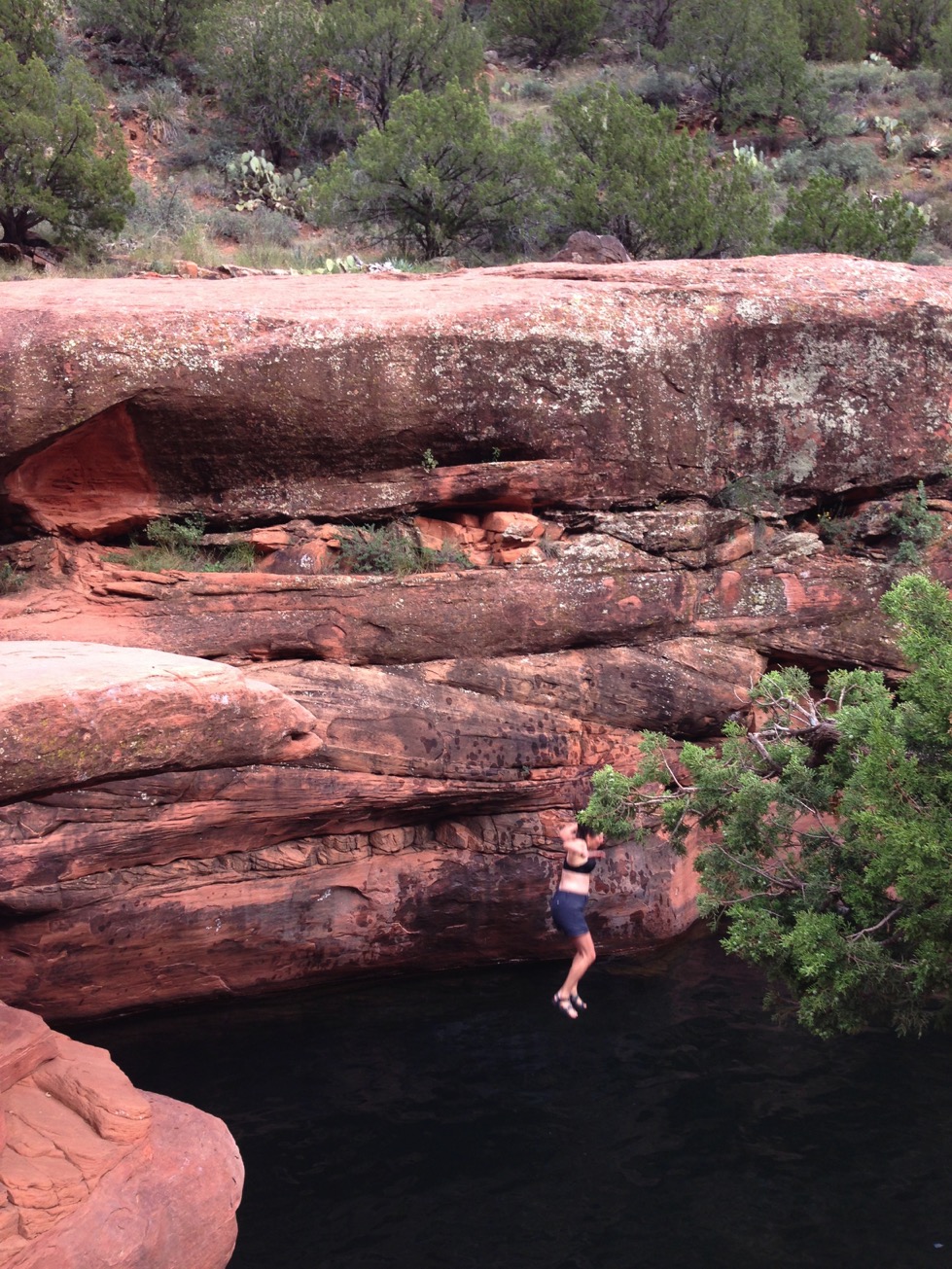 I was taking these shots, and I guess I'm not as quick on the draw as Camille is. Or maybe she fell faster. It sure didn't take her 7 seconds to fall.



Happy Landing!


Well, after all that excitement, I was exhausted. We went back to our flat rock, dried a bit, chatted with other folks who were leaving, and decided to eat the rest of our food here before heading out. We still had nearly 2 hours to get back, but almost all downhill. About 4:45, we started back down the trail.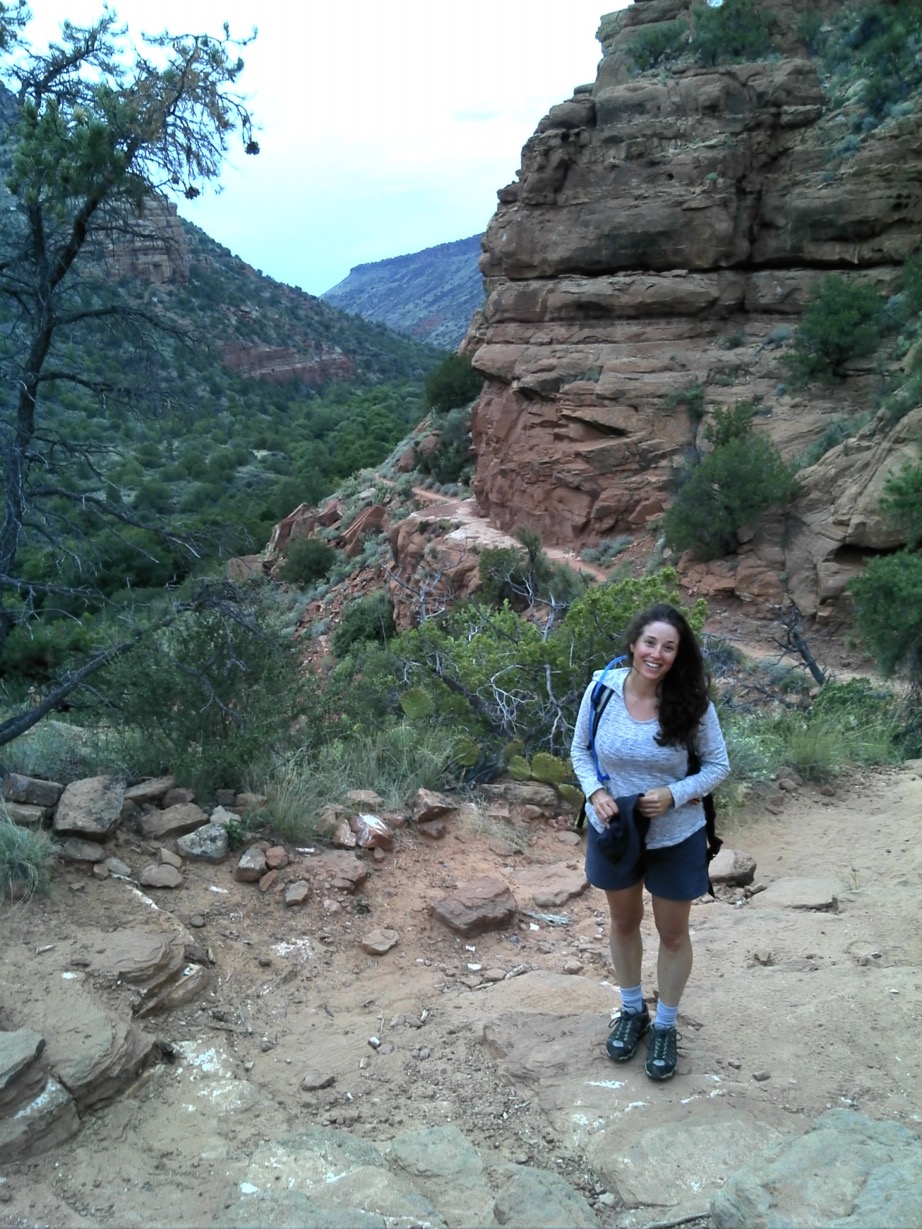 The Crack is where the swimmer icon is


Back to the car about 6:45, it was beginning to get dim. It really does always get dim before it gets dark. At least, all the places I've ever been. We drove back to their house in Pine, watching for elk all the way, as it was full dark. We got back without incident, and decided that rather than start cooking at 8 pm, we'd heat up some leftover beef stew the parents had left for us. I was in bed by 8, and had no trouble falling asleep. I did have the huge salamander dream again.

In the morning, we cooked a bountiful breakfast of bacon, eggs and asparagus, buttoned up the cabin, and drove the 90 minutes back down to Mesa, and then for me, on to Chandler.

Although I did a poor and lazy job of planning for this trip, it turned out to be one of the top 3 this summer (Aravaipa I followed by Hell's Hole). We had a blast swimming and jumping, and while I doubt I'll do anything that courageous again, I have a new story to tell. And, it really was lots of fun. I'm very glad to have been invited.