2017 Trip to Bucharest, Romania

Sunday, January 22, 2017 - Bucharest, Romania


We walked southeast from Mandy's apartment to the Radisson Blu in Bucharest, where we met 8 of her friends for the morning brunch. Wonderful experience, food, music, drink, dancing and celebrating. Here is the view out Mandy's back window:


We walked about 2 miles to the Radisson Blu 5 star hotel where the brunch was provided.



Look at that hat! One of a kind!!!




Here we are at brunch



Our trip around the city today


Tonight I slept some, but woke up about 0330 here. It was fun to meet with Mandy's co-workers here. There were 4 people in the Army, a girl in the air force, 2 people from Britain, 1 Romanian guy. What I really enjoyed was walking around to find a phone store. As soon as we met, I talked to the army guy, Forrest, about how to get the phone working, because he has Verizon in the US and an iPhone. He told me just go to the Orange phone store, and for very little money, get a sim card for Romania with a data plan. Turns out it cost about $7 and I should have enough data and connectivity for my entire stay. And I can walk around alone and have GPS and telephone if I need help. For me, really cool. It turned out the Orange store on the street we walked to was closed because it was Sunday, and it is a 4 day holiday weekend here. So we took Uber to a mall and the Orange store there was open. It took about 5 minutes to get all hooked up, switch cards and be in business. Then, Uber back to Mandy's apartment.

---

Friday January 20 I flew non-stop 10 hours from Phoenix to London Heathrow. Strangely, it was pouring rain when we took off in Phoenix and sunny and mild when we landed in London. There I had a 4 hour layover and found some nice coffee and charged up my electronics whilst waiting. I have to use whilst instead of while because I am writing this in London, with my mouse on the left side of the keyboard.

The flight to Bucharest was even less full. I was the only one in the last row. Near the bathroom - lucky for me! Dark when we took off about 1800 GMT. I've already "lost" 7 hours on this trip and now will lose 2 more. Hopefully I will lose as many pounds. I didn't eat in England - just a couple cups of coffee. I don't think there's a meal on this flight. I have snacks if I need them.

Not only no meal, but not even a glass of water without paying. Landed about 11 at night here, and 14 degrees. Mandy got us an Uber back to her compound, and we made it safely.



Monday, January 23, 2017 - Bucharest, Romania


Today is not a holiday, but everyone is off because tomorrow is a holiday. It is Unification Day in Romania, celebrating the political union between Transylvania, Wallachia and Moldavia, which is deemed as the foundation of modern Romania, circa 1862.

After talking with my friend Cristi Dedu on the phone - yes, I got a phone call in Romania! - Mandy and I ate some breakfast. Then I spent quite a bit of time stretching and doing the prescribed PT exercises. Limbering up the old body for the bowling alley tonight. I may throw a bowling ball, or I may just throw a few adult beverages down the hatch.

Bowling here consists of meeting at a restaurant, ordering drinks and dinner, and sitting at a table near the bowling alley. Some of the folks bowled on the alley they had reserved for 7-9 pm. Other played pool, and some of us just drank WeissBier and watched. We walked around other parts of the mall, then Uber'ed home.

Sleep is still not right. Slept an hour or two, then awake for 5 or 6, then slept a few more.



Tuesday, January 24, 2017 - Bucharest, Romania - Unification Day


When Mandy's cleaning lady arrived about 10, we walked about 1.2 miles to her favorite coffee house, the Coffeeshop Company. There we met a British Lt. Col. having coffee with his wife (just a chance encounter) and we enjoyed coffee upstairs for a couple of hours. Then it was time Uber to a shopping center where I could buy ankle weights, running shorts, and next door for groceries.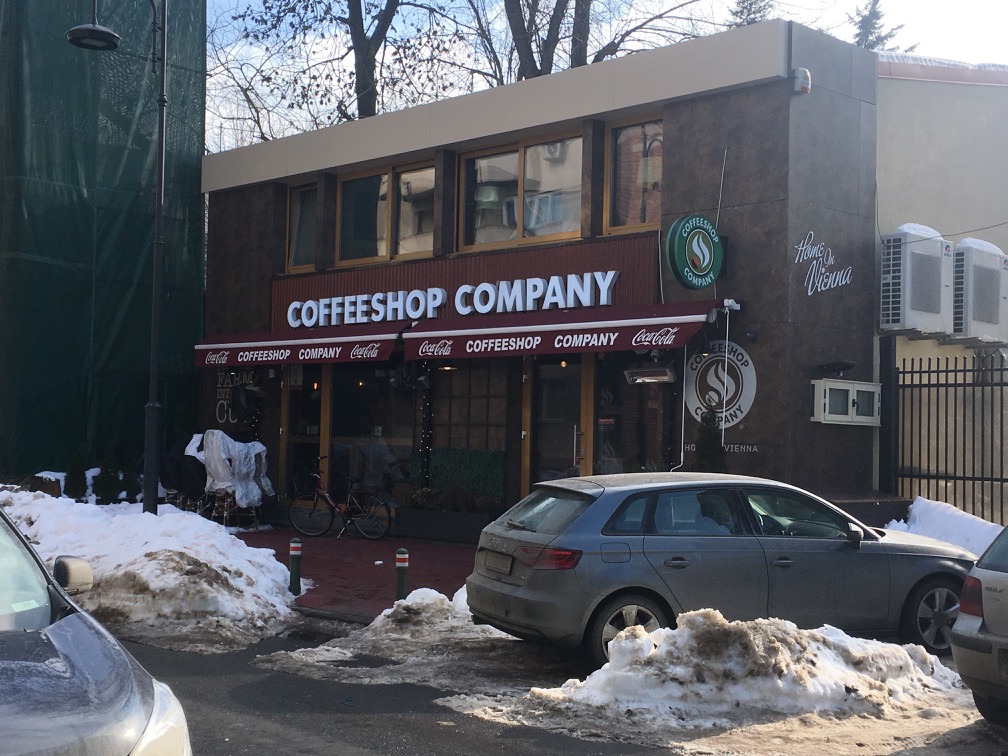 Yellow track from Mandy's to the coffee shop


Having purchased our supplies, we Ubered back to her apartment for the rest of the day.

After a nap, Mandy had to go to language class and I did my PT exercises. Then I walked back to the Coffeeshop Company and had another Americano while waiting for Mandy. Boy, the city sure does look different at night - and it's colder, too. We ate supper at a very nice Lebanese restaurant and walked home. Lots of walking today.

Mandy has to go back to work tomorrow, and I plan to explore!


Wednesday, January 25, 2017 - Bucharest, Romania

Today I spent the day in the apartment, doing PT exercises and trying to do some planning on the internet. When Mandy got home from work, we grabbed an Uber and met Helen and Crystal, her work colleagues, at a restaurant where we had a nice supper. Then we got in another Uber and headed off for "Quiz Night." Quiz Night is like a floating trivial pursuit game.The Uber took us someplace into the city, through a maze of twisty passages snarled with traffic. We got out in an alley, and the only sign that there was a "music club" was this little sign: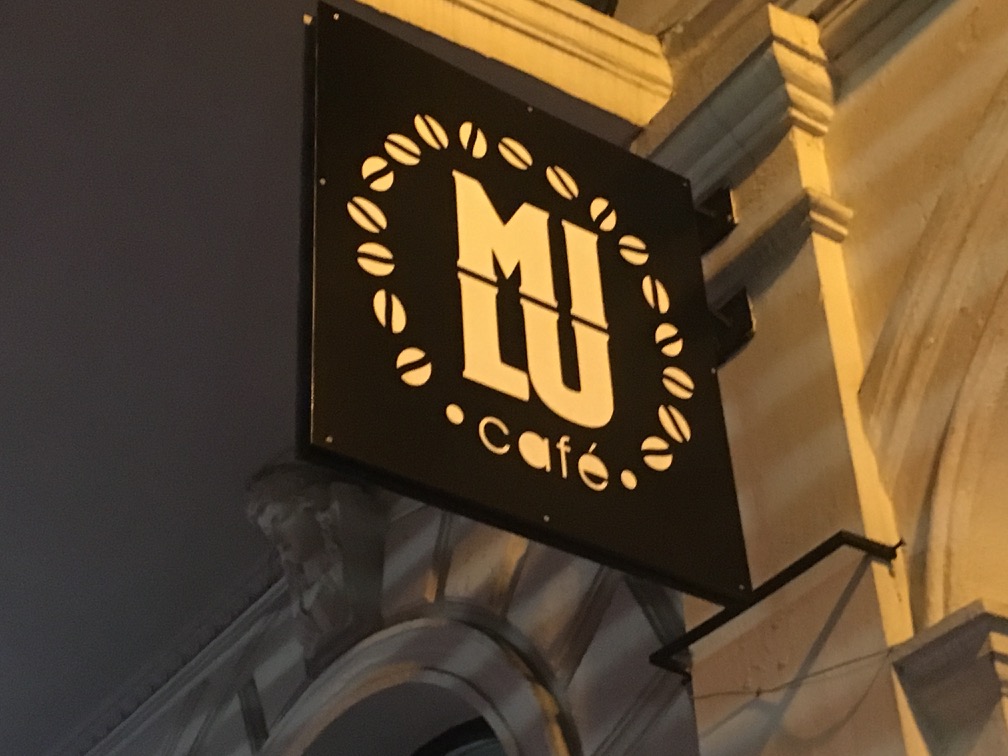 Below the sign was a questionable looking tunnel, leading to a mysterious underground club. I would never have gone there alone. But with 3 uniformed members of the US armed forces, I figured it must be OK. Gaining entry for 20 Romania Lei each, we played 9 rounds of questions, and having an ancient mariner on their team actually helped. Of course I was no help on the music or TV questions, but I knew that the Cairn Terrier played a significant role in the 1939 movie Wizard of Oz, and, the German Mark prior to the Euro consisted of 100 Pfennig. The girls were impressed! And I had a great time watching everything.

I am guessing it is organized primarily for ex-pats, as everything is conducted in English. The MC is British. There probably were many Romanians in the group, but they must speak English. One of my daughter's colleagues - a teacher from Ireland - was our connection. Apparently this is a grass roots thing here. They seem to "float" around the city. It had previously been held in this underground club, but not recently.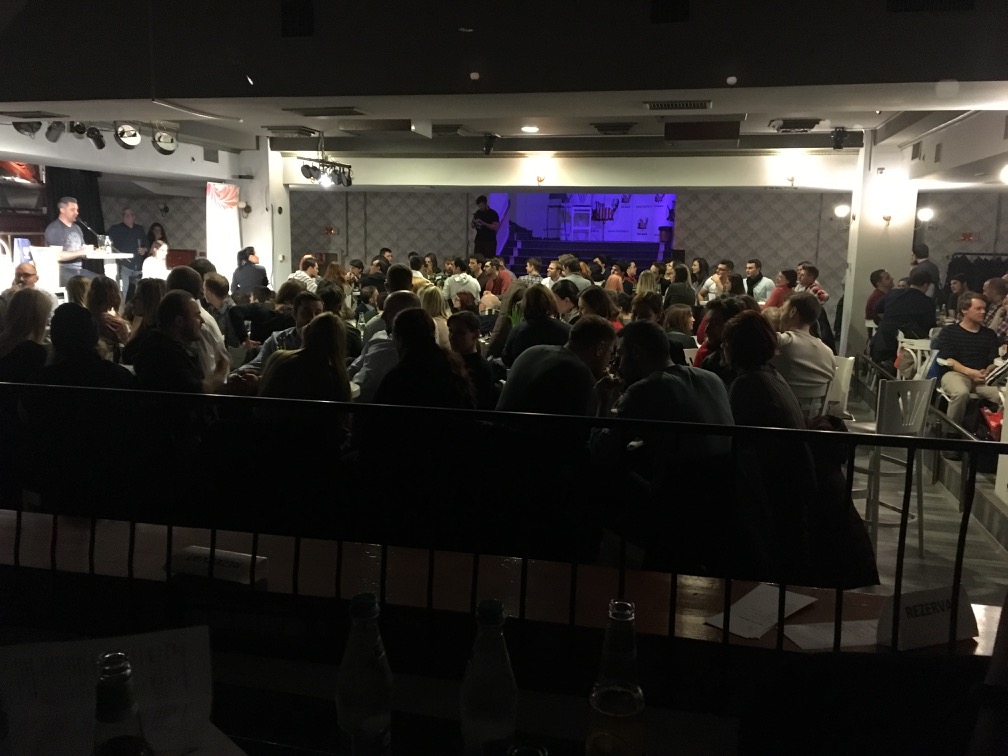 They seem to convene once every 2 weeks, and have a growing following. Tonight, there were 40 teams of 4 each. First prize is a growing pot - tonight 500 Lei (about US$125) was added. The winning team then has to answer a final trivia question, or else the pot rolls to the next meeting. Tonight they got it wrong. It's all great fun. The last place team gets a prize, and gets to pick one of 9 topics for questions in the next meeting. Tonight's special topic was "Dutch" and consisted of 10 Dutch proverbs, translated into non-sensical English. 2 of the girls on our team had studied and got all of them right in that round. Next meeting, the special topic is World War I. Aside from that, all I know is the beer could have been a bit colder. But I drank it anyway.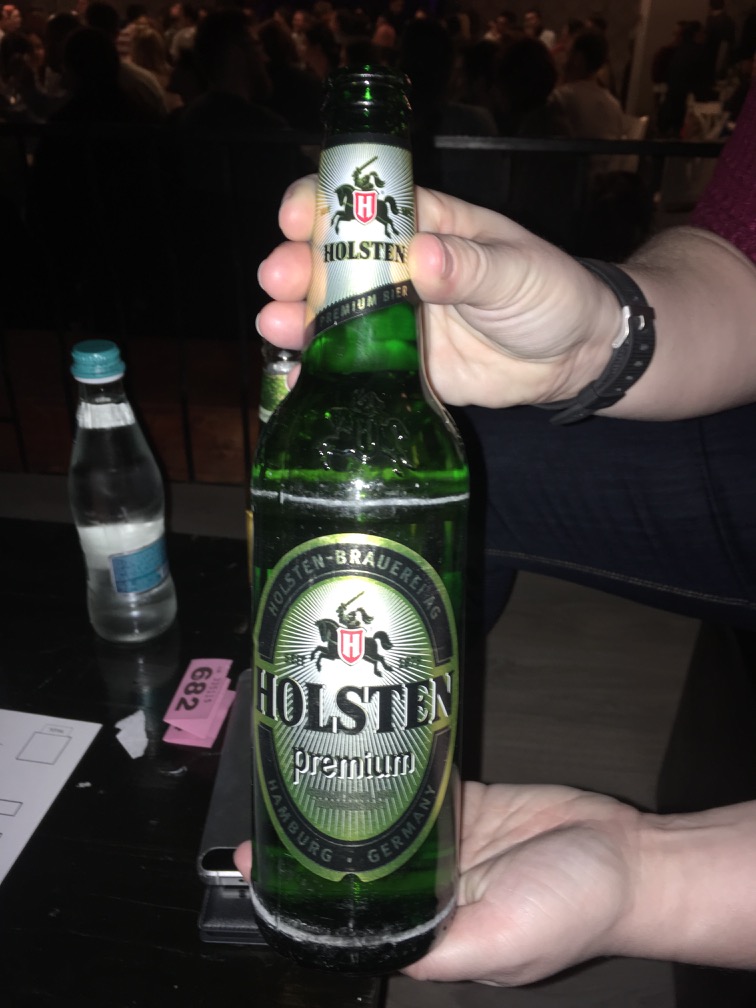 After the game was over we waited on the street for an Uber home. Crystal was coordinating with the Uber drive and unavailable for the group photo.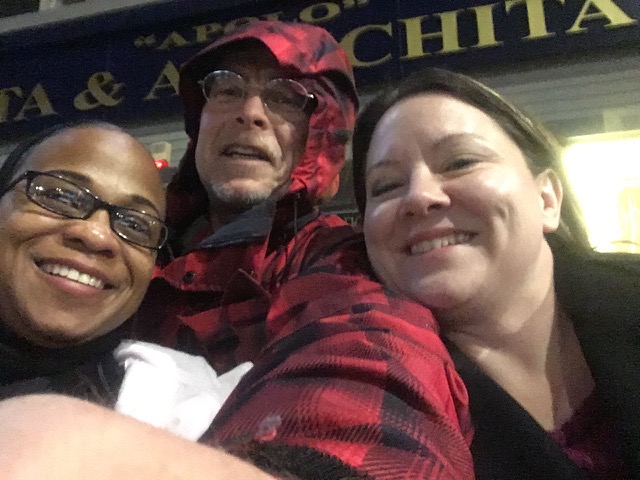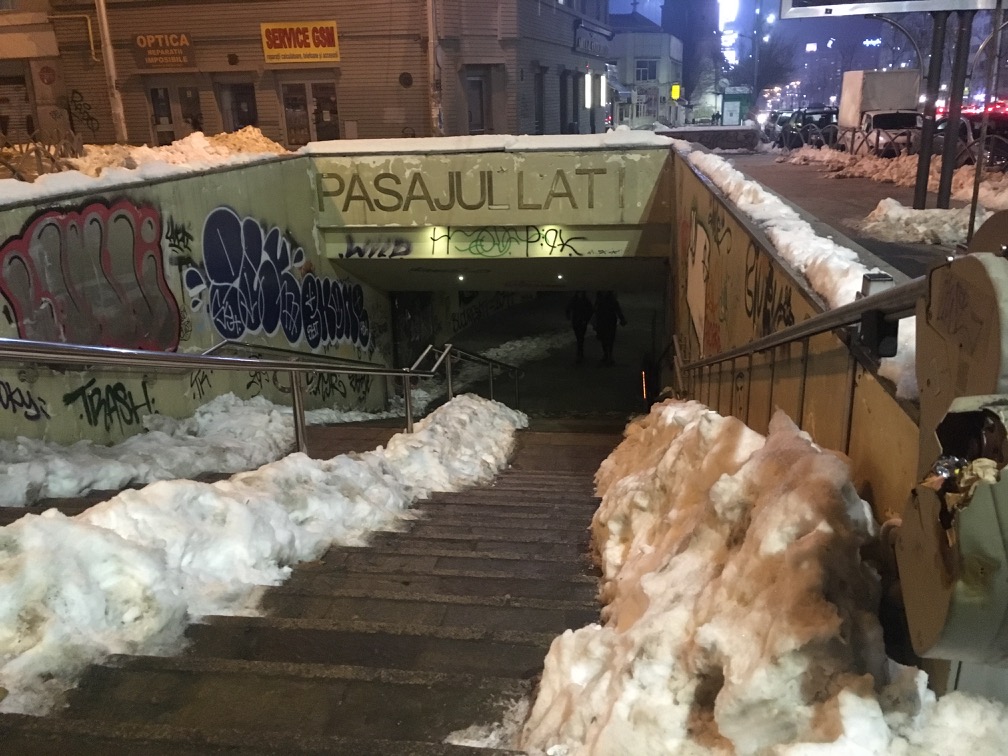 Subway Entrance

Thursday, January 26, 2017- Bucharest, Romania

I got up a little earlier today, did some PT, ate and headed out for a walk. I ended up walking about 6.3 miles all around the city, for about 3 hours. First, I found a post office and bought 10 postage stamps. Then I tried to find a book store to buy 10 postcards. In this, I failed, but i walked around and saw lots of things.



I thought the beautiful, old building on the right looked really nice, especially next to the ultra modern glass and steel fabrication on the left. A study in ironic juxtapositioning.



Another beautiful classic near Piaţa Victoriei (Victoria Plaza)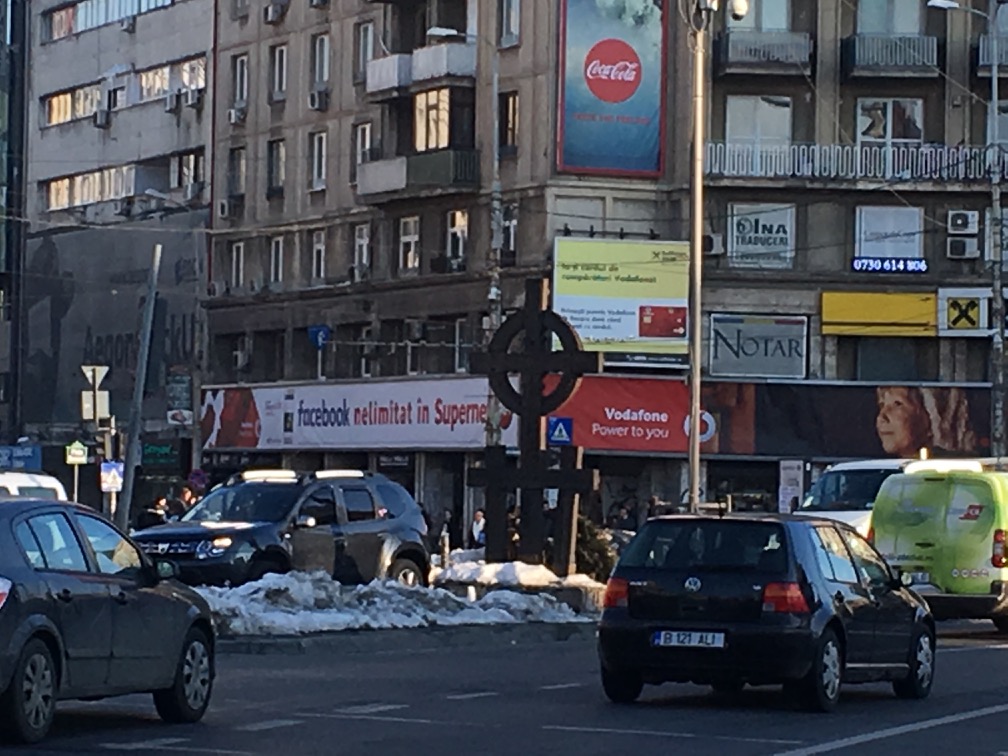 I'll have to study the significance of the cross in the center of Piața Romană (The Roman Square) a major traffic intersection in Sector 1, central Bucharest.


I walked to a bookstore, following the Google Map, but didn't see anything like a store. I learned later in the evening from one of Amanda's friends that I was at the best bookstore in the city. Perhaps tomorrow I'll return.


Friday, January 27, 2017 - Bucharest, Romania

Adjusted to the time zone a little better, I woke up and planned the day's outing. I have a list of places to see and I'm heading out early. It will be colder today, with a high of only 27. Right now, it's 18, but feels like 6.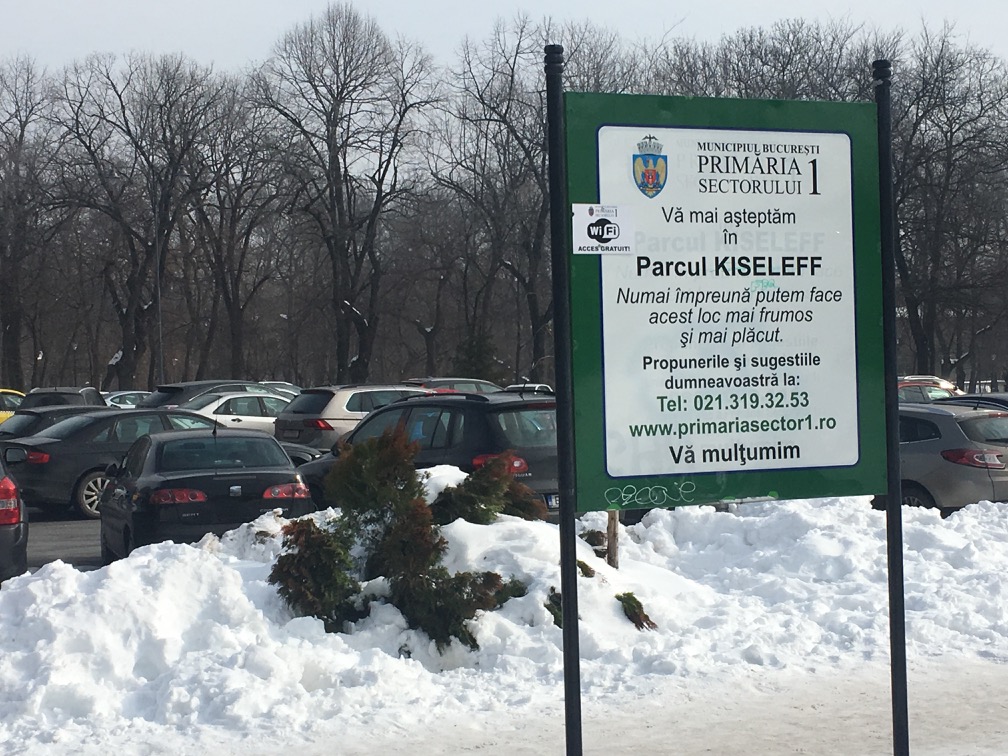 This is the park near Mandy's residence. The parking lot was full at lunch hour, even in the cold. Notice that we are in Sector 1, and the park is equipped with wifi.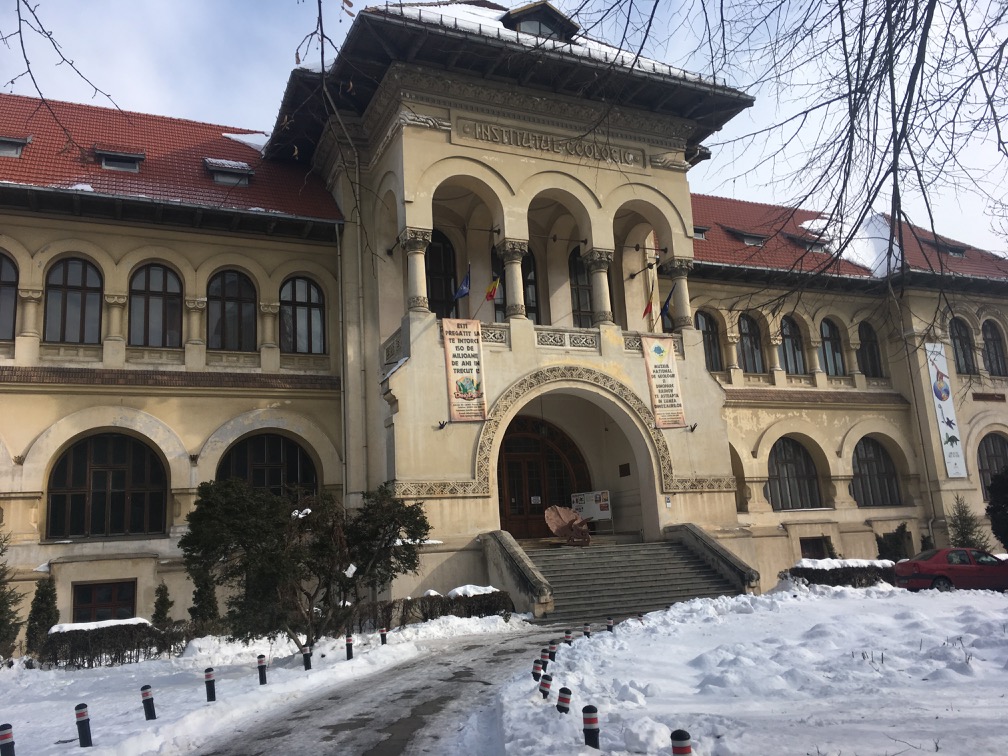 Geological Museum on the way to the bookstore



Another building at Victoria Plaza, on the way


I walked well over 4 hours, some of which spent in the Radisson Blu drinking coffee. I succeeded in finding the bookstore. It was fascinating, especially since I had been there yesterday and didn't realize it. I thought it was some sort of museum or theater. Inside, on many levels, up and down winding stair cases, were multiple rooms of books, music, video, gifts, snacks, and rooms for artists to sit and create. I bought my cards, with the help of a very friendly, English-speaking clerk, and went out.

Then it was back to the Radisson Blu for a warm up and a coffee, and some card-writing.

Then I headed for "old town" - the old, original sector of Bucharest. On the way I passed many impressive structures.

The Radisson Blu is about a half block from Revolution Square, where I took this next batch of photos. Of course, you can find much better photos at other places on the internet. The first I came to was the Athénée Palace Hotel, in which I stayed 9 years ago (December 2007) for my Christmas Party visit, as the Lockheed Martin Program Manager for the Romanian Air Force Radar Program. I wasn't able to find a place to take a fitting photo of this building, because it is huge, and on a 45 degree angle to the corner facing the Palace. There are very good photos and a full and interesting history at that link.



The Athenaeum, across the street from the Palace (which is now National Museum of Art of Romania)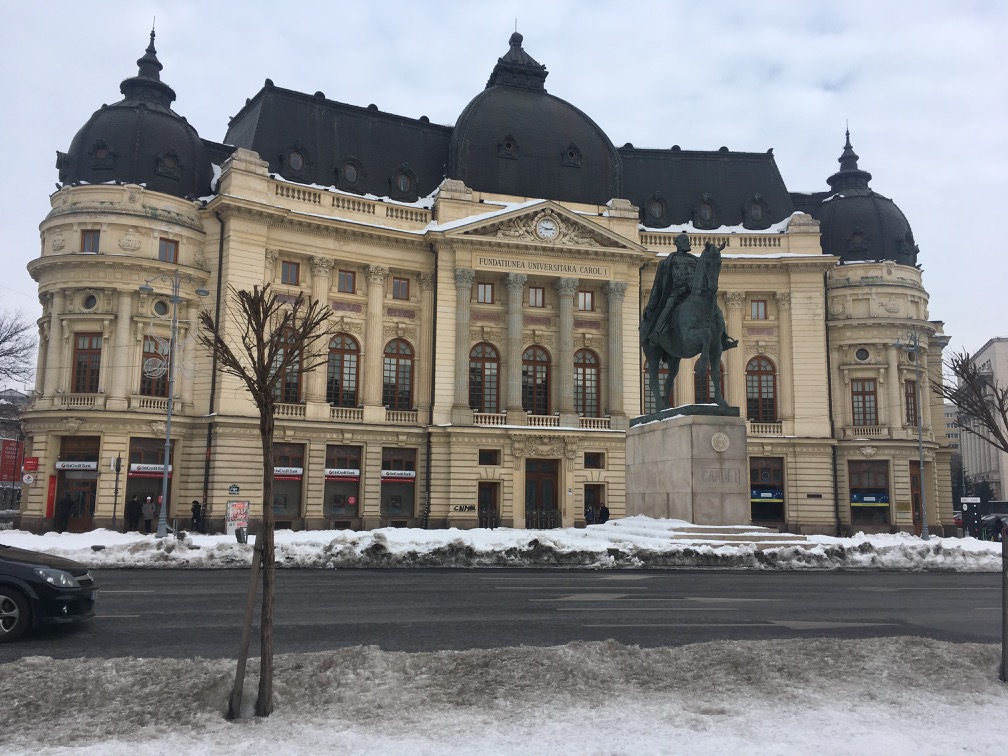 Library of the University of Bucharest, guarded by King Carol I on his trusty steed



Later I was told I forgot to smile



Called the "potato" by ex-pats



Monument to Corneliu Coposu (right center) near Kretulescu Church (left center) built in 1720-1722



National Military Circle

And finally, the dead end where Google Maps took me, labeled "Old Town":

On the way I had passed the National Bank of Romania, looking like Romania's Fort Know. But this being a dead end in an alley, and getting on to late afternoon, time to head back. On the way, I passed construction of a new tower, where I failed to get the workers atop the structure to wave to me.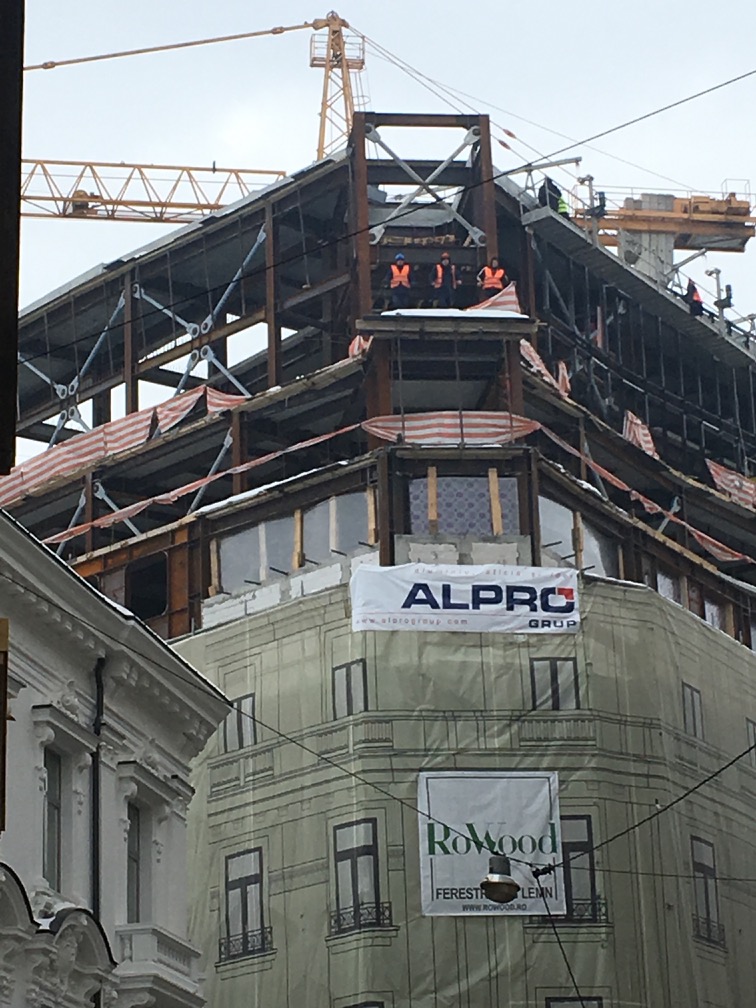 Then I spotted a bizarre bazaar in a really old church-like building. I went in and had a good look around. There were sales galore. But my money stayed zipped in my pocket.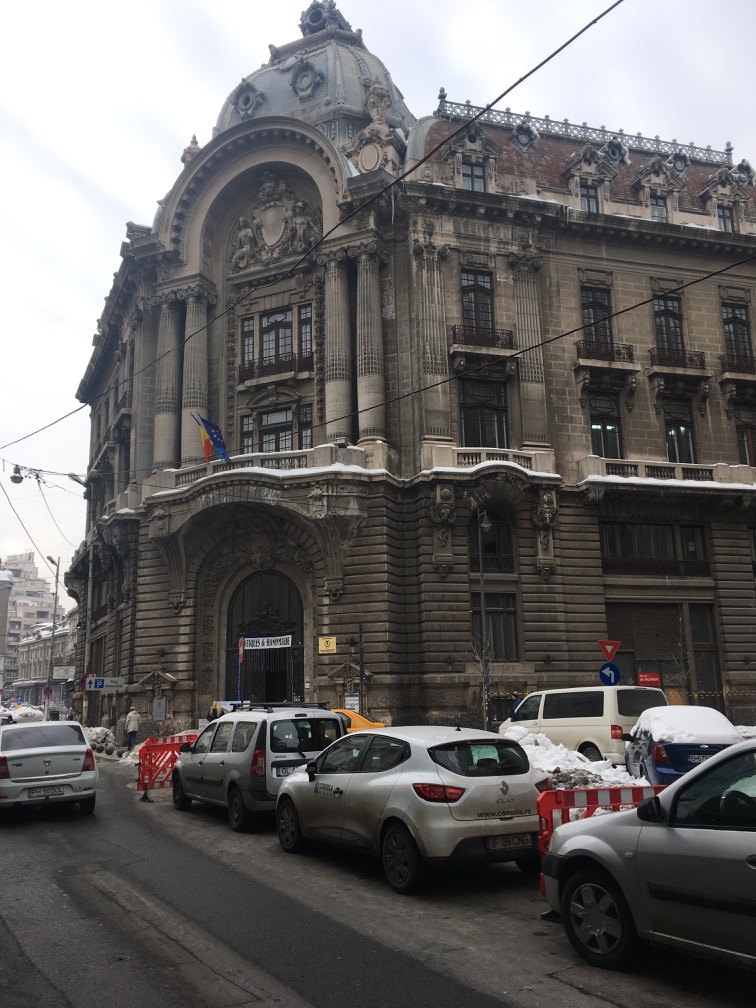 The sign on the doors reads "Antiques & Handmade"

Now hustling back to Mandy's residence, I couldn't resist exploring a few more side streets and curiosities.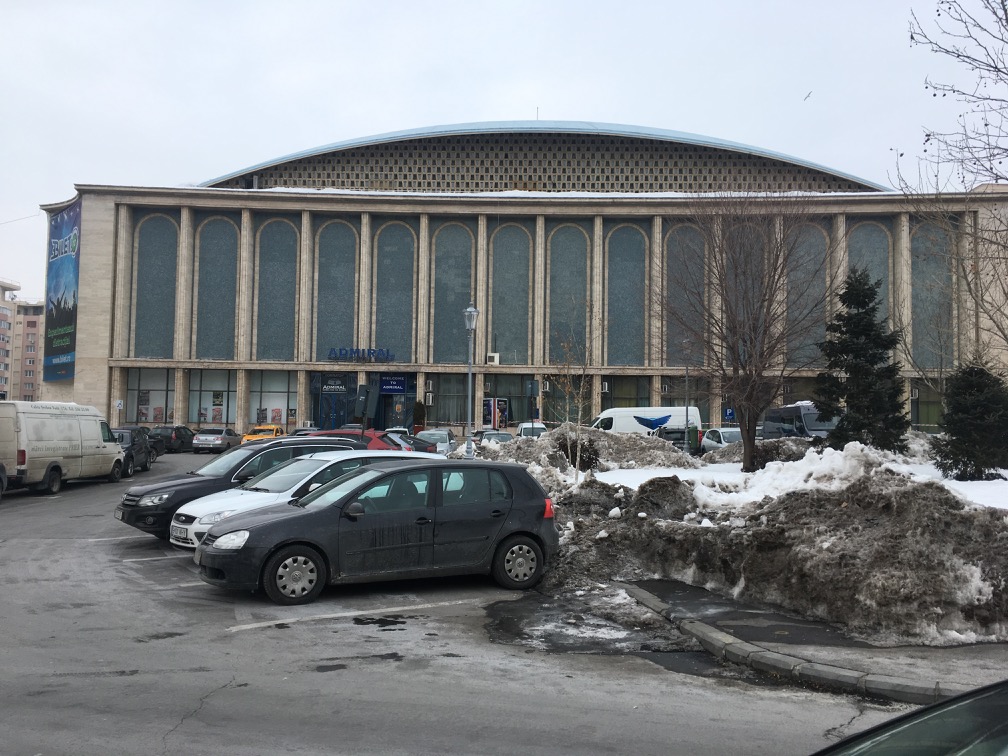 A huge structure, which turns out to be a casino / concert venue


Mandy got home from work about 7 pm and we sauntered out for a late (for me, early for the locals) dinner at a nice place.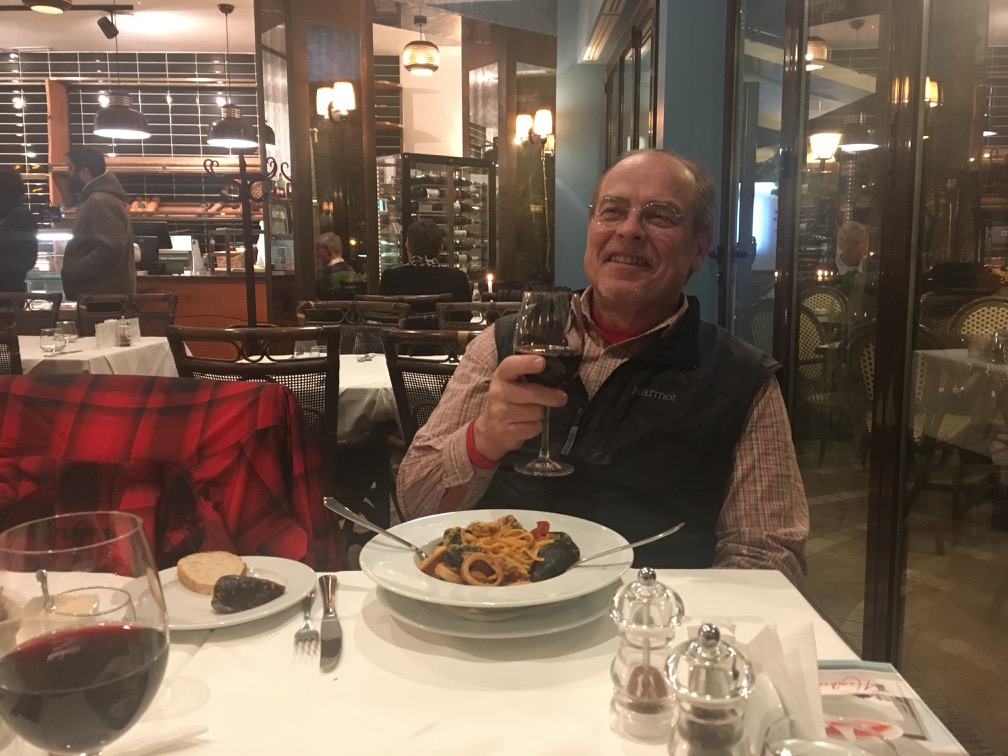 Romanian red wine is excellent, and good for you, too


After dinner we went to the Arcul de Triumf in search of a photo in which I was smiling.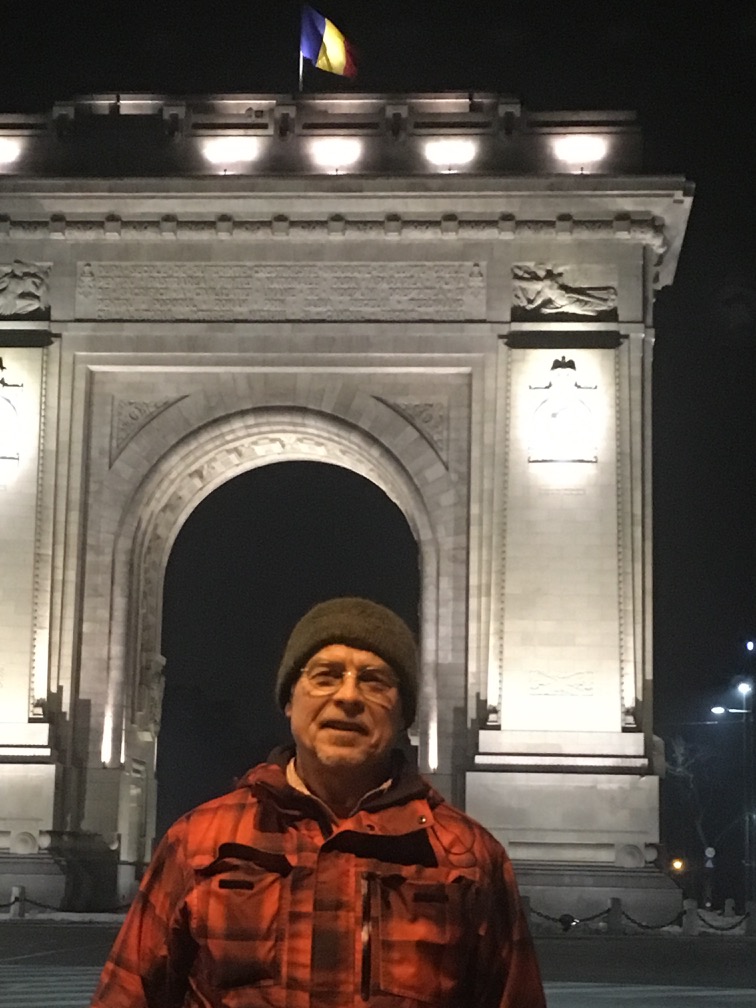 Well, kind of
Saturday, January 28, 2017 Mandy's Birthday - Bucharest, Romania


Mandy and I set out walking to see sights. We walked almost all afternoon, first through Victoria Plaza to the Radisson Blu and Revolution Square, then to another bookstore where she bought a couple of children's books to help her learn Romanian. Then over through Military Square to Old Town, taking photos all the way.


Just to show you what a Bucharest trolley car looks like.



walking through old town, mostly shut for winter, but a real hot spot in warmer times


After we'd made our way through Old Town, it was time to catch an Uber and head for Mandy's birthday dinner, at a sushi restaurant. Being Saturday afternoon, there was no Uber to be had, and we picked a taxi. Cabs here are dicey - many are not respectable or trustworthy, but we got a good one. He dropped us and we walked down the street to the sushi restaurant. 11 of Mandy's colleagues joined us and we had a wonderful meal. Mandy's friend Justin and Amanda also got me, "Papa Amanda," a birthday gift - a really special picture book about Romania outside of Bucharest - the parts of the country I won't be able to see on this trip.

There was talk at the table of salsa dancing after supper. I believe there was some kind of throw down challenge between a couple of Mandy's colleagues - and plans were made. Mandy is coming down with a cold and headed home. I joined Helen, Gina and Diana in an Uber that took us "way cross town" to the dance club.

The club didn't open until 10 and it was just 9, so Helen and Gina went into the nearby mall, and Diana gave me a walking tour along Uniri Pieta, and down the wide boulevard to the People's Palace. Our engaging dinner table dialogue about modeling, mathematics, simulation and psychology turned to politics as Diana explained some of the complexities of Romanian culture. For example, the fact that the parliament is a different entity from the government. I took a few photos, then we headed back to hook back up with Gina and Helen.

The dance club turned out to be in the same exact building in which quiz night had been held. Same dark alley, down through the tunnel and down the stairs. Feeling safe, again with 3 service members to protect me. This room was next door to the quiz night club and people were already dancing. Diana and Gina both took pains in trying to show me how to do the basic steps. I tried a few times, in my heavy hiking boots, then resumed my wallflower persona. But by time we left, the room was full and many really excellent dancers were at it. The music was loud and the dancing beautiful. I had a great time. Diana lives nearby and walked home, while Gina, Helen and I shared an Uber to get back to their neighborhood.



the People's Palace at night

Sunday, January 29, 2017 - Bucharest, Romania


This entire day was spent walking around the city, culminating with a 40,000 person protest in University Square, which we narrowly missed being a part of.
We started out what has become my usual route - through Victoria Plaza, by the Radisson, through Revolution Square, Military Square, and Old Town. Then we walked to the People's Palace and stopped for coffee in a little shop there. We had a video chat with Alice, Adam and Henry, then headed back to the mail at Uniri Plaza.


in the morning it was very foggy and cold, and all the trees were coated with rime ice.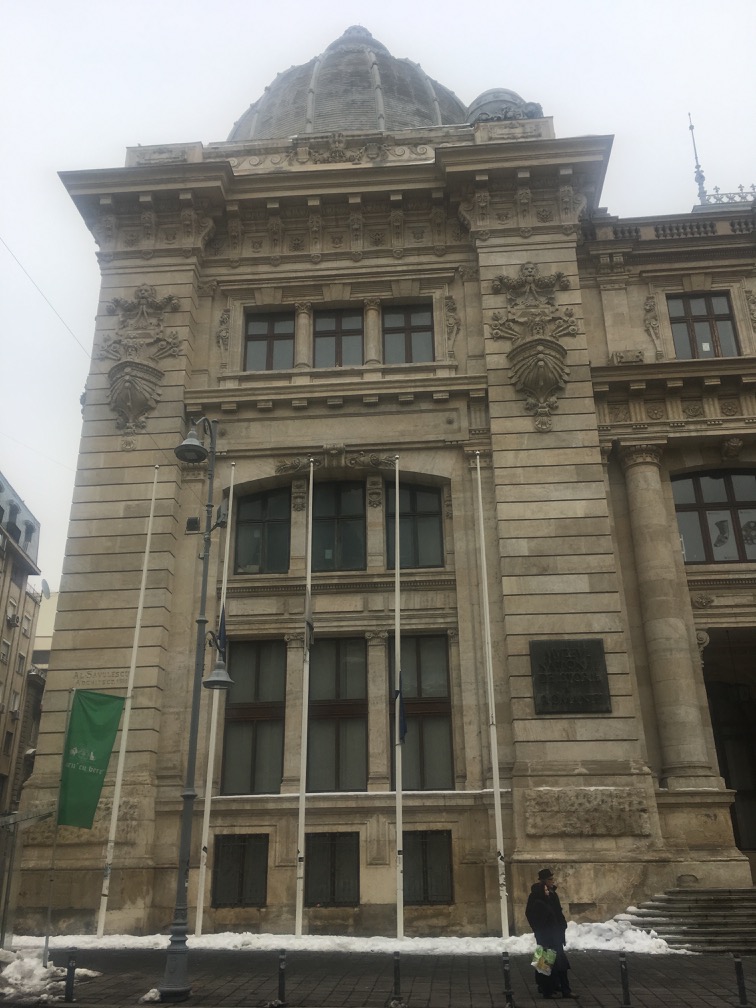 This is the 2nd largest building in the world, smaller than only the Pentagon. I am the 3rd largest knucklehead in the world. No names...



Romulus and Remus underneath their mother.


On the way home from there, we sought out the statue of Romulus and Remus and the she-wolf that raised them. We tried to eat at a restaurant near here but it was an hour wait so we kept going. Near the National Theatre, all of a sudden we saw lots of Politia and Gendarm. Across the street at University Square, huge masses of people, with flags banners, and chanting. Lots of TV crews. Turns out there were 40,000 people marching in the streets, very peacefully, to protest the government proposal to release about 25 prisoners. The protest claims the people being released are political cronies who were tried and jailed for corruption. People here don't want them back on the street. We found streets barricaded on the way home, and saw troops carries of gendarme heading go the protest. We avoided it all and went home to watch it on TV.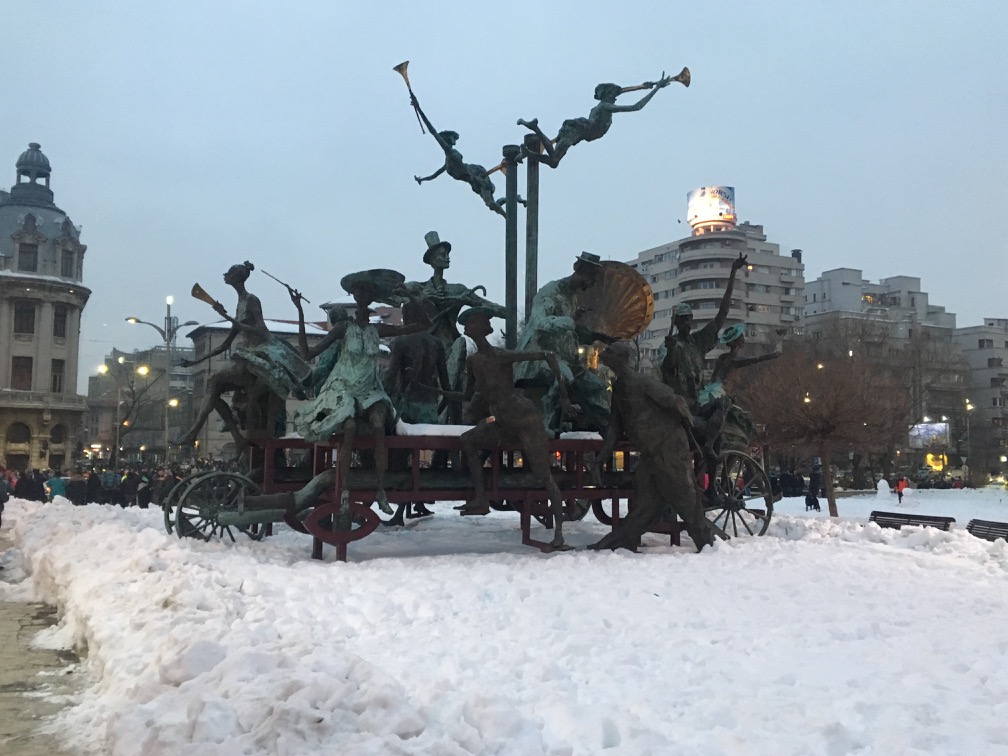 cool piece of art in front of the National Theatre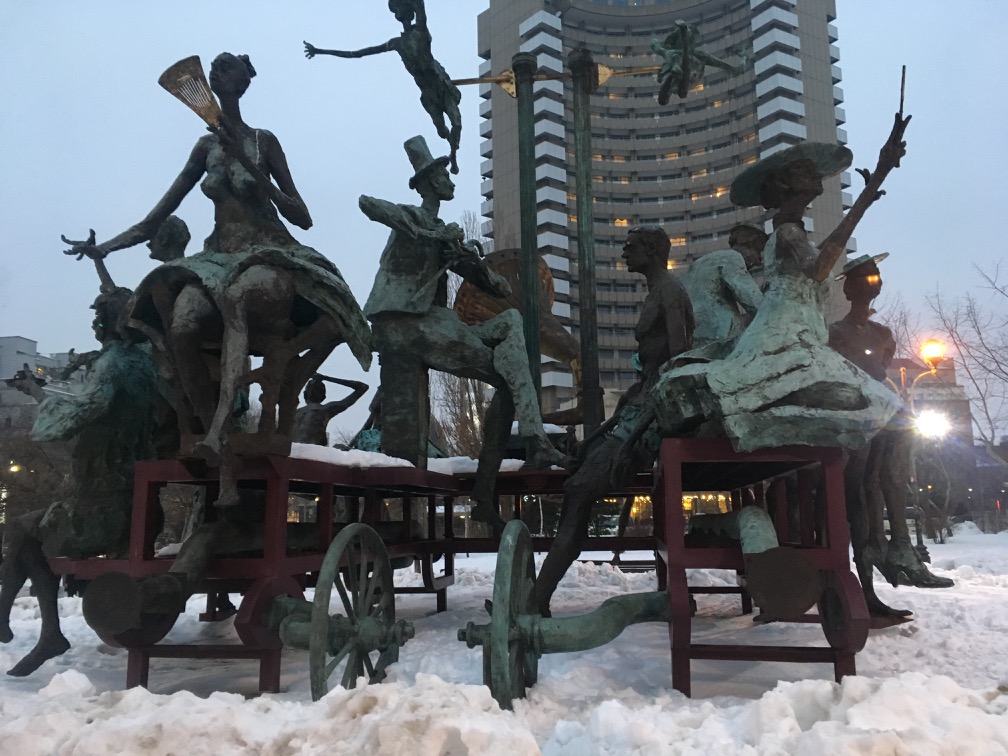 This is the very beginning of the protest. They were beginning to chant, and wave their flags. And the Gendarmerie was beginning to from lines. Later on TV, we saw them marching in the streets. We escaped, and walked up to a really nice pub around the corner from Radisson Blu. I chose a menu selection called Penne Speck. Because my Grandpa Speck. I'd never heard of this - but it is a type of bacon from the German-speaking Tyrol region of Italy, very like Prosciutto. It was excellent.



A fine end to the day - along with the Bailey's chaser of course.

Monday, January 30, 2017 - Bucharest, Romania


A no photo day, consisting of about 12 miles walking again. I walked to the shopping district and mailed my cards, Then I bought groceries and brought them home. Finished my laundry. Mandy let me know she was coughing a lot and probably coming home early from work. I made another venture to the Post Office to buy more stamps, and Mandy was home. She was really ill, took some medicine and went to bed. I got bundled up and headed for my third walk of the day, this time heading north for Herastrau Park. This is a large park, with many paved trails, bicycle tracks, running tracks, and a huge lake, that is frozen now. The lake is lined with restaurants and canoe and crew clubs. I walked until I was child to the bone. Then I stopped by the Hambar Bistro, where we had eaten Friday night. I had a wonderful supper, and then toddled back to the flat. Thus endeth my 64th year.


Tuesday, January 31, 2017 - Bucharest, Romania


Now I am the same age as my mother, Jenny, and brother, Glen, were when they died of colon cancer. I mention this as a tribute to their memory, and acknowledgement of my good fortune in reaching this milestone of sorts. And I commit to live the next 40 years as well as I can, in honor of them, as they were robbed of the opportunity by the evil cancer disease. I will try to make them both proud, although, I will be hard pressed to commit anything that Glen would think worthy without getting a scowl of disapproval from Mom.

The remainder of this entry written while sipping special, home brewed Palincă. This bottle was given to me by Amanda's co-worker, brewed by her father on the day of her birth. And I am savoring it while I have a few layers of skin remaining in my mouth.

Today was a long walking day. First to that wonderful bookstore for some more cards. I also enjoyed sitting in the little cafe room writing the cards, and enjoying some Chai. Then it was off to the Palace of Parliament and a tour of the innards. Fiddling around, seeing sights, taking wrong turns, I finally crossed the street to the entry gate. Only to see these signs, at 15:58: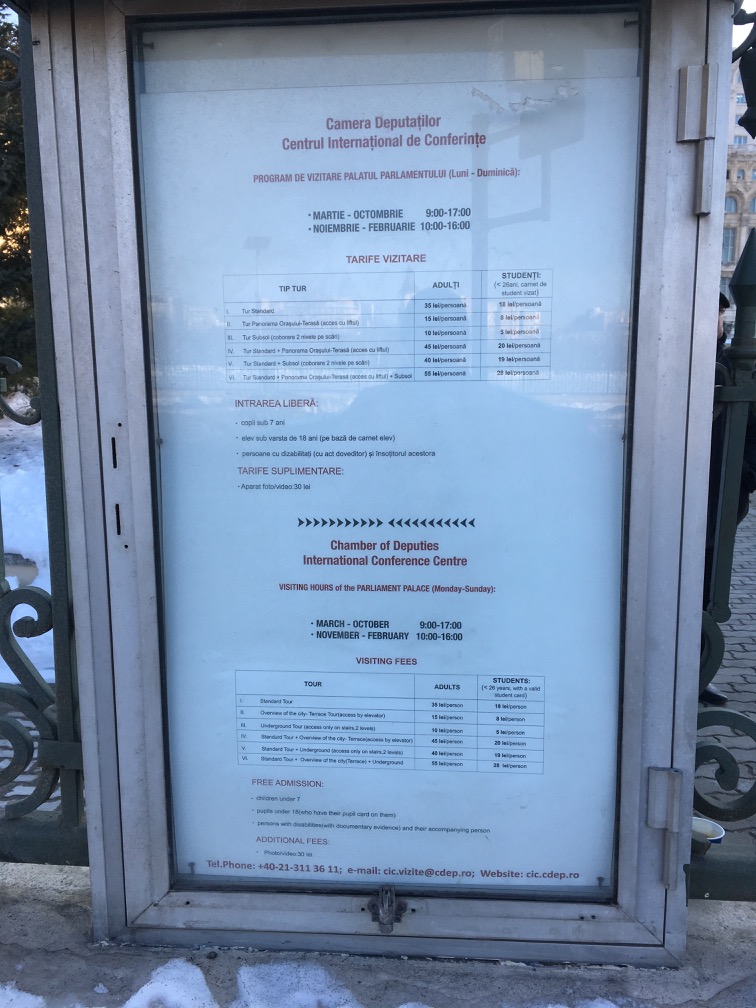 As luck would have it, my watch read 1558. But then it was 1559 by the time I snapped these two photos.


Beyond the massive Palace, I could see at least 4 sky high cranes. I asked the guards if it was possible to walk around the entire square of the palace and see the construction site. Yes, it was. Since eI couldn't see the inside of the palace, I decided to see more of the outside than most visitors, and headed around the block. The entire property is inside a 3 meter high concrete wall.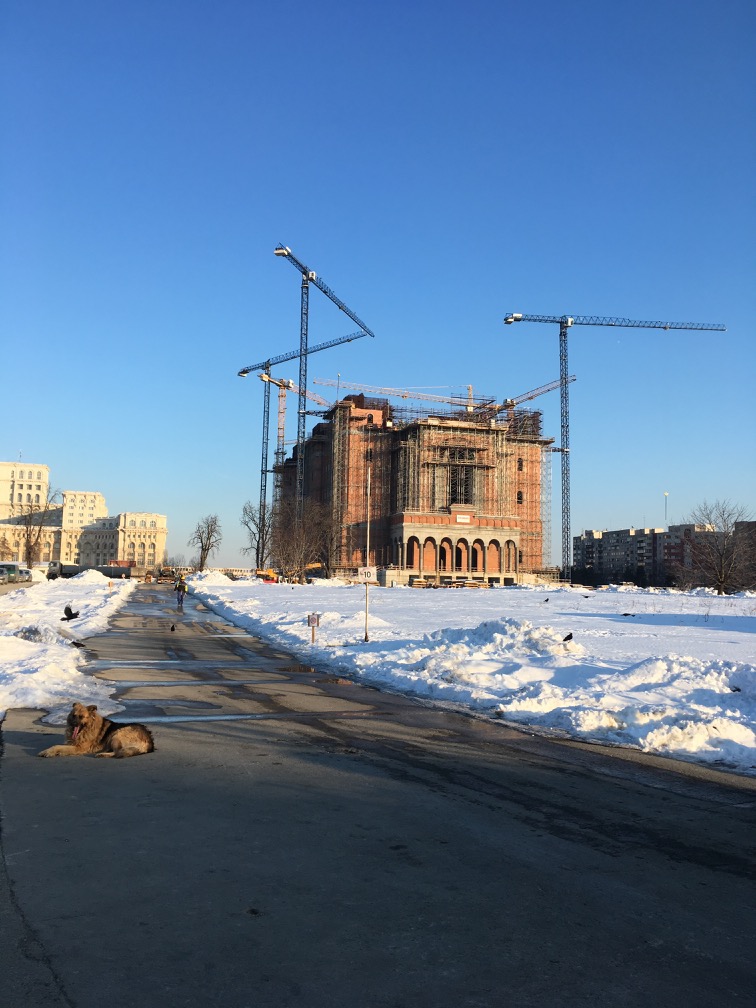 The new church being built. It is said this will dwarf the Palace


After walking around this mammoth, I stopped for a Cappuccino and a bruschettini. By now it was 1700 and time to make tracks for the flat.

Mandy and I went to a nice Japanese restaurant where she bought my birthday dinner. In the head, I got a real lesson in high tech. I have no idea what this is, but if I enroll in a PhD program, I intend to study this technology.



We sure coulda used a couple of these on the hiking trail at Highland Forest years ago. But then, there wouldn't be a Homeyer Grotto, would there?

Wednesday, February 1, 2017 - Bucharest, Romania


Today is my last day in Romania, contrary to my original plan, shortened by a week due to weather. Because of the snow that fell right before I got here, and the inability to remove it, it is very difficult to get around the city, and nearly impossible to get out of it. Given the traffic congestion and cultural realities of considering rules as "suggestions" I would not rent a car here this time of year. I have been getting around on foot, and fairly well. It's been good for me, my knee has not swollen at all, and I get around, very safely, while Mandy is at work.

Today, I packed most of my bag for travel, and then took a leisurely stroll to the coffee shop that we favor. I sat there for a few hours drinking Americano, being part of humanity and reading. Then another saunter back to the apartment. We have a dinner planned with a couple of colleagues this evening for a traditional Romanian meal. Then it will be early to bed, early to rise, and hopefully some sleep in between. I've scheduled by 0500 Uber to the airport to be checked in for my 0800 flight to LHR.

I took these photos of my favorite buddy here in Bucharest. I have seen him so many times, he's guided around in my travels, and he seems to be everywhere. I call him, The Aviator.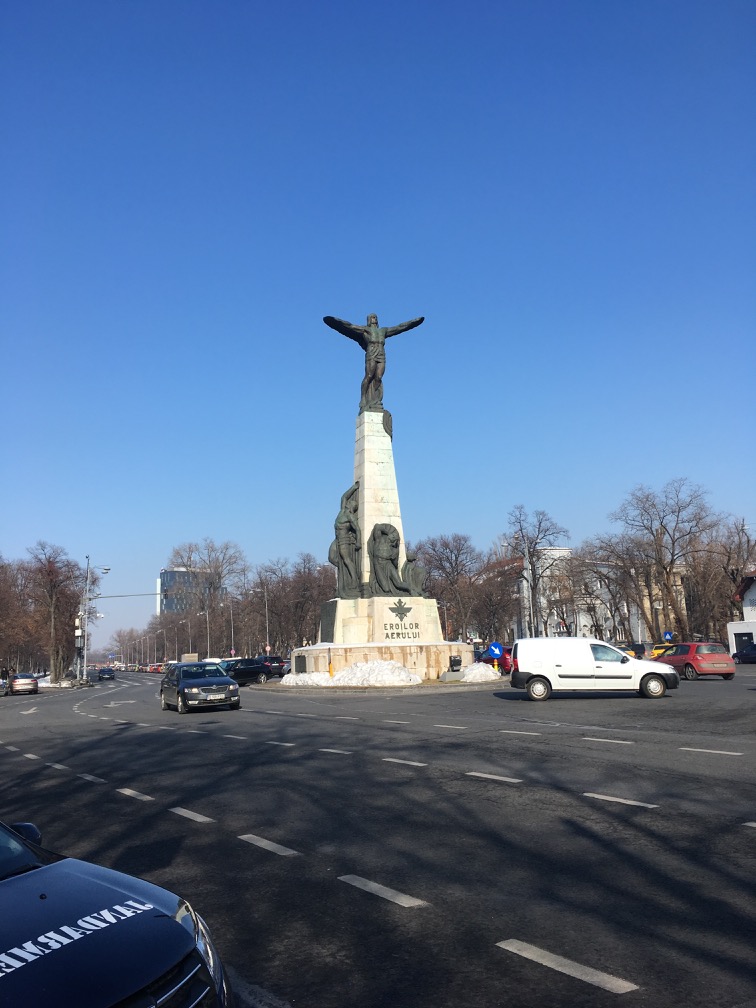 That night, Mandy and I walked to Old Town to join her co-worker Diana at an excellent restaurant for an authentic Romanian meal. It was awesome. Starting out with tripe soup, and several other dishes.




Thursday, February 2, 2017 - Groundhog Day - Bucharest to Phoenix


I rose at 4, finished packing and said good-nye to Amanda. Then I headed outside the compound to wait for my Uber ride. It was right ton time, and took me to the OTP airport. At 6, the counter opened and I was 2nd in line to check in. Then through security and up to the gates. Of course I had a long wait for boarding, but the time eventually came. The flight to London was about 4 hours. I had a window seat with a seat open next to me. I slept a couple of hours.

Once at London Heathrow, I proceeded through passport control and another security check. Then stopping at customer service, I changed my window seat for an aisle seat. I had about a 4 hour layer, so I had a couple cups of coffee and a yogurt cup to get some protein. So far I'd eaten 2 pears and an apple. At 1430 the gate was identified, and I took the long walk. Once aboard, a gentleman sat next to me in the window seat for about 10 minutes, then the attendant told him a seat in Business had opened next to his wife, and he left. Leaving me with a window seat next to me open for the entire 10+ hour flight. Sweet.