Aravaipa Canyon Wilderness Decompression Trip


The planning may be found here: Wond'ring Aloud

I did follow the plan somewhat. I got up at 1 and ate breakfast, but didn't make any sandwiches to take. I left the house a little early, about 1:45, with 2 travel mugs of coffee and a quart of water.

The drive to the trailhead was uneventful. When I got there, I was the only one, and everyone who had signed in ahead of me had left. There were notes about hanging food as people had seen bear. No notes about rain or any other critters.

My base pack load was actually 15.4 pounds, including everything except food and water, and the clothes I would wear. Food and 3L water brought it up close to 28 pounds. Heavy, but not too bad. I was a little concerned as I haven't carried a pack at all in over 10 months. That is a long time to go without hefting a load.



Leaving the lot in the light of the full moon


When I left the car and started hiking at 5:15, the weather app said it was 80 degrees in Dudleyville, the nearest station. The car said 73 at the parking lot. The trail drops right down from the parking lot to reach the creek bed, and as soon as I could hear the water running, I also felt the temperature drop noticeably - probably 5-10 degrees. That immediately relieved my concerns over the temperature, and was the coolest I've felt in weeks out of doors.

Right into the water, it initially felt pretty cool. And of course I adjusted to it and it felt good. I saw the great heron at about 1.4 miles from the lot. What a magnificent maître d'hôtel to lead me up the canyon!



An early view looking up creek. Birdsong and water rippling was all I could hear.


I just hiked along happily. I was supposed to be thinking about things, but, I was also trying to decompress and not think about anything. Just enjoying being in the present moment. I wasn't concerned about pace, and I didn't have any trouble walking. The water was extremely crystal clear - it must not have rained here in quite some time. The water was slightly lower than my first visit here. My footing and balance seemed to be of no concern. I had my hiking poles, but didn't really use them for anything. I didn't slip, I didn't fall.

Walking past my first hammock hang at about 4 miles I walked on. Then I passed the famous Apache Tears erratic, right where I left it.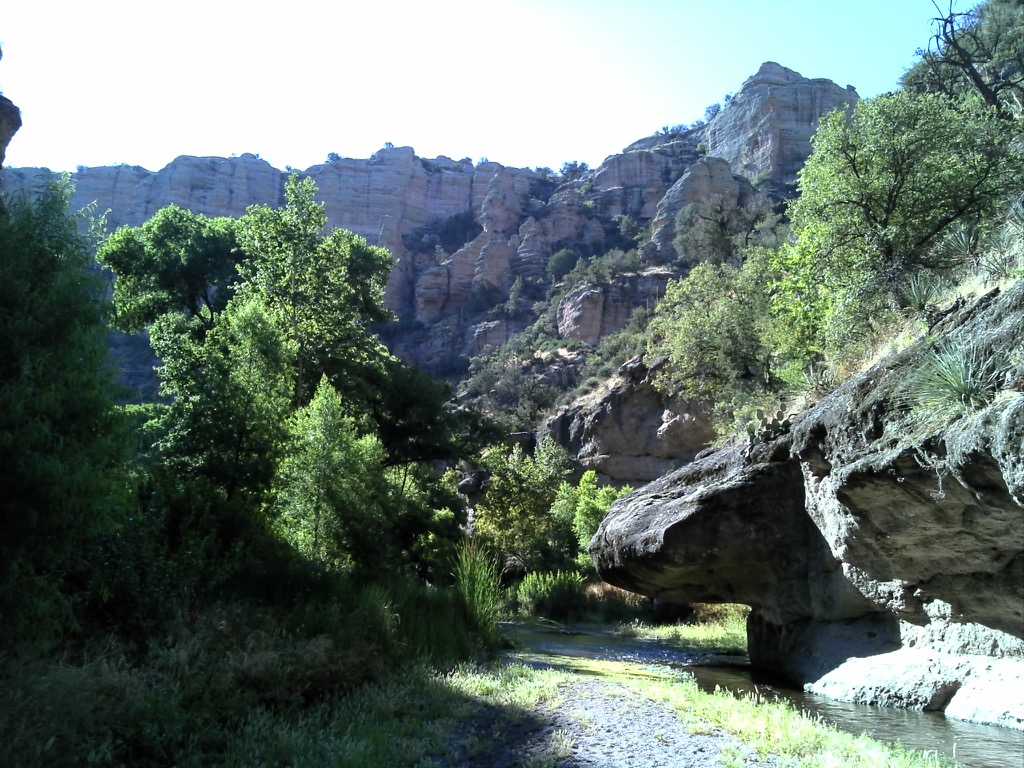 This is an exemplar view of hiking in the canyon. The canyon wall in the background, and the deep water running under the rock overhang. Think about it - under that roof is a place where you can swim in the creek, without getting wet if it rains! (or maybe not)


My pace wasn't very fast, but I didn't care. I spent a lot of time gawking at the canyon ledges wherever I could see them. I was intent on seeing the evasive, but present, Desert Big Horn. I saw one last year, but only after it had been pointed out to me. I kept looking and looking but saw only birds. I saw several hawk like birds with a white stripe across the tail. Now, I can tell the difference between a crow and a raven (by counting the pinion feathers - it is only a matter of a pinion after all) but I don't know much else about birds. There were several of these large birds. I also saw some vultures, and then I saw a really huge bird - bigger than the heron, more like a bird from an Alfred Hitchcock film. And lots of little yellow songbirds.

I did see some deer tracks, but no deer. And also, no scat of any kind. I wondered if the bear warnings were simply to encourage good backcountry behavior of hanging food at night, rather than actual bear presence. Didn't matter to me - I always hang my food to keep the mice and other rodents out.

I decided to look for a place to make camp at 10 miles or past it. I found a nice spot at about 10.2 miles, just about at noon, and made camp. First, I hung the bear bag. This was without doubt my best bear bag hang ever. I was very proud of myself. And it didn't take a million tries, either.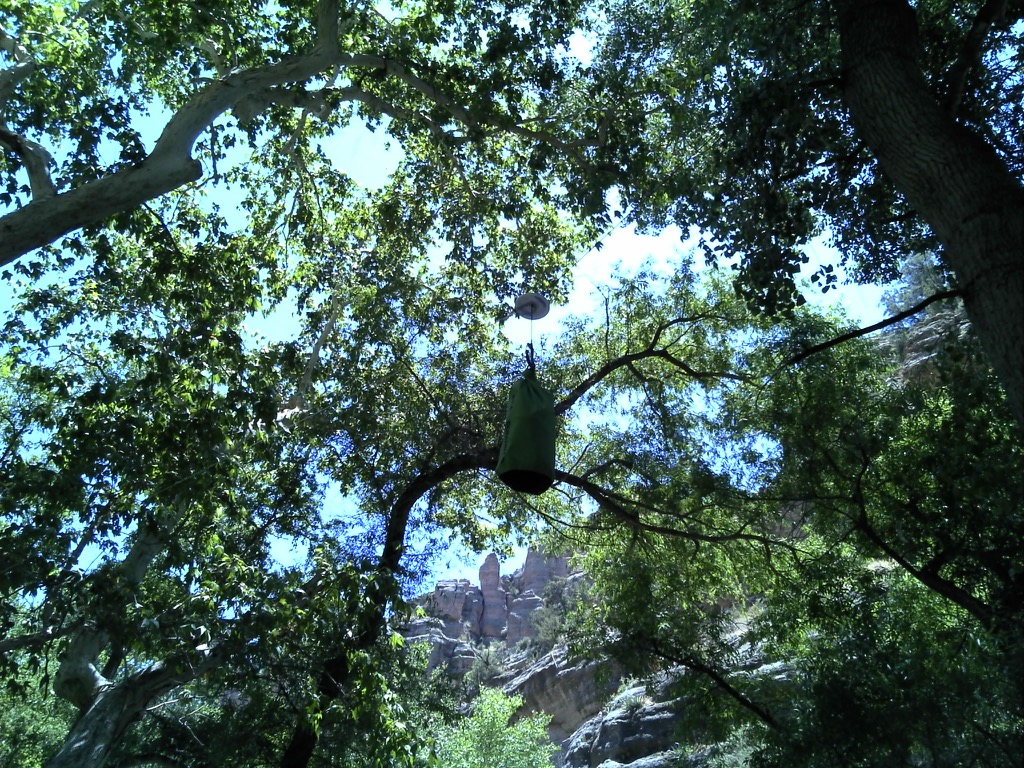 About 200 yards up creek from my hang. Look closely and you will see the custom built Porter Brenner Rodent Baffler above the descending line.


The ground below my hang was all chopped up, like someone had cultivated it. Only later did I realize it had recently been "rooted" by a family of Javelina.



By now it was getting pretty hot. One nice thing about hiking in a canyon is that the sun doesn't get to beat down on you except when it is near noon, being obscured by the canyon walls in most places. I put the tarp up as a sun shade and it worked fairly well. I was really tired from lack of sleep the night before, and also really wet from sweat. I took a nice long dip in the creek, in my clothes to wash the sweat out of them, ate a bit of cold lunch, and got in the hammock for a nap. The last thing I remember before dropping into a deep sleep was the feel of the sweat running off my face and down my neck. It was about 2:15.

I slept for over an hour and woke up. I was mostly damp from sweating in my t shirt and night shorts, but there was a nice breeze from time to time. I fiddled around with various thoughts, and decided I was done hiking for the day.

I had worn my Garmin Forerunner 235 GPS watch, and also carried my supposedly very accurate Garmin Montana 650 GPS. The watch, although smaller and lighter, seemed to record much more accurate data. I've written to Garmin to ask why. The watch said I had hiked 10.3 miles in 5:47, with 5262' ascent and 4898 descent. The elevation data is complete trash. It must think I hopped up and down off the canyon walls several times. I was walking slightly up hill the entire time, i.e., up creek, but that was it. The trailhead is at 2690', and my camp was at 3104' - and that was the extent of my elevation change.I may have dropped down 80' to 2610' at the very beginning, to get down to the creek. This means my ascent was about 500'.

On the other hand, the Montana GPS said I had hiked 11.9 miles in 6:21. Its ascent seemed more correct, at 587' ascent and 253' descent. But, the distance data was clearly faulty, so I will use the 235 data.

In any case, I decided to make supper at about 5 pm. This would consist of boiling water. I made a cup of green chile and white bean soup, followed by a re-hydrated Cuban coconut black beans and white rice concoction. This more than filled me up. And, kept filling me up.

After sealing up all the trash inside my water proof, odor proof bear bag, I hung it, and retired to my hammock, with a 4 oz daily ration of a very nice bourbon. I struck the tarp by sliding the snake skins over it, giving me a view of the sky. I sat in my hammock sideways, sipping bourbon, dozing off, listening to the birdsong. I saw a few bats as the light left. Just like back in the country where I was raised up, it seems that here, it always gets dim before it gets dark. I enjoy that.

After finishing the bourbon in between impromptu naps, I sealed up the bug net and fell to sleep. All I remember about the night was thinking that I should never again eat anything with beans in it on the trail.

---

I woke up in the morning after it was full light. I've been rising between 3 and 4 to watch the sky lighten, so it surprised me to see that I had slept until 6. It didn't bother me, though, as I had no cares or concerns over time. At this stage, I didn't really even have a plan for the day.

The bear bag was unmolested. I retrieved it and took what I wanted from breakfast - coffee and instant oatmeal cereal, across the creek with my cooking gear and began the process of heating water. First the coffee, then the oatmeal. Then another coffee as I contemplated the day's possibilities. Having finished this, and filtered enough water to take 5L with me, along with supplies for a cold lunch, I hung the bear bag, buttoned up the hammock, re-deployed the tarp for sun shade, and headed up creek. I wanted to visit the far east end of the canyon, and also to travel along Turkey Creek and visit the ancient cliff dwelling.

I started walking a little after 8, and before I knew it, reached a junction where Turkey creek empties into Aravaipa Creek.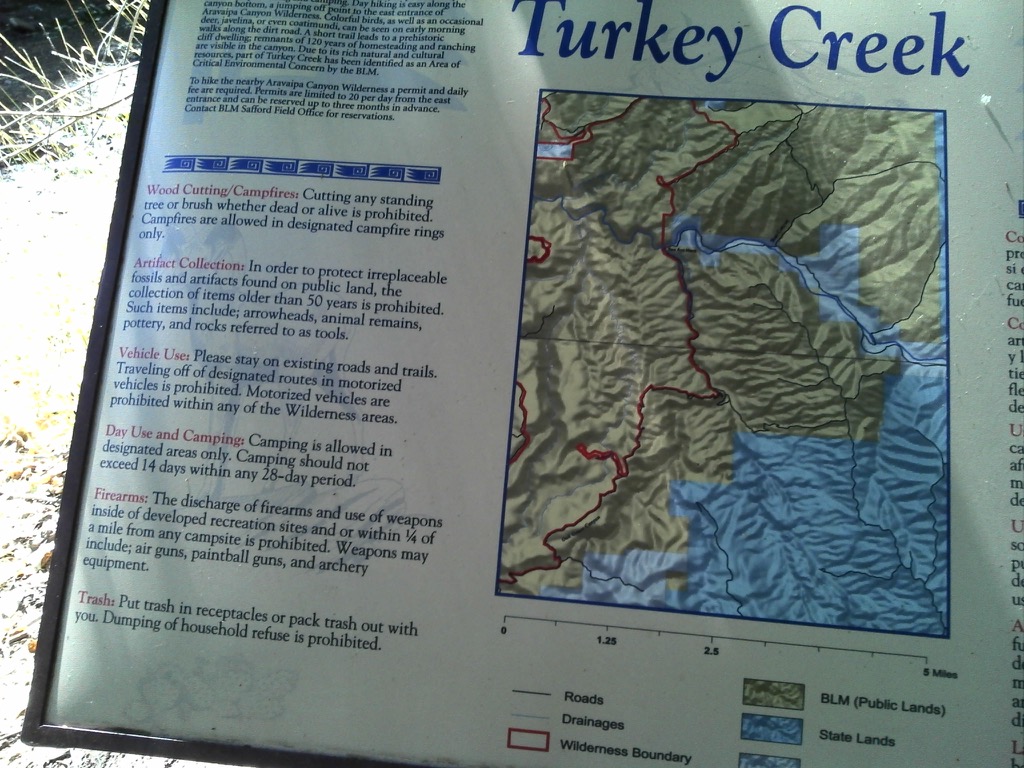 Well, choices, choices, choices. I could either walk the rest of the way east and back, and then walk up Turkey Creek south, and back. I decided to "finish" walking the Aravaipa Canyon trail first. This ended up being a road walk, although on a road that my Prius would not navigate. There were several deep creek crossings. Apparently this is on property owned by the Nature Conservancy. It was neat that there were several buildings hidden back in the trees protected by no trespassing signs. Some of them had electric power.


See it back there?


After walking about a mile and a half, I arrived at the official east trail head. It was very nice with a cement sidewalk from the dirt road to the cement block bathroom. The government sure can find some anachronous way to spend money.



Talk about a brick shithouse - this was top shelf.



And true wilderness, too. Look, the sign says so.


I took my photos and didn't use the facility. Heading back, I saw this vista and thought it worthy of a photo:


What makes those 3 pillars special, that they didn't get eroded away like the rest of the canyon wall between them?


Then back at the junction point, I headed up Turkey Creek - another road walk. There were a least 4 primitive car camping spots along the way, with fire rings and room to park. Probably room to drink, too, but I didn't measure for it.

I met a guy last year about halfway through Aravaipa Canyon seeming to be trying to impress us that he "knew where the cliff dwellings are." Well, gee, there are sign posts and billboards, maps, pointers and a freaking road pointing you to them. Not like it's a secret or anything.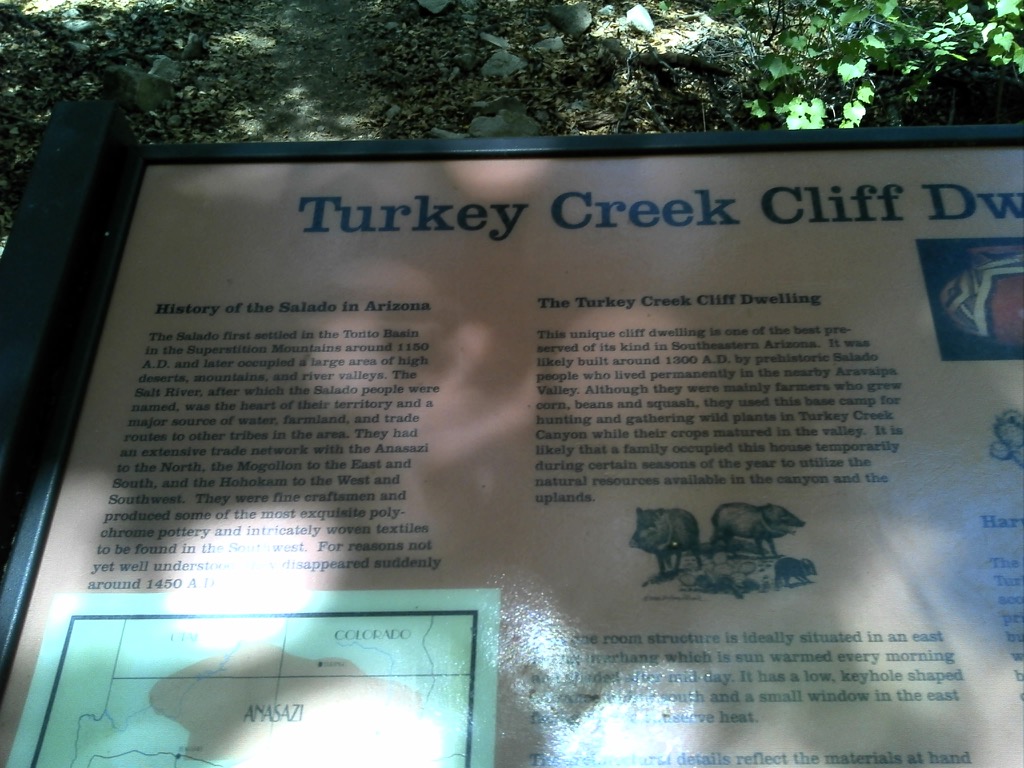 What? This house was built in 1300? Before white people could come over here and show how to build something? Incredible. And it's still here.



From inside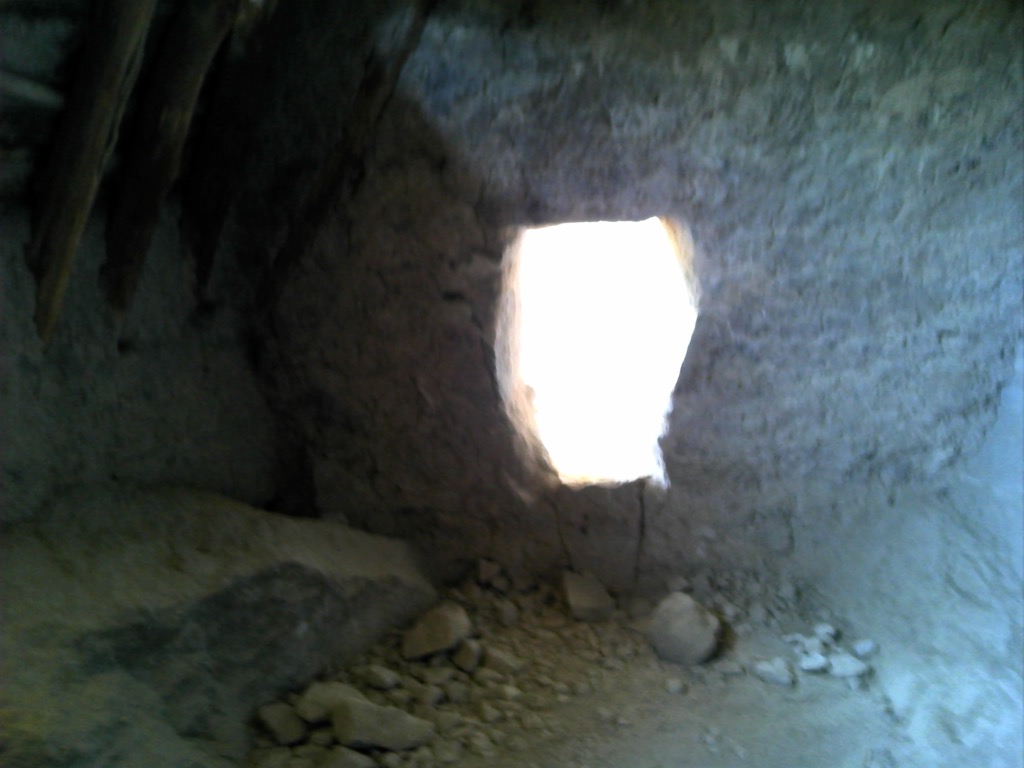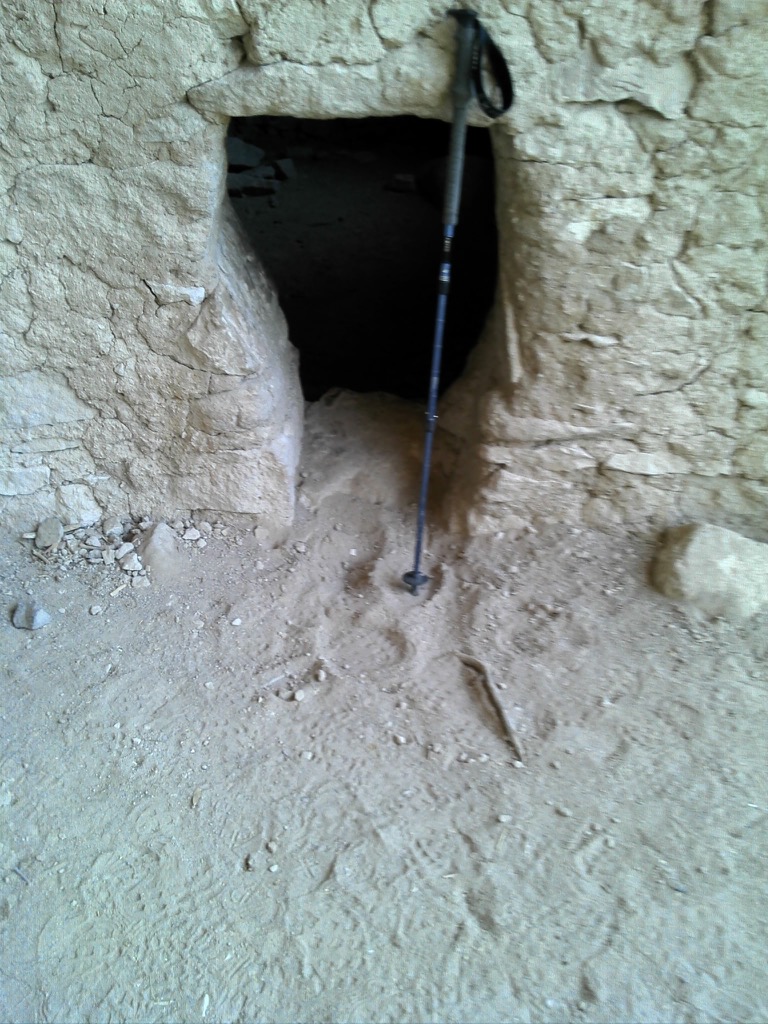 My hiking stick for scale. I could barely get in. Of course, I was old, and stiff from hiking at the time. Not anymore, though ;-)


After that, I just hiked back to my camp. There had been no one else in the canyon, from either end, the day before. I had it all to myself. Pretty amazing.

Back at camp about 12:40 pm, I had hiked 9.5 miles in 4:31 of walking (with my pack, but without my hammock, stove, etc. It was very warm again, so into the creek I went. I ate a cold lunch and stripped to hang my clothes to dry. Into the hammock I went, and slept for an hour or so. I was mulling over whether or not to strike this camp, and hike part way out, so I wouldn't have to hike out 10 miles tomorrow.

About 2:30 I heard voices. Loud. Female. Voices. So I got some clothes on quickly and 3 women waved from across the creek. I told them I might hike part way out so they wouldn't be surprised to see me go by. I got to thinking about it. It had taken me about 5:40 to hike in, gawking as I did. If I got my butt in gear, I could start out at 3 and get to the car before dark, if I hiked fast enough to make it in 5 hours.

And that became my mission. Probably not very smart, but I put my head down and went for it. It ended up being 10 miles, and I hiked it in 4:38. I concentrated on finding a better path, and on keeping my pace up. I paced my eating too, with only a few snacks I could eat on the walk. I had 5 liters of water and didn't have to stop for anything, except to dump the rocks out of my shoes from time to time.

About a mile from the trailhead, I hiked along a very straight section of creek. Staring at the far end of what I could see, there was a moving dark spot. I thought maybe a young bear, or a Javelina. As I got closer, I could tell it was a couple of Javelina. About 200 yards from them, they must have heard me. They took off like a shot, thundering away at the speed of, well, the speed of a thundering Javelina.

I actually got back to my car at 7:42, having started at 3:04. I was beat.

Then I changed clothes and began the 3 hour drive home. I stopped at the 1st gas station, bought a big can of Monster and 3 candy bars. Not enough. Stopped again and bought another can of Monster and a bottle of root beer. That got me home. But then I woke up about 2 am famished and had to eat something besides pure, empty sugar.


Well, there is my hike. The entire canyon, out and back. I decided it wouldn't be prudent to try any canyoneering or bouldering while solo, so I stuck to the main route. This hike signals a huge breakthrough in my physical training. I hiked with a 30 pound pack, 10 miles Tuesday and 20 on Wednesday. I did not stumble once, not in the water, on the mossy rocks, in the current, not bulling my way through deep brush where there was no path. Not once. I had no balance problems at all. I credit working with my trainer for the last year and all the drills she has me do to improve core strength and balance. It has really worked for me. While I was hiking I felt like I did when I was a boy scout - jumping up and down and just going where I wanted to go. No fear. I was pretty tired the next day, but what the heck, I am not a teenager anymore. Now that I am 23.