Mind the Ducks 12 Hour Race

May 9 2015 Webster, NY


On Friday May 8 I flew to Rochester, NY for this race. My plan was to crew for Mary, who would try to re-gain her national age group record.

After picking up our bib numbers at the race headquarters motel, we went to a nearby runner friend's house for supper. It was a wonderful meal, and we carb-loaded for the race.

In the morning, we got ready and headed to the course about 5:45, for a 7:00 start. The weather forecast was not good for racing - calling for 87 degrees by 11 am and not relenting until 5 pm. With nothing to do about that, we all started at 7. I started near the back with no real goal. My training has not been good in the heat of Chandler and I didn't have any real aspirations. I started jogging 2 miles, then walking a quarter. The course was a loop around a man-made lake, slightly over 1 mile long. At about 0.22 miles, you crested the only hill on the course. So I used that as my point to start running again, having walked from the timing line.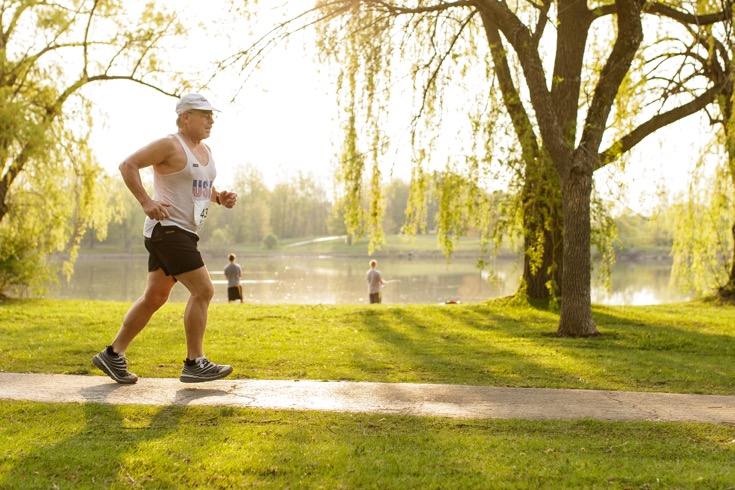 This in the first hour, still only in the low 80's (F). Impressive knee lift!



I kept this up for 2 hours, after which I had completed about 10 miles. It was starting to get hot, so I decided to walk for an hour. At 3 hours, I tried the running pattern again, with less and less success. I had broken a sweat in mile 2, and it was getting hotter. I added the sun drape to my hat. At 4 hours I decided I was walking again. I grabbed my phone and checked the temperature - 87 degrees, as forecast. I decided right then I would walk for 6 more hours, until 5 pm, when it might start to cool. There was a nice breeze at one end of the lake, but it was a warm breeze.

I found I could walk about 16:00 pace if I pushed it. But I also had to stop every lap at the aid station to fill the water bottle, sometimes waiting in line to do so. I started cramping in the 5th hour, and popping salt sticks and other electrolyte replacements, and drinking as much water as I could. Each time I started to cramp, I treated it with no confidence, but each time, the cramps resolved. So if I ran a little to get my "walking" pace to 17:00, I could stay on track.

By this time, Mary had conceded the record attempt due to the heat. At that point, I told her she could crew for me. I was feeling pretty good, better than I had any right to feel. And I was figuring if I could make 3 mph, I could have a PR. So I was really trying to "race" - given that meant walking at 20:00 pace for 6 hours. Doesn't sound like racing, does it? 10 miles after 2 hours, then 3 mph for 8 hours, would put me at 34 miles. Then I would have 2 hours to run another 10 miles. Of course, it wasn't too realistic to think I could maintain that walking pace for 8 hours, without stopping, but I did plan to do that. And I wasn't sure that I could run as "fast" for the last 2 hours as I had for the first 2 hours.

So I forgot about the next 8 hours and just tried to finish each mile under 20:00. I knew I was putting a little bit in the bank lap by lap, because I was actually walking faster for a change.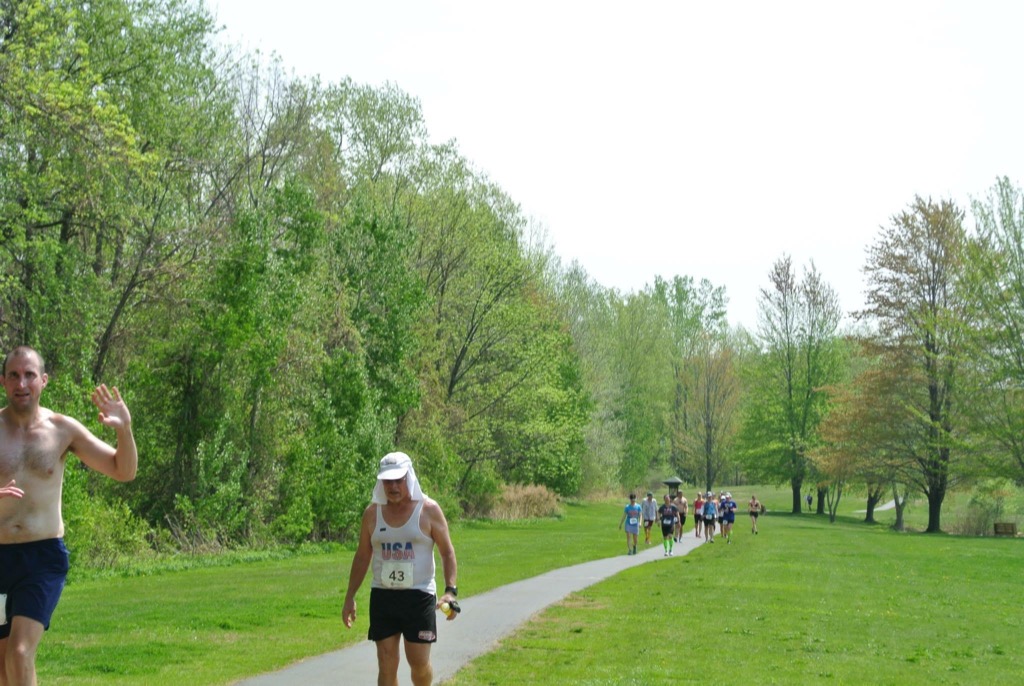 Bearing Down


By 8 hours, I needed 14 more laps to make 45. I figured 17:00 pace got me the 3.5 mph I needed for that. Except, it kept getting harder, and I had to run a little more each lap to get my pace back down to 17:00. And the cramps kept coming back. Later on, I realized that every time I took a drink of Coke, I got cramps within 10 minutes. First time I ever noticed that. I started pounding more and more water, more salt sticks, changed over to endurolytes, and took another 800 mg ibuprofen about 4 pm (9 hours into the race.)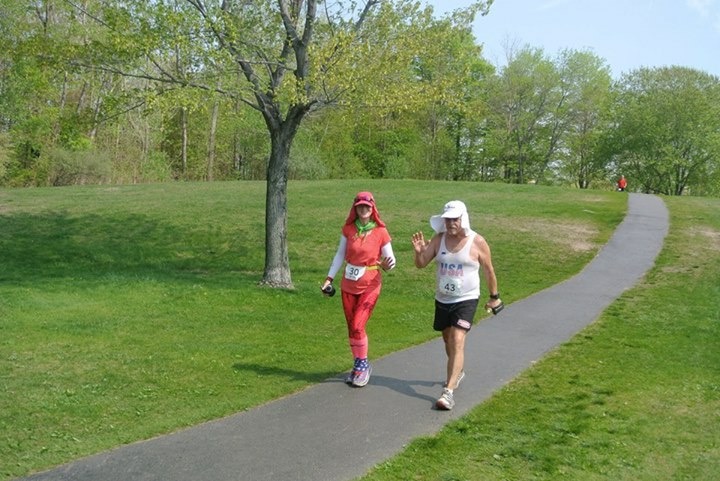 Just trying to get through...


I hadn't stopped for anything since a porta-can stop in mile 2, except to dump some pebbles out of a shoe. Now I didn't have to stop, nor did I have time to stop. At 9 hours, Jim Miner told me I was second in my age group. Of course, that meant he was first, so I asked him how many miles he had on me. 9. I told him to go sit down, I could run another 9 miles. But he didn't. I did finish second in the 60-99 age group, which is the first time I've ever finished 2nd. I ended up with 45 laps, 45.54 miles, stopping with less than 7 minutes on the clock, since I couldn't finish another mile lap in 7 minutes, and this race doesn't credit partial laps.



Me, finished


Pretty good PR, which I had no right to. Especially on a day when the high hovered at 92 for most of the afternoon. What if I had actually trained?

On 10/14/1995, about 20 years ago, I ran my first ultramarathon. It was in northern Virginia, and called "Andiamo" which means "let's go!" in Italian. It was 45.5 milers. Same distance as I ran Saturday. But I ran it then at age 42 in 8:06 - almost 4 hours faster. Of course, I had 2 natural knees then, and carry 20 years more maturity around with me now. :-)

Here is the race website:


And here are the age group results: http://mtd12hour.org/yahoo_site_admin/assets/docs/2015MTDAgeGroupSummary.129121414.htm

Why do I keep doing this?


06 06 - The Land Of Make-Believe

25 years ago, next month, I started a project that would take 5 years. A man visited me one day and gave me a paper with these words on it:

Excellence can be attained if you ...

Care more than others think is wise.

Risk more than others think is safe.

Dream more than others think is practical.

Expect more than others think is possible.

Perform more than others think is needed.

Improve more than others think is probable.