Update February 24

Today I hiked for 7 hours and completed the westernmost trails that I was missing. I started again at the main entrance, and hiked south to hook up with the Bajada Trail, taking it west to its terminus at the National. Then I hiked south-ish on National to tag where I left it to hike the Bursara Trail a couple of weeks ago. Having done that, turned around and hiked it back north and west to its (National Trail) terminus.

So far this was a piece of cake. Angel food to be exact. I was wearing my Asolo light hiking boots and my feet felt much better. They protect my feet from the rocks much better, and have better footing. And since the insoles aren't all torn up, they don't tear up my feet. So, I was feeling great. Hadn't even had to use my hiking poles yet.

At the west end of the National Trail, near San Juan Rd, there is a big kiosk / signboard with all the trails mapped out and a you-are-here pointer. There was a couple looking, and we chatted for a few minutes. They were from Utica, NY. Then I went on. Or, I should say up. The 9th and 10th miles (see the elevation profile below) made the 11th-15th horror show. Not only was I exhausted, my feet were pretty sore. If I'd planned better, I would have hiked this track in the reverse direction and covered the mountain while I was fresh.

The Alta Trail scaled up Maricopa Peak but didn't quite reach the summit. Instead, it switched back and forth along the shoulder of the mountain. This reminded me a lot of when Harrison Ford and I discovered the Temple of Doom. You would be climbing or descending steeply, and by now using the hiking poles, and only be able to see 40-50 feet ahead. It made you think there was a huge 1000' foot drop off. Then you'd stumble upon the next turn.

A storm had been blowing in from the north, and when it reached me, the clouds seemed to descend and envelope me, and it began raining. So I got my jacket out of the pack for a while. After reaching the saddle and climbing over to the south side of the ridge, the sun made it too warm to hike with a jacket on, so it went back into my pack.

A wonderful day in South Mountain Park.




Today's Hike




Today's Elevation Profile




February Hikes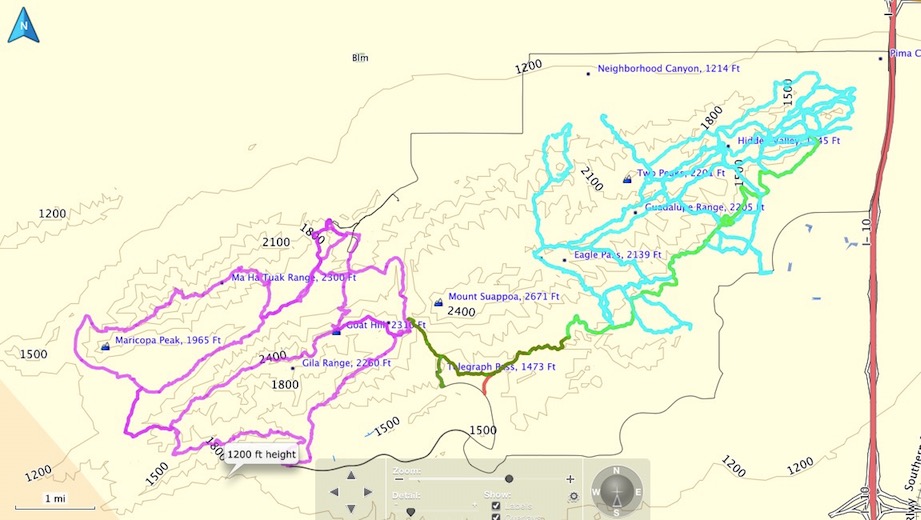 South Mountain hiked so far:
Green - December
Cyan - January
Magenta - February


Update February 23, 2015

I had another day hike on the 18th. I hiked about 7.8 miles covering the Ranger Trail, the Kiwanis Trail, and parts of other loops and shorter trails.



South Mountain hiked so far:
Green - December
Cyan - January
Magenta - February


I have two major loops left and I will have covered all the trails in South Mountain. Each remaining loop is about 10 miles. One is west of the magenta I've been doing in February, the other is east of it and will complete the National Trail.

After my last hike I drove to the Tonto National Forest HQ office in Phoenix. Read about that on my Superstitions pages.

---

My first hike in February was on the 12th. I ran 6 miles in the morning, ate some lunch, packed a pack and headed out.

I found a parking spot, although not where I should have parked, and started out for an ill-planned loop to do some trails I haven't hiked yet.

Finding I was on the "Pyramid" Trail, it gradually began to ascend, and I reached the T with the National Trail. I saw an interesting structure so I decided to investigate, and was prompted to ponder this riddle:




How many antennae are required for a stone shelter?





Hiking back up to the National Trail, I began heading west. Only then did I consult my map, which indicated I either needed to seriously hustle, or I would be caught in the dark. And, I left my headlamp in the car. So I started stretching it out…

I even ran the entire 6th mile. When I saw that it saved less than a minute over walking the 5th mile, I gave up on trail running for the day…

I ended up back at my car just before sunset, which was as beautiful as ever out here in the desert.

I really overdid it. My right heel has no skin left on it. I guess it's time to retire these hiking / trail running shoes.




South Mountain hiked so far:
Green - December
Cyan - January
Magenta - February