Hiking the Weaver's Needle Crosscut Loop


I took a hydrocodone pill last night when I got home from running. My right hip and lower back were pretty sore (maybe very painful ?) the entire time I was running. I haven't figured this out yet, as they felt fine when I worked out in the gym in the early morning. Probably sitting on my butt all day driving around running errands didn't help. So I had to decide to numb the pain with either a drug, or with booze. Even though the bottle said 1-2 tablets every 4-6 hours, I took only one, and drank only water.

The pill really did the trick, as I fell into a deep sleep in mid text conversation with a good friend. I slept soundly all night, which never happens, and awoke just before my alarm at 4. With no back pain. I think the pain is of organic origin, i.e., something my mind is doing to me, not coming from my body. As per Dr. John Sarno. In any case, my back doesn't hurt now, and it won't hurt me at all today nor will it hamper my adventure.

The hike went well. I got there too early and tried to nap in the car for an hour. There were about 6 cars there when I got there, probably people who had been out for the night. This parking lot can accommodate about 75 cars in numbered spaces, around the perimeter and facing one another along a guard rail down the middle of the lot. I made the mistake of parking facing the guard rail in the middle of the lot, as far away from any other cars as I could get. I did this in case someone was trying to sleep in their car so I wouldn't awaken them. You're not supposed to "camp" in the lot, but I was about to sleep in my car for an hour, so trying to be courteous.

2 minutes after I laid back, a Toyota SUV wheeled into the lot with high beams glaring and pulled around selecting the space facing me, pointing the lights at me, and proceeded to get out of the car, load their gear, etc. Without turning the headlights off. I waited a few minutes, then started my car, backed out, and drove around to another of the numerous parking spaces. Why do people have to be so thoughtless, even when it is difficult? This person had only a 3% chance of being annoying, and yet, they executed exactly that.

I started hiking about 7. I was leery of others (like the SUV driver) being on the trail I was on, but they hadn't even signed into the log, so I knew not which way they went. I started out the Bluff Spring Trail, and was glad to find I was the only one hiking that way. As you can see in the elevation plot below, the climbing begins right away, and goes on more or less upward to the intersection with the Terrapin Trail, at about 4 miles.

As the sun crept above the horizon, the all-absorbing scenery just seems to gather you in. The immenseness is so impressive. The photos don't capture the size of the rock formations or the vistas.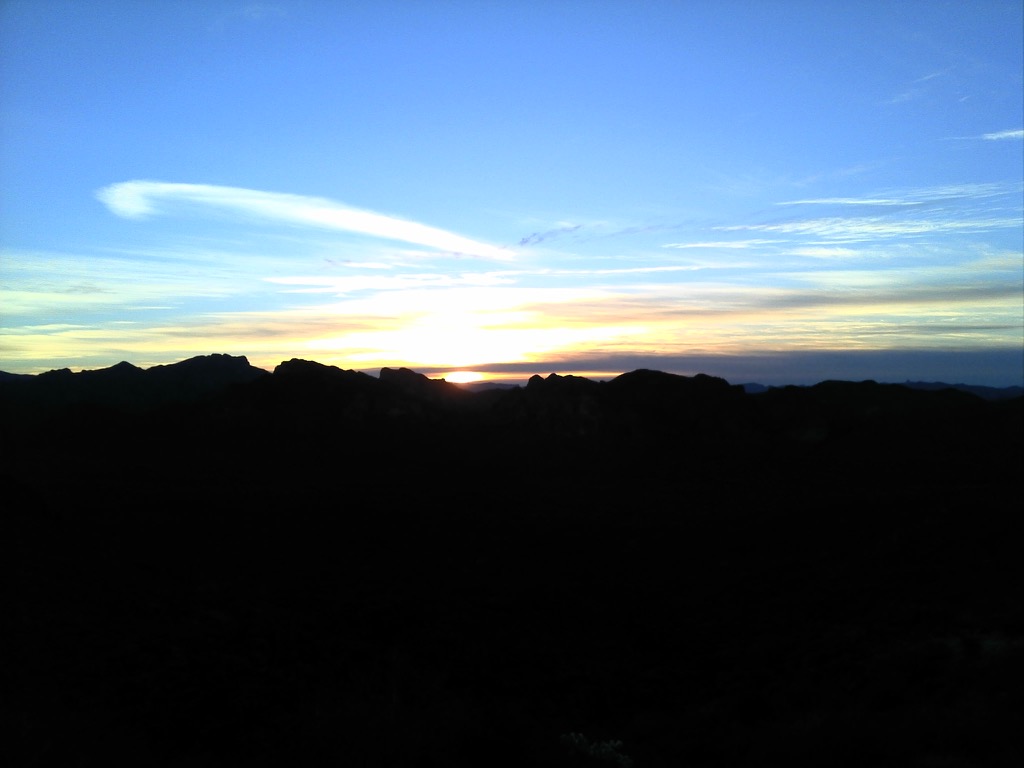 This is a sunrise, not a sunset. I took this photo, so I must have been there.




My last glimpse of the parking lot for now, as it fills up for the day



Who puts these massive boulders up this way?



This is my first sighting of Weaver's Needle this morning at 8 AM. My hike is intended to take me closer to this monolith "than I've ever been lifted before."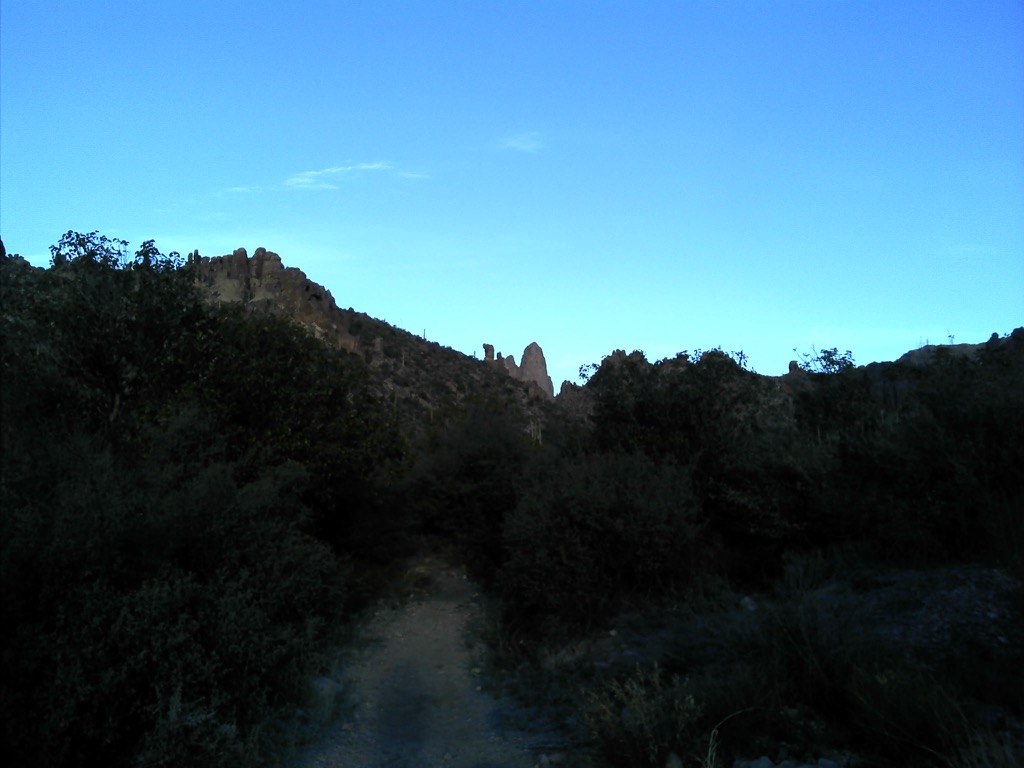 Here is the Needle from 20 minutes closer. It doesn't look much bigger does it?



Closer



For future reference, this cairn marks the turn off the Terrapin Trail onto the unmarked Weaver's Needle Crosscut Trail.
Of course, I could also use the shadow of the guy taking a photograph to remember the spot by, couldn't I?


Closer still. The footpath through this little valley on the south side of the Needle was fairly easy to follow. Of course, the more I gawked at the massive rock pillar, the more I wandered off the footpath and had to wander around to find it again. Walking off the beaten path this time of year didn't bother me too much, because the snakes are still hibernating. I think.


If you squint real hard through the bottom of a bottle you can almost see the 3 dimensions in the photo. The needle is far behind the pyramid-shaped hill, which is less far behind the spires near the saguaro on the left.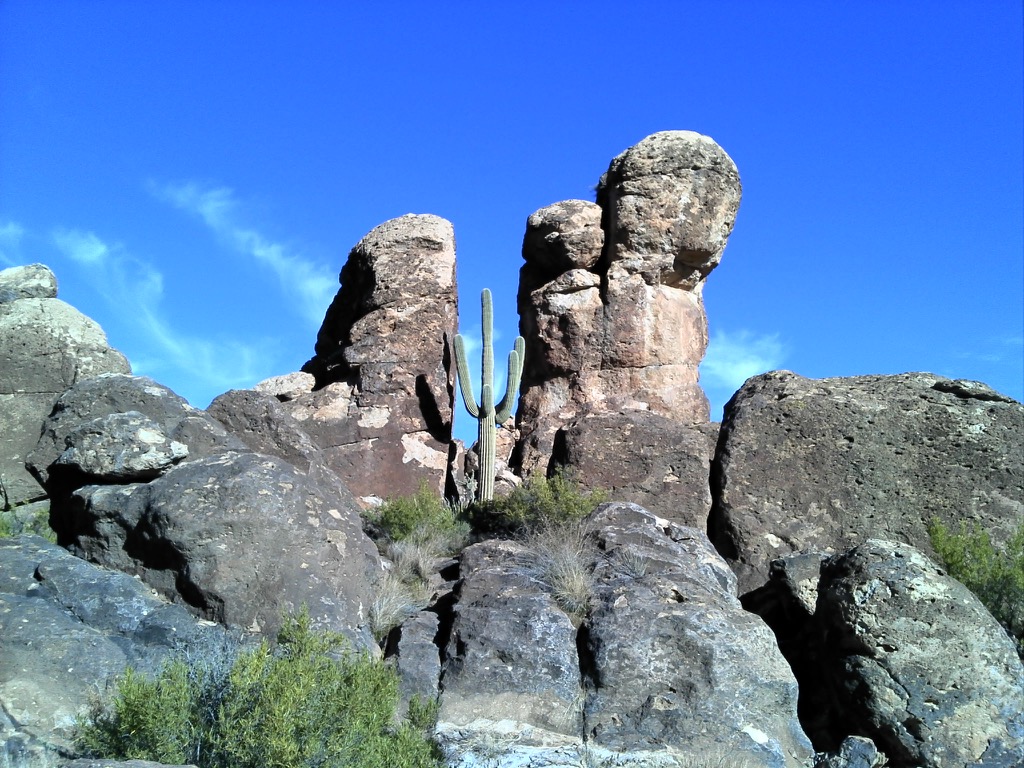 Here is that same saguaro from a little farther north. That cactus is about 20' high.




This is about as close as I got to the Needle. It is still 4/10 mile northwest of me. The top of the Needle rises to 4500 feet and I am standing at 3390 feet.



Looking back to the east now, the bishops and cardinals of the cathedral scowl down upon us heathens.


As I dropped through the valley between Fremont Saddle and Weaver's Needle, I felt like I was really low in elevation. I was also surprised at the amount of standing water. There were pools everywhere. And I thought I could make out the pine trees up above on the south of me at Weaver's Needle Lookout where I've been couple of time before.

The book recommended hiking this loop in this direction. I guess it was OK. The down climb to the Peralta Trail was really pretty difficult. I would rather have climbed up that section.

Shortly after turning onto Peralta and beginning the climb up to the Saddle, I met a single hiker. I had been hearing voices for a short while, to my dismay. Up until now I'd had the entire Wilderness to myself since shortly after leaving the parking lot. I was planning on hiking up to the Saddle, finding a quiet spot in the sun to warm up and eat my snacks, and then drop back down to the car. A young lady was drawing or painting, stretched out on a big flat rock as I hiked around by her.

But then I made the last turn before reaching the Saddle. It was like being at the mall. I had forgotten that this being New Year's Eve, many people treat it as a holiday. There were at least 20 people at the Saddle, yakking away. There would be no asocial relaxing there. I hiked on by, thinking to get a spot along the trail on the south side where the sun had been shining for quite some time by now. I looked for my friend the Diamondback as I went by, but I didn't see it again.

Eventually I found a big rock I could lean against and eat my orange. But of course, the hordes were ascending. People with large dogs. People with small dogs. People with 2 dogs. Some off leash. People just enjoying their right to be noisy and thoughtless in the wilderness. I spent very little time eating and chastised myself for not planning more carefully.

On the way down I met at least 100 people walking up. I met a woman and daughter. She was walking with a big hiking stick/pole sort of device. I think she may have been trying to get an upper body workout. Neither of them had a water bottle. She asked me "How much farther?" I replied "to where?" She said "I don't know" in a rather annoyed tone, and then waited for me to tell her how far it was. After a bit I explained that to tell her how much farther it was she had to decide where her destination was. She said "all the way" and I asked if she mean all the way to Canyon Lake, some 20+ miles? Oh no, not that far. Finally I suggested she might be going to Fremont Saddle, and that was about another mile. She didn't thank me. I think she was annoyed I didn't answer more promptly.




Heading back down the Peralta trail. This (erratic?) is at least 15' tall.



A final glimpse back at the lord of the realm.


The hike took me 5:50 of walking time, and was only 8.4 miles long. I was a little surprised that I was not hiking faster, but, it's been a while since I hiked, and I really wasn't in any hurry. I suppose I stood and looked at the vistas much longer than usual, and longer than I realized. I had a nice ending to 2015.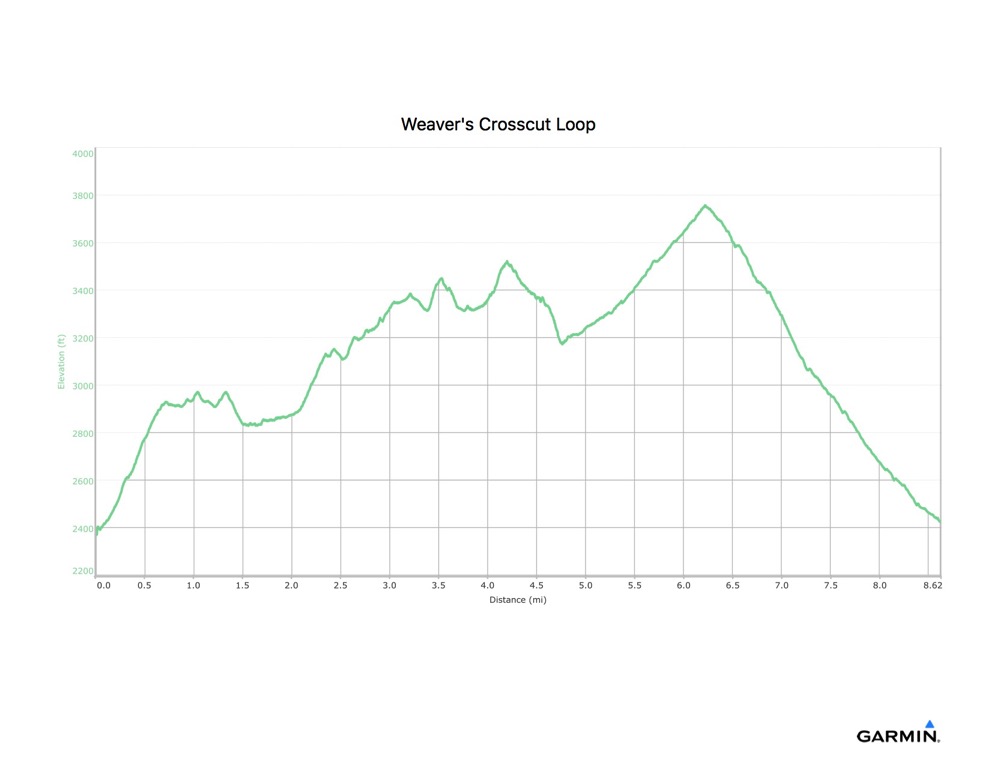 ---
Here is the plan. I intend to leave home at about 5, arrive about 6, when it is supposed to be astronomical twilight. I am hoping that means it will be light enough to walk. But civil twilight is not until 7, and some reports also call that first light. Well, I've napped in the dark waiting for light before, and I can do it again if required. I also intend to walk this from the Peralta trailhead track-wise, meaning, bright red section, then dark red section, then green section.




Weaver's Needle itself is just north of the compass rose.

This loop is about 8 miles.