Hiking into the Aravaipa Canyon Wilderness Solo


Friday, August 7, late in the afternoon I decided to return to Aravaipa solo. I booked my passage ($5 per day) and packed my pack. I got up about 0100 on Saturday the 8th and ate a hearty breakfast, packed my food and took off about 0230. When I got about halfway, driving through Kearny, the rain started coming down hard, and kept raining the rest of the way. I got surprised by a dip in the road full of water and was very lucky. I slowed down a bit, but there were no more flooded spots.

I became more anxious the closer I got to the trailhead. I remembered the thunderstorm Camille and I had seen Saturday night on our visit here, and how the creek rose the next day. I couldn't tell how much of this rain had fallen east (and therefore, upstream) of the creek.

I arrived at the trailhead way too early, still full dark and still sprinkling. I was the only car. So, I let my chair seat back and went to sleep. After an hour it was light, so I woke up, signed in, geared up and headed out about 0600. Several parties had left earlier than planned the day before, noting in the register that the water was brown and rising. Ominous. But I was here. I would start walking, and I could always turn around if it was too dangerous.

The water was definitely higher than when we had walked out, and much browner. The current was flowing faster as well. Between the brown water and the fast current, walking upstream in the creek was very tiring. I tried to bushwhack (should I say shinwhack?) along the shores where possible, probably more often than when we walked in before. This led to many, many more whacks on my shins, tangling with grape vines and mesquite bush briars.

I could tell from the mud and the watermarks that the water had risen between 4 and 5 feet above normal. The mud was very slippery and still wet. Many places it was easier walking in the creek than on the mud.



walking in Saturday morning


After a couple hours I sat down to snack a bit and have a break, where the 1588BRK1 waypoint is on the map above. This was just short of our previous hang site. I was tired from walking upstream, a little worried about further flash flooding, and generally depressed about several things. But, here I was, and on I went. Shortly I passed our previous hang site:


I was glad to see that our previous spot would have been safe in last night's flash flood, well above the high water mark. I kept going on as best I could. I slipped many times, and caught myself all but two times. Once I fell completely in and dunked my entire pack.

After about 4 hours of stumbling along, talking to myself, I started looking for a hang site for tonight. I picked a spot next to an open meadow where there were some big rocks to sit or cook on, and hung my gear. I set up camp about 11 am. This was partly because I wanted to dry my gear, and, I planned to walk up creek as far as I could and back to this camp later on. My gear wasn't too wet, but, it did need to be dried, and my down underquilt needed to decompress. So this became a good plan.


I got in to test the hang, and it was a good hang. So good, I slept for about 2 hours! When I woke up, I went to the creek to wash things off, but the water was really, really muddy and it seemed to be flowing harder as well. A real mystery, until later that afternoon...

About 2 in the afternoon, I was ready to hike with just water, water filter, and some lunch snacks. I figured I could hike up creek 2 hours and turn around with time to get back by dark. A little way past where we had lunch last time, I spooked 3 little baby fawns across the creek. They weren't over 2 feet high and were grazing on my side of the creek as I walked around a curve in the cliff wall. They splashed their way across the creek and into the underbrush.



This was a nice long straight stretch of the creek. So far I hadn't seen any other people and it was just so peaceful and serene.


Walking along, I saw a spot that would be really good for bouldering and/or canyoneering with ropes. I took these pictures to document the spot. I hope to return here after my climbing class in October to see how high I can get without smoking anything at all.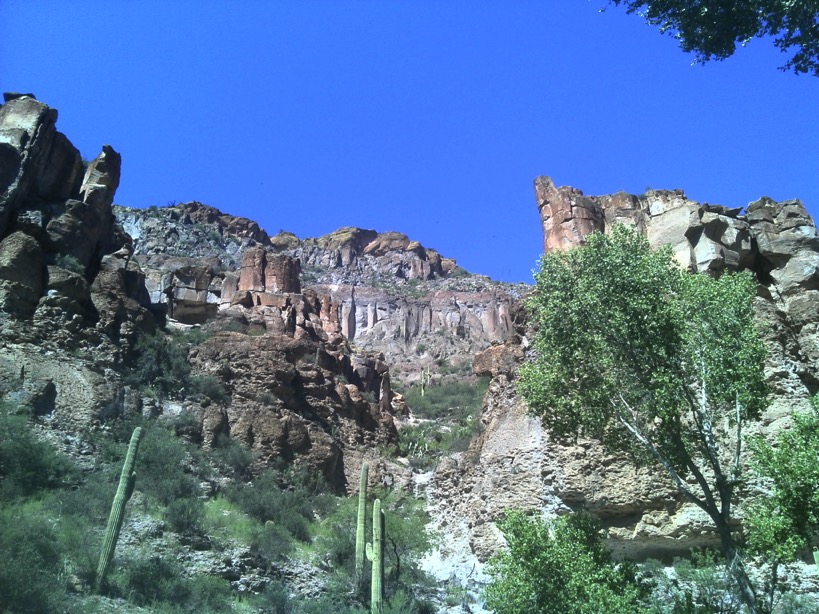 I am pretty sure this is Paisano Canyon on the north side. Looks like a great exploratorium!


Slightly past this spot, I found a rock on which to sit and snack. After demolishing a can of sardines and some dried mango (I forgot my crackers) I took a page out of Camille's book and laid down for a quick nap on the rock. I was just about to drift off, when, someone spoke to me. A couple was walking down creek and stopped to chat. They had been caught by the flash flood the day before. They said they could hear it coming for 2 full minutes before the surge got to where they were, and it was about 4-5 feet high. They were camped near Paisano Canyon and had gone looking for a camera they had dropped. They said Hell Hole Canyon was about another mile, and then I'd be about 2 miles from the eastern trailhead, where they had parked.

They also told me there was another surge this morning about 11. I never saw or heard it, so it must have been while I was napping, and why the water was thicker and higher when I woke up.

I snoozed a bit longer and then, leaving my pack on the rock, resumed my search farther up creek. I decided since I'd been to Hell's Hole last weekend, I would go to Hell Hole this weekend and call it enough. Maybe I will go to Hell itself next weekend, who can know? There was quite a canyon, and I kept walking past it to be sure I had made it to Hell Hole.

Turning around I had my first down creek walk. It was easier, but you still couldn't see the footing. I saw some more pretty neat rock structures.



Above the trail on the south side of the creek.





You could make this into a southwestern Mt. Rushmore - but please, don't!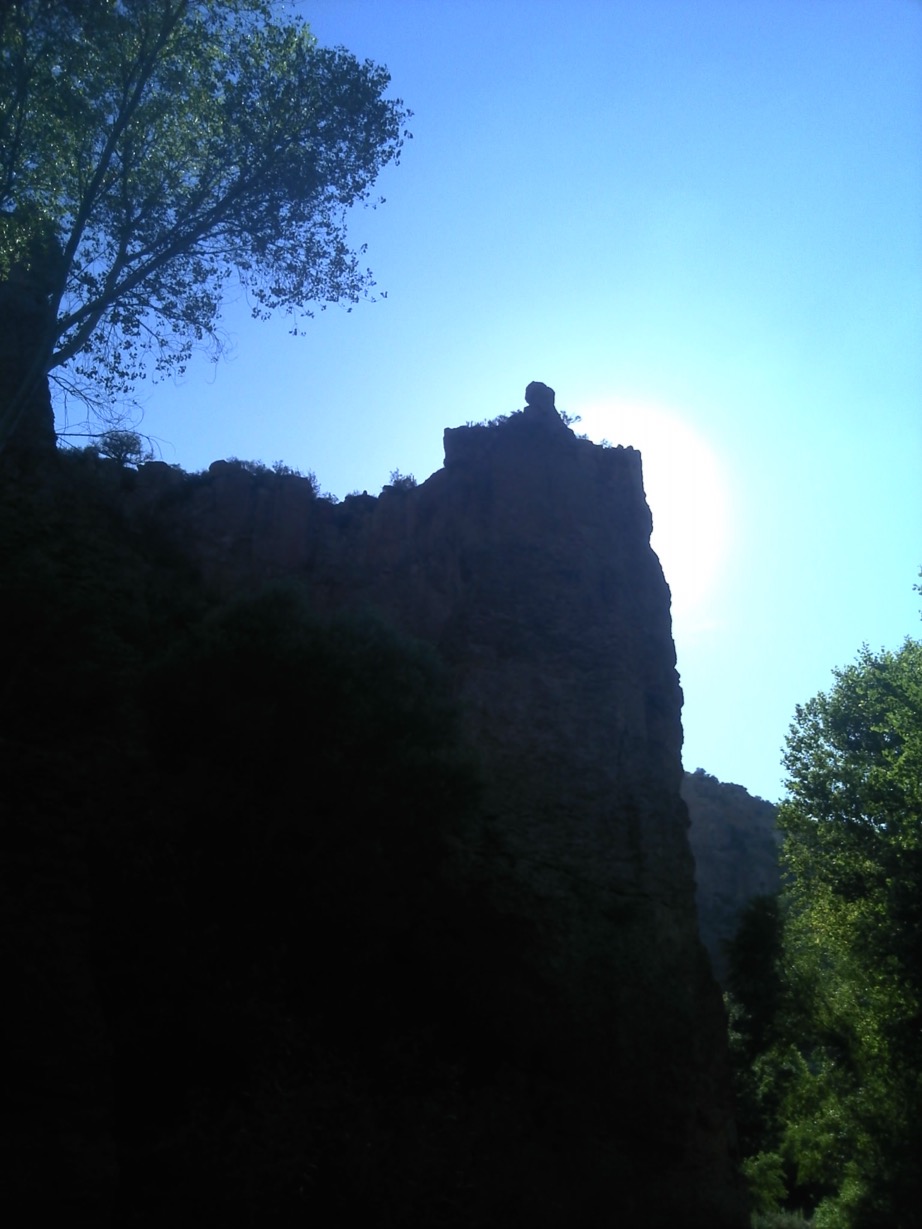 I happen to know this is a setting, not a rising, sun. I was there.


Back at my hammock before 7, it was time to cook. I was pretty exhausted. This was my first day without coffee, getting ready for my cleanse to start the coming Monday, and I also was probably dehydrated. I had hiked in with 2 quarts of water instead of the 3 that my bladder holds. My logic was that I didn't need to carry that much, because the creek is running all year. I could filter whatever I needed. Except, I hadn't planned on muddy water. And earlier this afternoon it was more like watery mud. I saved out 540 ml to cook my dehydrated supper, and drank the rest. I was still thirsty. I was thinking to wait until morning when the water may have cleared, and then filter water. But, I didn't think I'd make it through the night without more water.

I decided to use my gallon canteen as a dirty water container, and filter from that into my quart bottles. So I filled the canteen and stood it up near my hang. I let it settle for about an hour while I tended other chores - hanging a bear bag, placing my shoes and liners out to dry, etc. I quickly filtered 2 quarts of water from the top of the canteen, but near the end the water going into the filter was pretty muddy. Of course the filter kept all that out of my drinking bottles, but it also served to plug my filter.

I drank both bottles (I said I was thirsty) and filled the canteen again. After eating my dinner, which I really had little appetite for, I filtered another 2 quarts. Then I filled the canteen to let it settle overnight. I'm not sure why I wasn't hungry. I had walked 14 miles, 8 with my entire pack, against the current, my legs were really beat up more than ever before, so I am sure I was plenty tired. But I hadn't eaten that much through the day. In any case, I hung the bear bag, and went right to sleep in my hammock.

Sometime during the night I got a little cold, and popped out to attach my under quilt. That kept me nice and toasty. Every time I woke in the morning I tried to go back to sleep. That worked every time except the last time. That was a little joke, if you didn't catch it.

Once I got up, I was anxious to get going. I had brought three eggs and some almond milk with which to make a salmon omelette like we'd had the week before. But I didn't have the appetite, or the ambition. So I drank the almond milk and packed the eggs out. I made a big mug of green tea, packed everything up, and headed down creek with my poles in one hand and my mug in the other.

Once again I saw the round caves on the south side with the white markings inside. I saw the Apache Tears rock. I passed our former hang site. Soon I was following prints of other hikers, and figured I must be near enough the west trailhead that people had already day hiked in and back out. I met several groups coming in. I took this shot to show how the creek spans the canyon in places, but, it's pretty blurry. Just pretend you're in the canyon and it's a monsoon. Ignore the brilliant sunlight. Maybe try peering through the bottom of a bottle of Hendrick's gin. Squint a bit. No, squint really hard.



Well that is about all for this story. I came back well exercised, tired, bruised and 1.5 days older than when I left. Not nearly as nice as the first trip here. I got back to my car about noon, changed into my dry clothes, and drove home without stopping.