Hiking the Aravaipa Wilderness July 10 - 12

- or -

Navigating the Aravaipa Canyon Rapids with C!


Day 1


We agreed I would pick up Stephen and Camille at their house at 6, which I did. Unfortunately during the night, Stephen determined that he was unable to accompany us. So, Camille and I rapidly re-packed our gear to include the common gear we had assigned to Stephen, and we were off. Having left my full mug of brewed coffee on my kitchen counter (mostly because I had not yet drunk it) I started getting a jones and we found a coffee shop just past Apache Junction so I could get my fix. Then we continued east on US60 up the mountain to Superior, where we turned south onto 177 and then 77. The ride was uneventful and scenic.

We arrived at the Brandenburg Ranger Station, 3 miles prior to the trailhead, only to find it closed. I wanted to thank the ranger for the information he provided last week, but, he was not there. On we went and found the trailhead parking lot completely empty. We re-packed our packs, signed in, donned our hiking footwear, and decided to use my hiking poles. Camille's Dad, Jim, had warned her to use a hiking stick for walking in the water, and that made the decision for us.



We parked at ACWTH (Aravaipa Canyon Wilderness Trail Head. Then we walked NE for about a mile through land owned by the Nature Conservancy, before we entered the actual wilderness area (shown in green above.) In the deep canyon, the GPS can't receive signals from enough satellites to triangulate a valid position. To the NNW of the "bathtub" it looks like we went up and down the cliff a few times. We didn't. The track mileage is probably overstated.

Hiking in we followed the river. By that, I mean, we walked in the river. It was a lifesaver that Jim had counseled use of the hiking poles. We were walking in above ankle up to thigh high water more than 50% of the time. Near where the bathtub appears on the map, we stopped for a swim. This was the view from there:


After we swam for an hour or so, we geared back up and hiked on. It was such a pleasant day. The temperature was in the low 90s, and the water was just a little below that and very refreshing. After an hour or so, we found what we called a jacuzzi at the spot marked with the shower head on the map, above. This was a narrow channel between two boulders where all the water had to rush through to get downstream. One could sit between the boulders and let the water pummel your neck and shoulders. If you could find something to brace your feet against. Otherwise, you went flying out of the wash like everything else. Below that was a deep pool we could submerge and float in. Kind of a totally awesome way to spend an hour, before breaking out our lunch.

We ate lunch, consisting of beef jerky, nuts, dates, apricots, and 2 cans of sardines. Camille was reluctant to try the sardines, and ended up very glad that she did. While we were eating, Camille saw this fellow climbing along the very top of the cliff. I could barely make him out even when she counted cacti for me to look near!


Bighorn sheep climbing along the canyon wall top


We saw lots and lots of butterflies. I can see those better!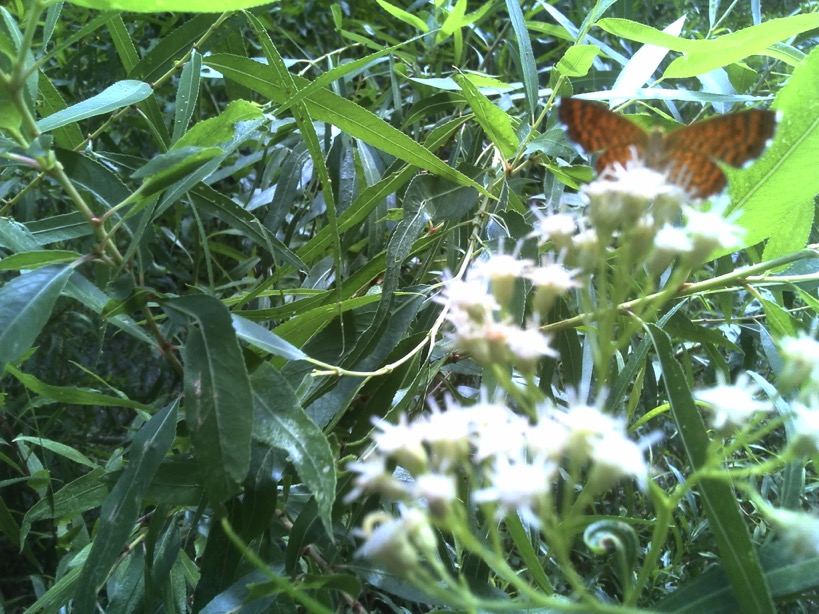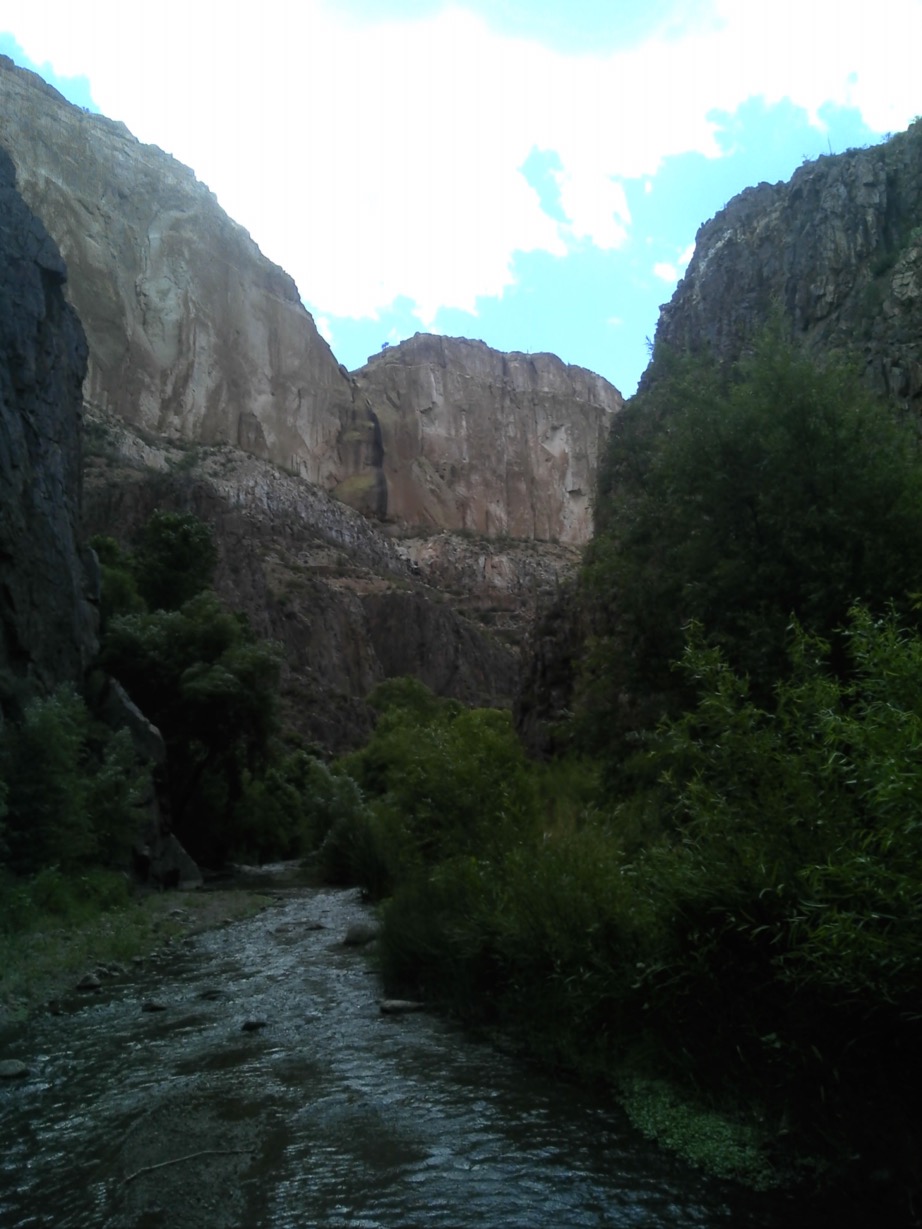 We found a good hammock site where the tent mark is shown on the map above. This consisted of an elevated shoulder adjacent to a 500' high canyon wall, with 3 trees about 16' apart in a line. We hung the hammock head ends from the center tree, and the foot of each hammock at the other end. I had a view east, Camille had a view west. But after a day outdoors, you mostly fall asleep in a hammock in about 3.7592 nanoseconds, so the view wasn't too important. Besides, we hung the tarps above the hammocks in case of rain, anyway. It didn't rain that night. Because we put up the tarps.


Hammock site, after breaking camp


After finding a spot to hang our food bag (away from the hang site) we found another spot to cook dinner (also away from the hang site.) We boiled water for dehydrated dinners. This left us with no (0.0) dishes each to wash, which is always my plan. Enjoying our meals, we watched the bats come out to join us for their dinner and listened to the very loud crickets play some after dinner music as it became dimmer. One of the old maxims from growing up in the country proved itself out again - it always gets dim before it gets dark.

After hanging the food bag, we returned to enjoy the fireflies swooping up and down the canyon in total pitch darkness. We had not seen another person the entire day (since leaving the coffee shop.) The only sounds were the rushing of the creek and the wildlife.

Walking in, I remarked how I could feel waves of enjoyment rushing over me, probably euphoria, as we walked deeper into the wilderness. I am not accustomed to backpacking this way. I am usually in a hurry to arrive at a pre-planned location, make my camp, ensure everything is according to plan. Camille doesn't hike that way and I am glad of it. She sees more creatures, plants, rocks, and other pleasant things to admire. I had no anxiety about getting to camp - we didn't really even have a mileage goal for the day. Just, hike in part way, find a likely spot with proper tree configuration, and hang the hammocks. Day 2 would be a walkabout with only day packs, ending back at the same campsite. Day 3 we would probably walk out to the car.

I think this is a better way of hiking, enjoying the beauty of nature, soaking in the peace and serenity, that gave me the increasing feelings of joy and eustress. It surely was nice.

Day 2





I woke up first, probably about 7 or so. After shaking out my shoes to chase away the night's scorpions, I walked upstream to see how our food bag survived the night. It was completely unmolested. As I was walking back to camp, I saw this little guy. Not knowing at the time what snake it was, I gave it a wide birth. I noted it had a blackish head and longitudinal green and yellow stripes. Looking it up at home, I think it was just a garter snake.



Black Necked Garter Snake


Agreeing that the spot we chose for supper upstream wasn't that great, we picked another spot slightly downstream. We were in no hurry at all. Camille cooked eggs in the lid of my pot set on the propane stove, and she did a pretty darned good job. My eggs were nice and soft, over easy, just as I like them. Tasty! And we also had an instant oatmeal each, and shared 2 mugs of the coffee bag coffee I made. I had a slight headache and could feel it leave as the coffee soaked into my cells. The coffee wasn't primo, but, it had caffeine in it. Sitting on a big rock with our feet in the water, sipping coffee, listening to the F-35 sorties overhead (it being the weekend and the warriors up for training) we thoroughly enjoyed the beauty of the wilderness.

We spotted this little bird who lit across the creek, and then flitted up stream a bit more:



Yellow Grosbeak


Never having seen a bird this color before, I also had to search the world wide web for its name when I got home. The bird I saw didn't have a band on his leg.

We also enjoyed a great blue heron winging past us. He was definitely fishing.

Shortly before noon, we packed up day packs with water, stove, and luncheon, donned our hiking shoes and headed upstream. Shortly after stopping to hang the food bag, a single fellow named Art caught and passed us. After chatting for a while, we passed him again where he made his camp for the night.

We walked / sloshed on and it began to sprinkle a bit. One problem Camille discovered walking without gaiters was that her shoes constantly filled up with "sand" which was very large pebbles. When she got pebbles in sensitive spots under her foot, she would have to take her shoes off and wash the rocks out of them. Maybe she will try gaiters next time we walk up this river.

We found a protected spot to sit for a snack, on the south side of the river, with a huge rock cliff hanging over us and keeping us dry as we snacked. Here we opened the salmon, more jerky, crackers, nuts, and dates.

A fellow (who didn't offer his name) with a camera walked by while we were eating, as he was trying to track and shoot a great blue heron. There were at least 2 different herons leading us upstream today. They were fishing, at least one successfully, for their meal. After chatting for a bit, he went on and we finished our snack. A little farther up stream, we found another nice swimming hole and spent some time floating / sinking / soaking in it. What a day!

Farther upstream, we found a nice large camp area marked on the map above. This may be a place to make camp if we bring a larger group next time. Although, to do so, we would have to make significantly better time to reach it from the trailhead in a single day.



A bit farther, we also "cooked" soups. After resting, we decided we had to turn around after 3 hours to get back to our camp in daylight. Before we did, Camille saw that we were at the entrance of Horse Camp Canyon. We certainly didn't know which side canyon it was at the time, and I am not completely sure that is where we were now, but I think it is. Anyway, she felt like trying some climbing to see how far we could get up the canyon, and it looked really neat to me, so we went for it. It was a scramble most of the way, and I don't think either of us would try it if we were solo, but since one of us could report the location of the other's body, we went for it. We were climbing up everything, all kinds of rock and rubble, tumbled trees and trouble, trying to track to a topmost ledge beyond which we could not travel. We made it up pretty high, and were considering a somewhat of a climb up a vertical shaft, and (lucky for me) decided against it. We were very satisfied with our ascent and found our way back down to the river.



I think we swam again on the way back. Then we found a really cool looking rock, made from Apache tears and some other igneous flow: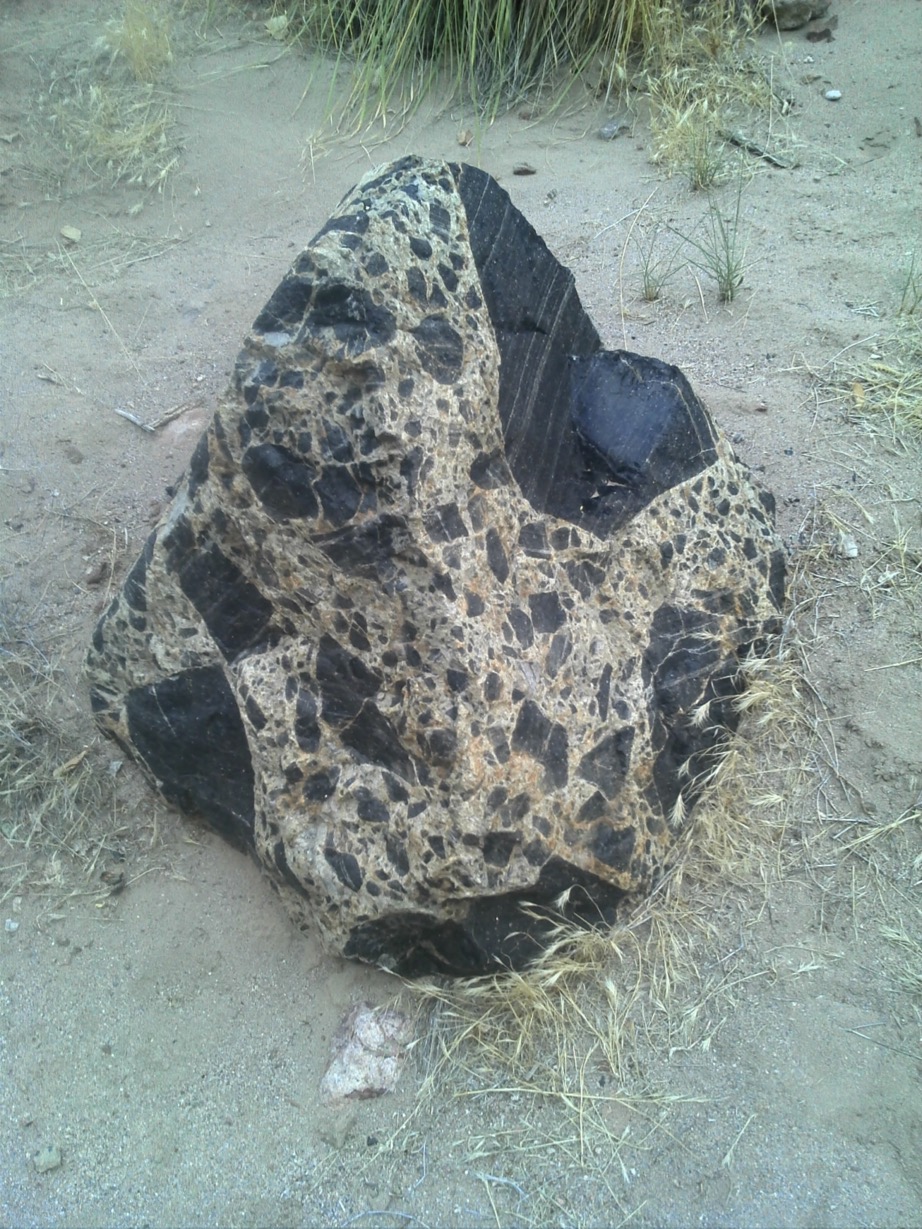 What in the world made this, and how did it get here?


Just after finding the rock, we walked into a campsite of 3 people. We took them back to see the rock and we talked with them for a while. Then we moved on, it beginning to get dark. We passed Art, reading a book at his campsite, and then grabbed our food bag before reaching camp. It was getting dim now, like always, and we were glad to be back at camp. I began boiling water for our dehydrated suppers, while Camille filtered a couple of gallons of water. We then also filtered water to refill all our bladders, bottles and canteen, so that, if lucky, we wouldn't have to filter water tomorrow. This turned out to be a very good idea.

Once again, we sat on the big rock with our legs in the water eating our suppers, watching fireflies, shooting stars, the milky way, and reveling in our surroundings and our accomplishments. A thunderstorm started floating north at the far eastern end of the canyon. It was a well formed anvil head cumulonimbus spectacle. Counting between flash and crash, it only got to about 4 miles from us, but we decided we'd better put our tarps back up again. I had taken the tarps down for the night when we got back, thinking we might have views of the night sky.

We stayed on the rock quite late, but I have no idea what time it was. My watch battery had died during the hike, the GPS was away for the night, and we just sat on the rock until Camille found a way that we could lie higher up on the rock on our backs and be able to look at the stars without bending our necks back. This was very nice, even on a rock, until, after a couple of scares, I fell completely asleep and slipped down the rock. Then Camille decided it was time for hammocks and we crossed the river for the last time that day. There was no more thunder, no more rain, no more consciousness. Once again, the hammock law of 3.7592 nanoseconds was proven to be true.

As I was about to climb into my hammock, a small scorpion scooted out of the way - a good reminder to rattle our shoes in the morning before slipping our feet in!

Day 3


Today Camille was up before me, and I saw her across the creek on our rock reading her book. We took our time, leisurely packing up camp, and eventually made breakfast across the creek where we had eaten last night. Sometime during the night, the creek had surged with a mini-flash flood. Water had come up over a foot at some time, based on where the high water mud was. The river was still a few inches higher than before, and, the water was all brown. Which meant we would not see our footing all the way out. And it made me glad we had filtered all our water needs the night before, so the filter wouldn't be too clogged with mud and sand.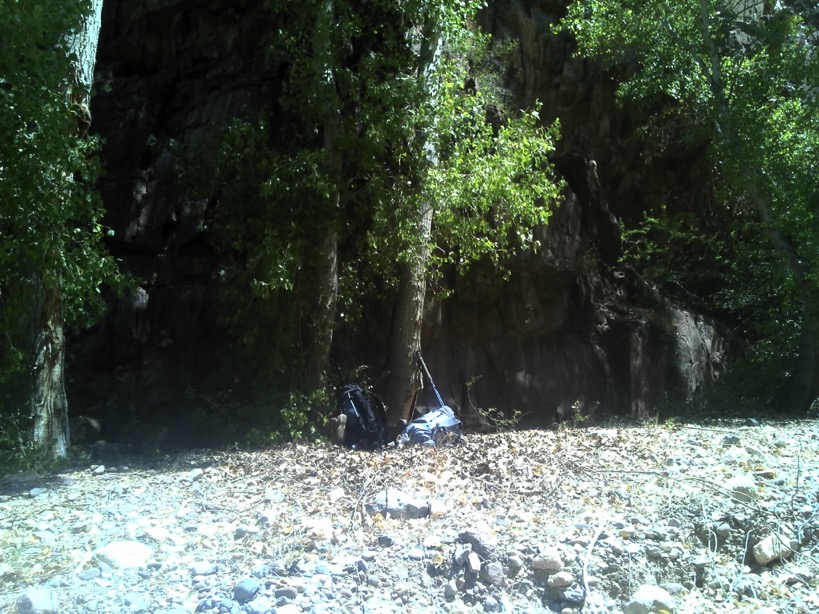 This is our campsite after breaking it. You can barely see the 3 trees we used to hang the hammocks.


We decided to save the extra dehydrated dinner for lunch, it being wild west chile. That left us with a soup, and a single instant oatmeal each, and a coffee, we had all we needed for a starter breakfast. We tidied up our campsite, brushing our prints out of the gravel, and left it looking better than we had found it.

Today was Camille's day to be way finder, and she led all the way out. Even though the water was brown, we did very well, and we each only fell and landed in the water once. The water was a little higher than the previous two days, and as I said, it was impossible to see your footing. Hence, the subtitle of this post. It wasn't really rapids. But it was rapider than the day before, even if 'rapider' is not a word. We also stopped a few times to cool off by swimming. Twice we stopped to snack a little. We had some crackers and salmon, some nuts, some dates and apricots, and plenty of water.

After another couple of hours of walking downstream in the brown water, Camille wanted to stop for lunch, so we did. We made the chile, and poured half into a leftover soup carton to make it easier to eat. We had a nice swim for dessert, and then started walking down stream again. Part way out, we heard thunder, and the monsoon began. You can see above where we took our final swim, and a very cool side canyon we started to explore on the way out. But, there was too much shrill screaming up there, so we turned back.

At this point, I should report that I encountered a wardrobe malfunction. The velcro holding the gaiter on my reign the let go and the gaiter wouldn't stay down. Thus, just as had been Camille's experience without gaiters, my shoe began filling up with stone, sand and grit, making it very uncomfortable to walk, and requiring frequent stops to dump the crap out of my shoe.

The monsoon thunder passed us by but got within a couple of miles. It rained fairly hard for a while, which cooled us off and drenched our packs, making them heavier. We saw water vapor rising from the river, and when we got back to the parking lot, little puffs of steamy fog in the far valleys. Hiking in the river, through a steady downpour was a pretty nice end to a wonderful odyssey.

I had several phone message when we got back to the trail head from the Census Bureau. It was all about my new job - it seemed I had gotten the job I wanted as the Chandler Special Census Office Manager. On the way up the road from the lot, I saw this stretched across the road and stopped just in time. I thought it was dead, but Camille got out of the car and said it was alive. So we used a stick to urge it off the road so we could get by:



Variable Groundsnake - Sonora semiannulata semiannulata - black and white banded morph)



After getting past the snake, we had no more encumbrances. I stopped at a convenience store and Camille bought us some sparkling water, and then we drove north and then west back to the valley. We had a wonderful view all the way back, with the sun setting under a cloudy sky, and we saw what we thought was Weaver's Needle from a long distance away.

Back at Camille's house, she fed me a really tasty dinner: pork her dad had smoked, and her mother fixed me a large plate of dessert. Then I toddled (well, drove) home and crashed. This was definitely my most enjoyable trip ever. And, it will be repeated.


---


All the pre-planning and information lie below this line:





---
Our permits entitle us to enter and stay in the area July 10, 11 and 12.

It will take about 2.5 hours to drive, according to the instructions (in the document below.)

I called the Safford Ranger office on 29 July to confirm a few things:


There are plenty of tress all over, enough for all of us to sling hammocks and stay off the ground. Let me know if you want hammocks or a tent and sleeping pads / bags.

There is plenty of water year round. My P

ū

r Hiker filter is adequate to get plenty of water for all of us.

Rattlesnakes are out, so watch where you step.

There have been black bear sightings, so we are admonished to hang our food up in a bear bag, or carry a bear canister. I have a canister but I don't like carrying it. I can bring bear bag lines. This also keeps the rodents from getting in our food at night.

Average daily high temperatures this time of year are 90 or less (of course it can vary depending on the day.)

Our plan to park at the West Trailhead, hike in halfway, make camp, leave our cap set up to day hike the second day, spend the night at the same place, and then hike out the third day sounds very reasonable.

The Ranger was very nice, said we are all set, and thanked me for calling ahead.

Directions to the West Trailhead:


From
Phoenix
(120 miles, 2 to 2.5 hours): Take US Highway 60 to Superior. At Superior, take State Highway 177 to Winkelman. At Winkelman, take State Highway 77, 11 miles to Aravaipa Road (at Central Arizona College). Turn left and go 12 miles to the West trailhead along a paved and graded dirt road. From the trailhead, it is a 1.5-mile hike through Nature Conservancy land to the west wilderness boundary.

But, if I pick you up, I think we should go a different route:


Stapley to US60 south to exit 227, AZ-177 south in Superior. In Winkelman, right (S) on AZ-77S. At Arizona Central College, turn left (E) onto Aravaipa Road. Then
go 12 miles to the West trailhead along a paved and graded dirt road. From the trailhead, it is a 1.5-mile hike through Nature Conservancy land to the west wilderness boundary.

Gear Planning:
Here
is a link to an old checklist I used to use. We will need to discuss this, as some items are not relevant, and some are things that I have for all of us. For now, please just look it over. Let me suggest that each of you have a set of clothes you plan to hike in, and another you plan to wear around camp and sleep in. I'll need to know if you want to hang in a hammock or go to ground. I can outfit either choice for both of you.

I am hoping that we can walk in about halfway, or less, and find a good campsite on Day 1. We can set up camp, and leave most of our gear there. Then we can go exploring side canyons. We probably will want to take a small day pack to do this - to hold water, water pump/filter, snacks, and our 10 essentials. Day 2 can be all exploring, or, laying around, or whatever we want. We can linger, we don't have to hurry or do anything. As much as we like. Day 3 can also be exploring, until we reach whatever deadline we set. We need to discuss what time we need to be back in town, then back up from that to allow for breaking camp, walking out, and the 2.5 hour drive home.

For walking, we can plan to cover about 2 mph without breaks or sight seeing. So to get the 1.5 + ~6 miles into the halfway point, we should plan on about 4 hours of walking Day to where ever we decide to make our camp.

I wish I could say I'm more of a back country cook than I am. I generally eat dehydrated meals for dinner, to simplify clean-up (boiling water requires little clean-up.) Breakfast usually consists of multiple packets of instant oatmeal, some nuts, some coffee, fruit if we have any, and some more coffee. Lunch is generally instant soups, protein (canned salmon, chicken, sardines, more nuts) and lots of water.

Sometimes it's nice to make instant hot chocolate for the evenings. We probably won't build a campfire, since it's probably prohibited, and, some think, poor form. But it's going to be nice to sit around and watch the stars come out, chat away, and you can either pretend to drift off or be amused by my stories ;-).

I usually find it pleasant, mayhap unhealthy, to find a greasy spoon as soon as I'm back in "civilization" to have a meal prepared by someone else. And perhaps something very cold to drink. We can make drinks hot out in the wilderness; not cold.

---


Planning Update: 01 July 2015

Today I drove to Aravaipa. There is a ranger station 3 miles west of the trailhead parking. I stopped and spoke with a nice long ranger for a while. He printed out the nice map, below, for me. Then I drove on to the parking lot, and looked around. Then I drove home.






map from the ranger



uh, maybe not